Setup Guide
To setup Xero  in eSwap you need to do the following steps:
1. Go to Available apps -> Xero and click on Install app button.
Now you need to fill the following fields.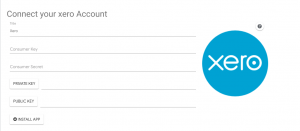 2. Now you need to set up the private application.
Generate a public/private key-pair for use with your application.
Login to the Xero Developer portal which is located at api.xero.com
Go to the My Applications > Add Application screen in the Xero Developer portal to add your application.
Select "Private" and enter a name for your application
Choose your organization from the drop-down list
Upload the public certificate (.cer file) you generated in step one.
Choose to save. You will now have a Consumer Key to use for your application.
For more info check official docs.https://developer.xero.com/documentation/api-guides/create-publicprivate-key
3. After filling appropriate fields you'll be redirected to another page where we suggest you sync your eSwap and Xero ledgers.
Before connecting Xero to eSwap you need to make sure certain accounts exist in your Chart Of Accounts in Xero. Choose appropriate ledgers and click on the "Continue" button.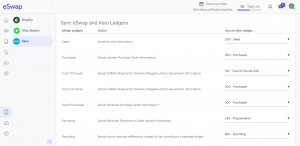 4. Now we suggest you sync your eSwap and Xero tax types.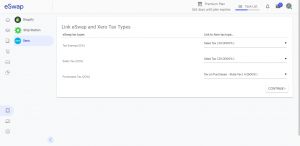 5. Now choose payment methods and link them to your Xero Ledger Accounts and reach more efficiency in ledger management.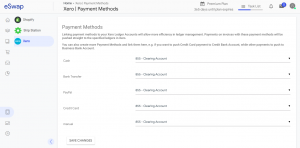 6. Click on Save.
That's all. Enjoy