An important starting point would be to understand, what is a purchase order?  A purchase order is a document confirming an order. It is sent from a buyer to the supplier. Generally POs include tracking number along with the type of item, quantity, and price. In some cases, the Purchase order can include more information to get detailed documentation.

Moreover, the PO can serve as legal documentation for commercial lenders providing financial assistance. 
The difference between purchase orders and invoices
Generally, purchase orders and invoices include almost the same information including shipping and billing addresses. But they are thoroughly different documents as invoices are sent when the order has been sent from the seller to the buyer, whereas purchase order is sent when the buyer confirms an order. That is it is sent from the buyer to the seller. Thus invoice contains the details of the billing of a sold product.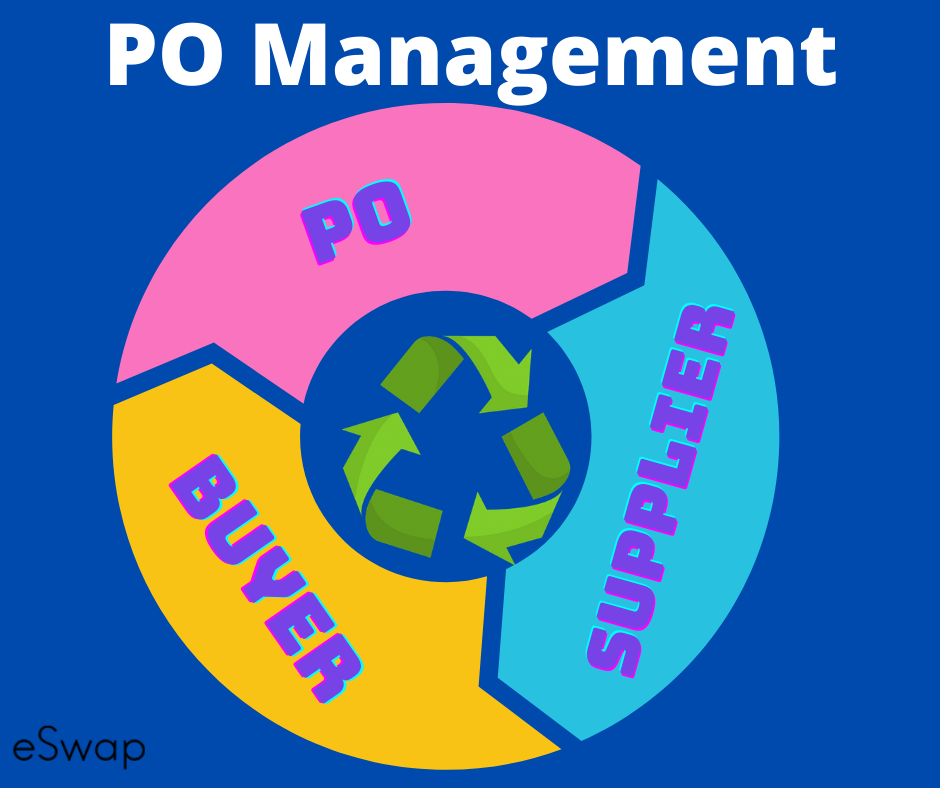 Why is the purchase order important?
Even today some companies don't value the existence of purchase orders considering it as an unnecessary and time-consuming process. However, it remains a must-have for growing businesses when day by day purchasing demands become more difficult and urgent. 
If buyers receive their orders without the purchase order number and clear order instructions it causes many problems between buyers and sellers.
Therefore, eSwap's new purchase order management feature comes to save time and bring accuracy and strong control to your business. 
eSwap provides too detailed information and saves you from time-consuming manual tasks as well as traditional spreadsheets. Here you can create your POs automatically and streamline any processes connected with orders. With eSwap's PO management feature you monitor the whole PO life-cycle starting including PO creation and final product receipt. 
Maximize the efficiency of your PO processes
Streamline your PO process and increase your purchase management accuracy, speed, and control. Decrease the risk of manual mistakes and add automatic notifications.
eSwap maintains the best way to manage your PO management processes guaranteeing error-free results.
Just unit all tour POs in one place and simply increase control over them.
Manage and track all types of purchases in a centralized system. Create purchase orders just with a single click and receive shipment fully or partially.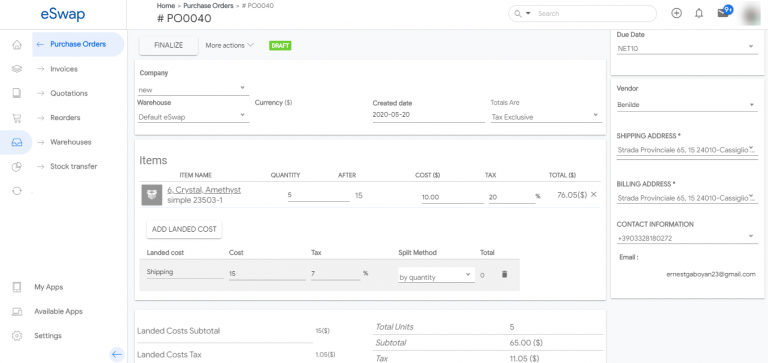 Simplify purchase order backorder processes
Always fulfilling orders within the required time is sometimes impossible. Simply make a PO for these orders and let your customers be informed every time. When you create a purchase order for backorders the status will be automatically changed to Purchase Order Backorder.

Mark purchase order as partially received
Select the special lines you decided to receive or the special quantity per line.
Generate reorder reports to be informed when reordering is needed
Check all products and variants to reorder including the supplier name and the reorder page link.
Fully manage your purchasing workflow
You can mark unconfirmed POs with marking "Drafts" and after receiving products they will be marked as "Active". After receiving these products mark them as "Received" or "Partially received". 
Plan your purchases with high efficiency
With eSwap you will be able to get control of your orders, lead times and cost and consequently make smart decisions at all times.
All suppliers in one place
Due to eSwap PO management system, you will have all your suppliers in one place and communicate with them anytime without a hassle. Moreover, it will provide real-time updated data on the best transaction history and supply prices to ensure the right choice of suppliers.
A powerful Purchase Order feature can help you to be always informed of what is on the way. It decreases the risk of double ordering products and allows keeping your customers up-to-date on the availability of back-ordered items.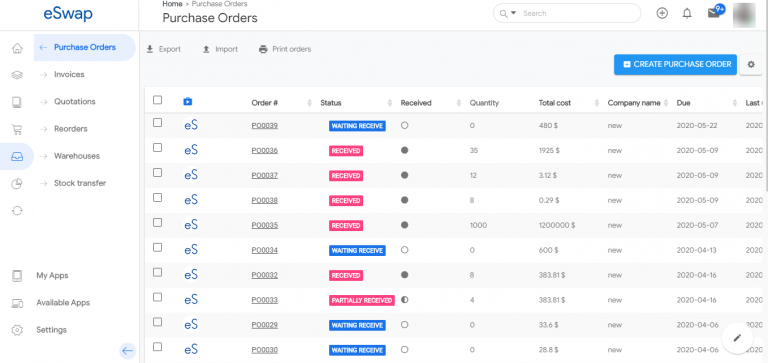 How does it cost to get eSwap PO management software?
If you have already decided to create Auto POs you must create an account on eSwap. eSwap offers the best prices for its customers providing three pricing plans – 'Free' at $0 per month billed annually, 'Premium' at $79 per month billed annually, and finally 'Business' at $199 per month billed annually. For Retail Brands turning over more than $5m per year, there is eSwap Enterprise.