We'll probably not be able to keep up with the changes without moving on and finding new solutions for simple actions around us. And the world of business is not an exception. There are many stages that products go through before reaching the buyer's doorway. One of the most extended ways items go through is the way of transportation. And most probably, when speaking about this point, you have heard about the term drayage. So that to understand what it is, let's cover the questions of drayage costs, meaning, service and charge.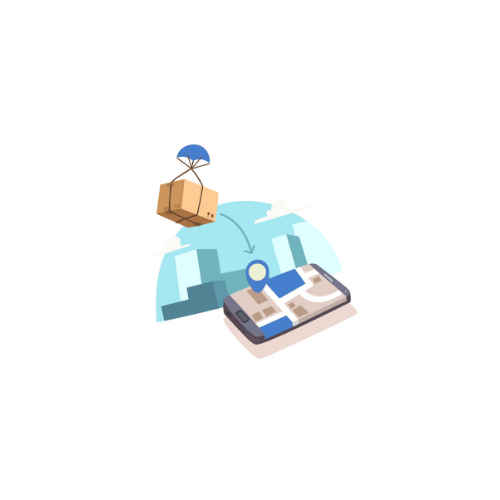 Drayage is a supply chain element that has an essential role in the workflow. It's one of the most vital sales costs. It takes the responsibility of providing proper connections between multimodal shipments and makes sure they function correctly. It is evident that understanding this notion is an inseparable part of understanding the supply chain. 
Drayage Definition
If defining wordy, dray is a truck or cart that carries heavy loads. In ancient times, goods were transported by this kind of carts pulled by 'dray' horses. That is where the term comes from. But what does drayage mean today? Nowadays, the term is used in the shipping and logistic industry. Drayage is a kind of product or material handling from one place to another (from the port to the warehouse, for instance). Usually, it is about those deliveries where the distance is not far, and items can be carried by trucks. Mainly and more specifically, drayage refers to the US cost structure charged for goods carriage within short distances.
Drayage is also the name of the service that you will use to transport your goods from the port to your ecommerce warehouse. It is especially significant for ecommerce retailers who manufacture their product in another country and import the finished goods to the United States. Any drayage carrier should have an appropriate license meeting the requirements. Drayage companies take containers from warehouses, harbours, ports or airports. Then shipping containers are taken away and placed on the trucks to be transported.
Why is drayage expensive?
Sometimes drayage costs can get higher than expected. It can take place, for example, with your cargo and be connected to some weight or packing issues. You can compare drayage to other expenses related to the item moving and transportation. Further, we'll describe the main reasons for drayage cost and tell you how to minimize those costs.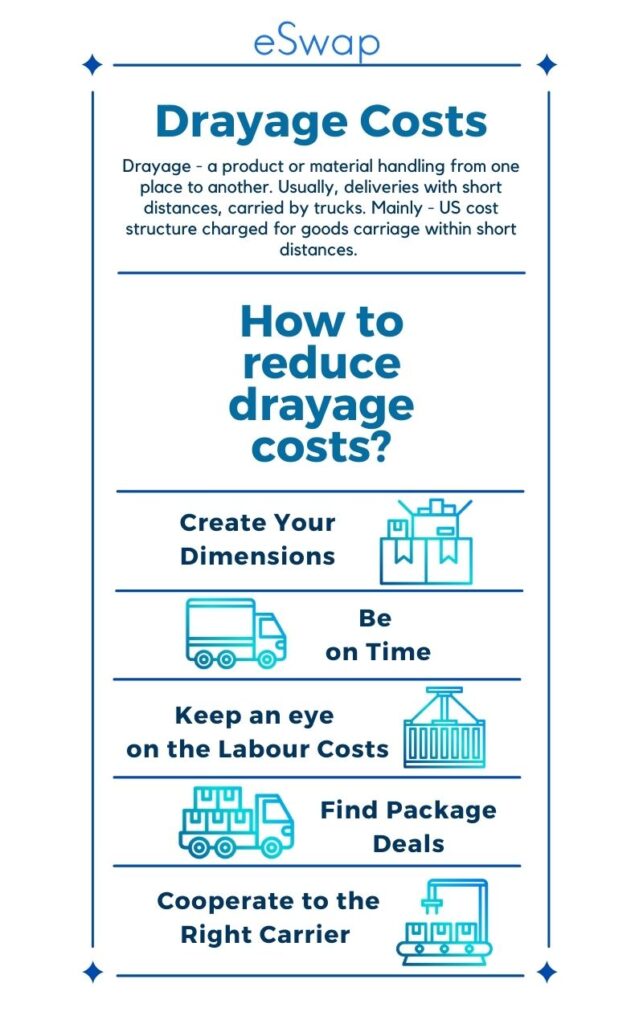 How to Reduce Drayage Costs?
Both wholesalers and retailers should be aware of the drayage costs as early as possible so that not to be caught unprepared and uninformed. If planning beforehand, you'll manage to keep your costs low and not overpay. Go on to see some ways of how to reduce drayage costs.
1. Create Your Dimensions
Before you give your cargo to a drayage company to deliver, first of all, it should be well-packed. The larger and heavier shipment is, the higher becomes the fee. Thus, one thing to bear in mind is that the top factors affecting the costs are weight and dimension. Keep your package as light as possible. Doing so is one of the convenient and easy tricks for saving money. Check out the possible container dimensions. 
2. Be on Time
Carefully planned and well-thought pickups, deliveries, and cargo shipments are the main functions of drayage. This means that scheduling is also an essential part of this process. If you are late, you'd probably have to pay for waiting time. So be on time and even better – be early. It will not only help to avoid money waste but also can sometimes help to save money.
3. Keep an eye on the Labour Costs
As we have already mentioned, drayage consists of various services: taking cargo from one location to another, handling materials from the delivery point. And logically, the costs will be lower if there is less labour. The same refers to administrative fees. They will low down if you can organize the shipment beforehand.
4.
Find Package Deals
Usually, companies implement drayage taking into account the minimum weight. So you can quickly reduce your drayage costs by grouping items according to the weight and date of shipment. Let's see: you are shipping several cargos that have been grouped. It means you do not have to retake another day and another shipping option. Indeed, each drayage service can suggest its requirements. So you certainly need to check everything. 
5. Cooperate to the Right Carrier 
After determining and perfectly understanding what drayage is, you should think about a suitable company. Companies and carriers should meet your requirements, ensure safe transportation and, most importantly, save your money. You'd better see your partner representatives in person, build a positive relationship. It will help to get a smoother workflow and better results with no additional waste of money. 
eSwap cooperates with leading shipping companies providing the option of drayage. You can easily use your desired company presented in the list of our integrations. The top carriers include USPS, UPS, DHL, etc. Besides, there is a perfect option for running your shipping management with our platform, import all the orders and see them in one dashboard. As a result, you'll fulfil your orders in their best form.