Online retail has been a new trend for recent years. Sellers are fond of trying different online platforms to sell their products.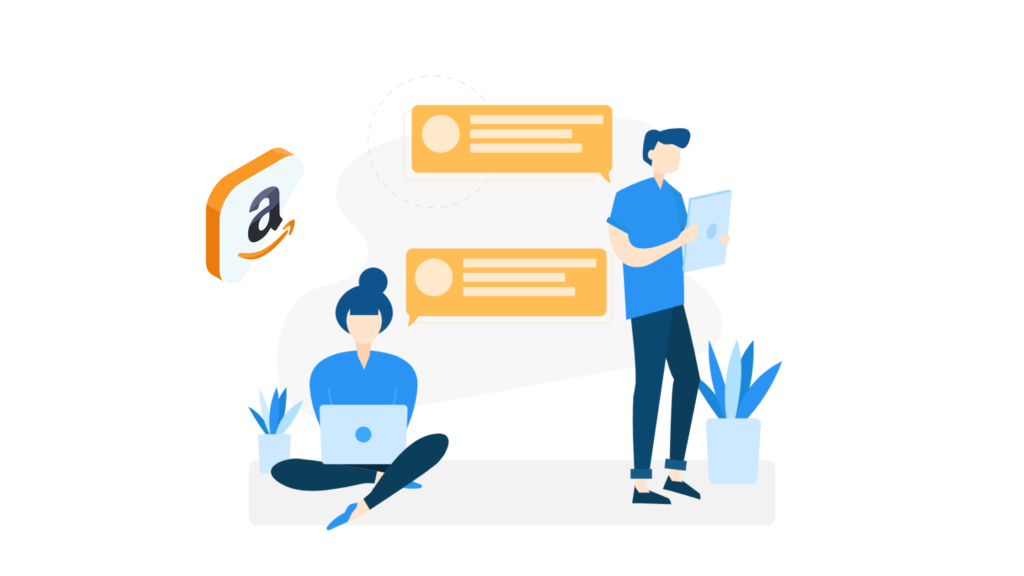 How to sell on Amazon?
Among many others, Amazon is currently one of the top leading international marketplaces in the U.S. 
Particularly in recent years, the company has grown incredibly fast and has made a gigantic investment in the whole eCommerce of the world.
Amazon sellers from all over the world, make money by selling a wide range of products and services. Statistics show there are more than 6 million sellers on Amazon. 
To become an Amazon seller will be a significant achievement for you- tons of features, affordable pricing, world-class logistics, etc.
Along with other valuable features, Amazon.com offers to its sellers two ways to sell their products on Amazon: Amazon Seller Central and Amazon Vendor Central.
In today's article, we are going to understand the essence of these two portals and discover the differences to help you find the best variant to sell and make money.
What is Amazon Seller Central?
Amazon Seller Central is an interface used by merchants for selling their products directly to buyers within Amazon. Sellers in Amazon Seller Central are like a third-party Amazon seller (3P) who sets up and maintains their seller account.
Amazon has two types of seller accounts- individual and professional.
Individual seller accounts require no subscription fee, only charges $0.99 per sold item.
The professional is the most preferred seller account. However, it has a monthly subscription fee($39.99 per month), but instead, offers many inventory tools and features useful for sellers to expand their business. 
Sellers have two choices for fulfilling orders received from Amazon marketplace. On the one hand, you can handle all the processes connected to shipping, customer service and returns yourself or a 3PL (third party logistics). On the other hand, you can use FBA and allow Amazon to handle this process by itself. 
Note: If you become an Amazon FBA member, your buyers will see the comment "sold by N Brand and Fulfilled by Amazon" when they buy something. 
Benefits of Amazon Seller Central
Anyone can use it

Sell directly to Amazon'sAmazon's buyers

FBA and Logistics 

Flexible and fast payments

Control on your inventory and pricing

Minimized advertising

Feedback and reviews

FBA users avoid VAT

Direct feedback
Disadvantages of Amazon Seller Central
Fulfilment costs

High Fulfillment and shipping costs disable you to sell lower priced items. 

Sales and marketing

Any seller needs to improve product marketing strategy to increase sales. In case you are a seller of Amazon Seller Central, you are alone to make those improvements no matter if you have the resources and skills or not.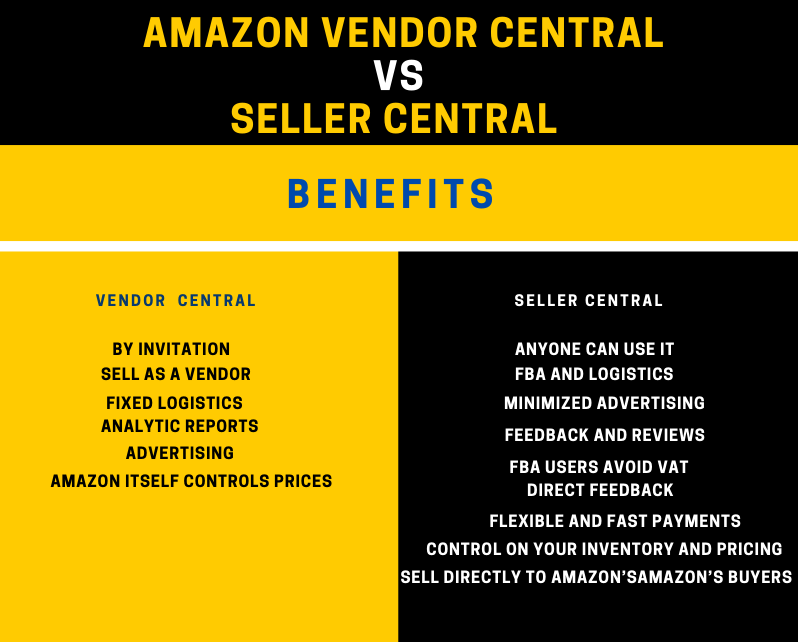 What is Amazon Vendor Central?
Amazon Vendor Central portal is generally used by direct manufacturers and distributors. While Amazon Seller Central users are considered 3P, those who sell through this portal are called 1P(first-party seller). As a supplier, you sell products to the Amazon marketplace in bulk. 
What comes to become a user of this portal, it is a bit different. You should get a special invitation to become a member.
Most sellers of Amazon Vendor Central are former sellers of Seller Central, who increased their demand and started to act like a supplier.  
If you sell through Vendor Central, buyers will see the comment "ships from and sold by Amazon". 
Benefits of Amazon Vendor Central
By invitation

Sell as a vendor

Fixed logistics

Amazon itself controls prices

Analytic reports

Advertising
Disadvantages of Amazon Vendor Central 
Price control

As a seller, you are disabled to control your retail prices.

Logistical requirements

Amazon makes its vendors fulfil orders in a fixed timeframe. Otherwise, there are special chargebacks.  

Single Buyer
Amazon becomes your only buyer. It is sometimes risky, as one day it will stop buying from you as it did in 2019 (It stopped buying from many sellers without any initial agreement). 
Loss of brand control

Selling products to Amazon means to lose the main control over your products, pricing and consequently lose brand identity.
Difference between Amazon Seller Central vs Vendor Central
The main difference between Amazon Seller Central and Vendor Central is that the first one is meant to be used by those sellers who want to sell online and handle all selling processes themselves. It is open for anyone-just signup and starts to sell. 
Vendor Central sellers are mostly brands who want to act as a vendor and sell products to Amazon and avoid further order fulfilment and shipping processes. But you need to get a special invitation from Amazon.com.
As you can see, which platform to choose depends on your requirements and goals. 
eSwap-Amazon Vendor Central Integration
For many years automatic exchange of data with Amazon VendorCentral has been a problem as Amazon Vendor Central doesn't have an open API. 
It is a gigantic advantage for eSwap to have this valuable integration. 
Connect your Amazon Vendor Central with eSwap cloud-based stock and order management software and grow your business without any error.