Connect Your BigCommerce Store
To connect your BigCommerce with eSwap
Log in to your BigCommerce store
Go to Advanced Settings -> API accounts -> Create API account.
Give appropriate permissions and tap on the Save button. You'll get a .txt file with credentials which you need to use to connect with eSwap.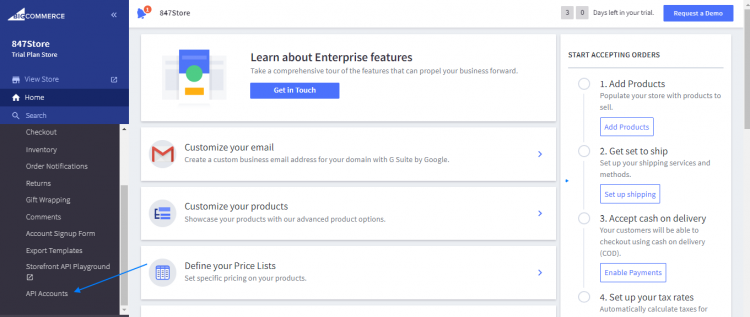 Now log in to your eSwap account -> Available apps -> choose BigCommerce -> Install.
Here you'll see the following inputs you need to fill.
Your shop name – the name you want to see in eSwap.
Store hush – hushed code at the end of your store URL

Auth Token- Copy and paste ACCESS TOKEN from txt file
Auth client- Copy and paste CLIENT SECRET from txt file
After connecting your BigCommerce store you need to proceed with the next few steps to complete the installation.
STEP 1
Configure  BigCommerce stock locations. Here you need to choose a warehouse in eSwap where all of your BigCommerce stock levels will be synced.
You can also create a new warehouse, for your BigCommerce store.

STEP 2
Sync your BigCommerce prices in eSwap's pricelists or create a new one for each price.

STEP 3
On this step, you need to choose the default warehouse where all of your BigCommerce orders will be shipped and synced from and from which price list incoming orders will be synced.

STEP 4
On this step, we ask you to import all your data and automatically sync matching products or you can manually import them later from the My Apps -> BigCommerce page.

That's' all. On the top, you can see a progress bar that will show what we are syncing. You can do other processes until your BigCommerce channel will be fully integrated. We'll email you and notify you in the notification section as well.

After installation, you can see how many products, orders, and customers are imported to eSwap.

That's all now your installation is complete!