Connect your Wayfair marketplaces to eSwap
NOTE: After passing all the steps below, please contact to eSwap support team to activate the Live API in Wayfair. (Wayfair requires manual approval of API activation by their support. So eSwap team will contact Wayfair support instead of you.)
To connect your Wayfair account to eSwap.
Log In to your Wayfair Extranet account
eSwap needs API credentials from Wayfair in order to connect to sync data with your Wayfair account.
From the navigation bar click More -> Developer > Applications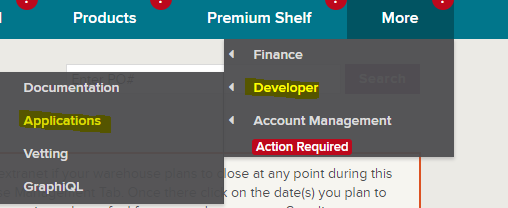 From the Application Management page click on the New Application button.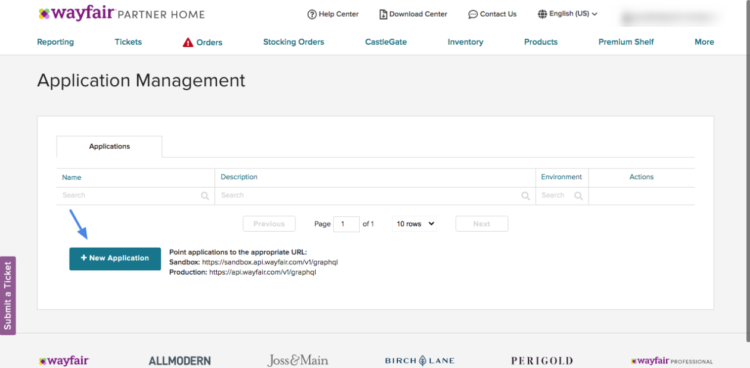 The Create Application window will appear. Enter eSwap Prod as the name as shown below, fill description, then click Save.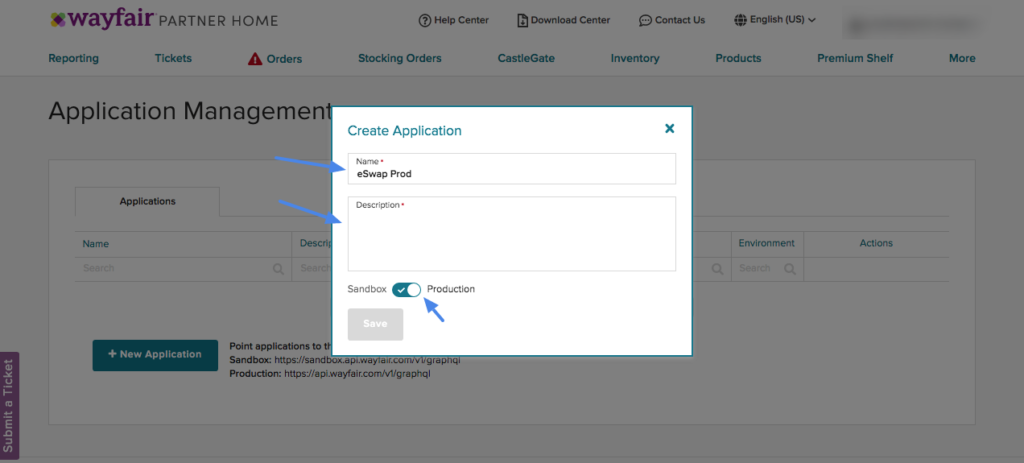 The Client ID and Client Secret will be displayed. Copy the credentials you see in this window.
NOTE: Make a note of the Client ID and Client Secret as you will not be able to view it again.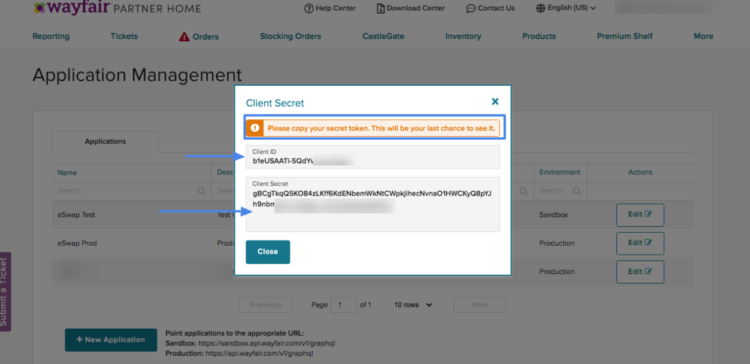 Now go to your eSwap account ->  Available apps -> Sales channels -> Wayfair -> Install App.
Give a name that you want to see in eSwap.
Copy and Paste Client ID
Copy and Past Client Secret
Sandbox Client ID
Sandbox Client Secret
Click on Install App

NOTE: This integration allows you to download purchase orders from Wayfair, register, verify, ship orders and get shipping labels full data.
In the next steps, eSwap will ask you to configure and map your Warehouses, Price Lists, and Orders with eSwap.
After passing all steps your products, orders, and customers will be synced with eSwap.
You can check integration progress on the progress bar which will be visible when importing has started and in the Notifications section.