Create your first order
To create your first order you need to go to Orders -> Sale Orders and click on Create Sale Order button.
Here you can see fields which you need to fill before creating a new order.
The first field you can see is a customer. After choosing a customer you can see all the needed data that you need for order, such as shipping address, billing address, phone number, email, default price list, due date, and warehouse.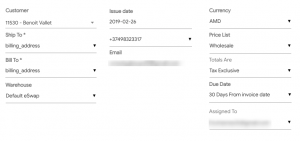 Now you need to select products. Click on Add New Product input and search needed product. After choosing a product you can see the following information about the product.
Product name
Qty
Available Qty
Tax
Price
Total
After adding product you can save order as quotation or create an order.