Set up Products Archieves
You can easily archive products that you aren't selling at that moment.
You need to go to Inventory →Products. Click on the Product you want to archive.
On the right side after editing icon you can see an archive button, clicking on it your product will be archived.

You also can archive products in bulk. To do that just click on products you want to archive and from Bulk action dropdown list tap on  Archive button.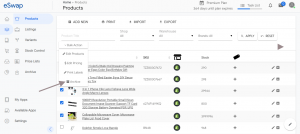 If you want to see archived products you must go to Inventory -> Archive page. Now you see all the products which you have archived and you can unarchive them as well.