Every eCommerce business trying to stand out in the competition should use good omnichannel software for their sales control.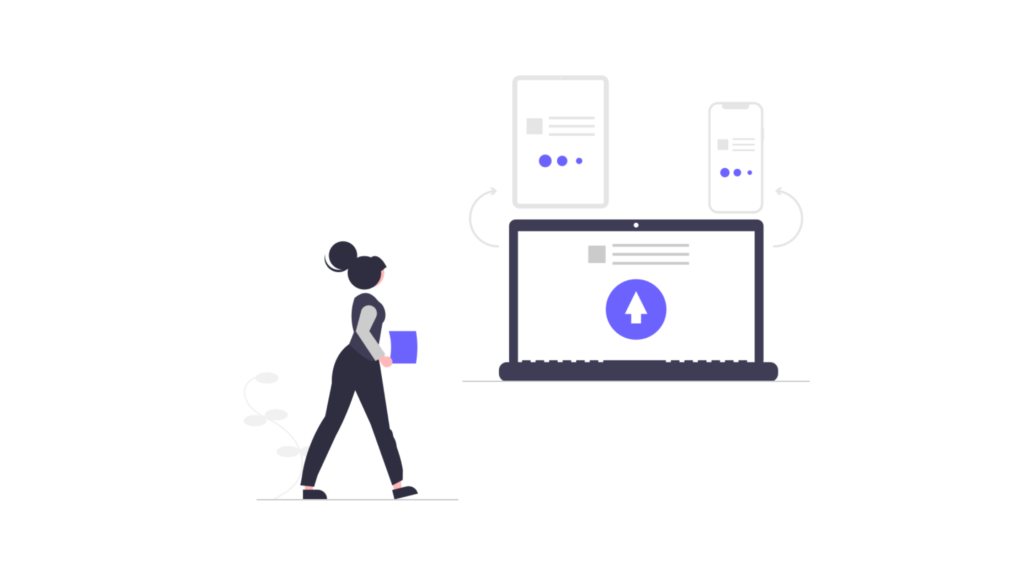 Choosing the right software for your real-time inventory management will save a lot of time and help you concentrate on your decision-making process to gain growth.
The seamless experience which the omnichannel retail software solutions offer is all that modern consumers need. There are different software requirements that most sellers put first right before making a software purchase decision.
With the help of this article, we will try to dig into the question a little bit more. We aim to give you a software checklist for must-haves. We will show you all the needed software features with eSwap's example.
Let's now take a look at the most essential features and find the best omnichannel ecommerce solutions.
Real-Time Inventory Syncing
Real-time inventory syncing is also referred to as perpetual inventory management. Instead of going manually to count their stock at the end of the set period, businesses get the sales data updates on regular basis. Therefore the whole inventory management system becomes visible.  Due to the syncing feature, omnichannel software solutions display updated stock data for all products and warehouses in each channel.
Imagine having a tool like the Multi-channel Listings is for your stock updates. eSwap synchronizes data from different platforms and merges them into one main platform.  It refers to your sales channels like Amazon, eBay, Walmart, Shopify and many others. Instead of going per each sales channel and making manual updates, you can organize everything from eSwap.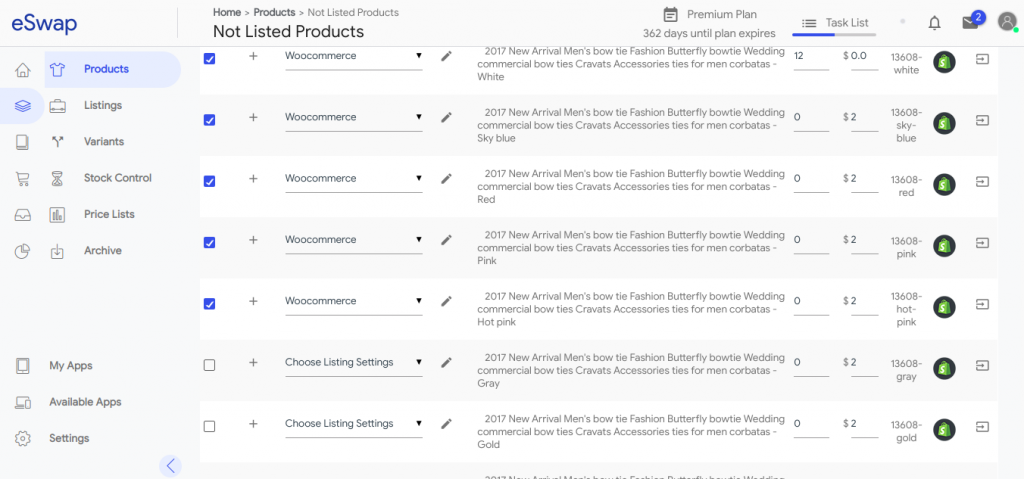 The product listing solution is not just a pure product listings operation. It monitors stock levels automatically and provides the users with the same updated stock level on all sales platforms. In that way, there will be no need to worry about the stock accuracy in different sales channels. 
This is how the businesses make sure they won't have inventory stockouts or overstocks. 
Third-Party Shipping Carrier Integrations
Shipping is a fundamental aspect of inventory management. With the growth of the sales volumes, using 3PL logistics carriers becomes a must-have. Accordingly, you should check out the availability of such carrier integrations when you are selecting an omnichannel software solution.
eSwap offers direct integration with those carriers like USPS, UPS, FedEx, DHL, DPD and many others.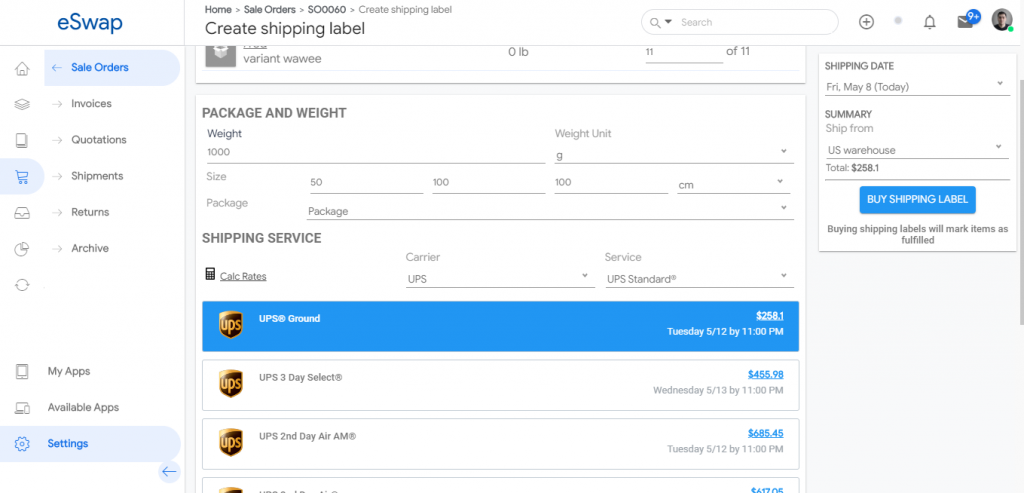 Huge retailers depend on the shipping software to let them take care of printing labels in bulk, track packages and eliminate the risk of errors.  The main advantage of using this software feature is that you won't be needing to log into your carrier's account for your order shipping. Besides, the shipping costs are drastically lowered.   
Here is what you can do with eSwap's shipping carrier solutions:
Print labels in bulk.

Track all shipments from one dashboard

View a range of live shipping quotes so you can select the best one for each of your orders.
Multi-Warehouse and Locations
It is not big news that the growth of the sales of e-commerce stores demands businesses to manage more than one warehouse. No matter the location of your warehouse, there will be shipping delivery delays if you rely only on one warehouse. Thus the customer satisfaction matters the most and multi-warehouse support becomes a must-have.
eSwap's warehouse inventory management feature enables all of those functions. Inevitably can track and manage your inventory movements. Note that all of those functions are possible to operate all from one dashboard. It refers to everything related to inventory picking, packing, shipping, etc.
Here is what  you can do with this feature:
Receive or sell products from default warehouses or locations

Import, export all your products information

Bulk import orders from different platforms
Integrating Offline Sales Channels
The success behind each omnichannel retail software is the possibility to integrate it with the offline stores as well. Practising the offline sales channels through your software means using the POS systems for example. In that way, you can process your offline sales channels payments easily. In addition, there is a necessity for order synchronization between offline and online sales channels.
This means connecting the POS system used to process in-store payments. Effectively creating new offline orders in your management software along with all your online ones:
Here are the main software requirements to consider the software brick-and-mortar stores friendly:
Ship online orders using stock from physical stores.

Let the online customers collect their orders from physical stores.

Reports available both for online sales and offline sales.
Order Returns Handling
With the rise of eCommerce, most businesses started embracing order returns management as well. That's the only way to be sure that you are providing a quality customer buying experience. Here is why you should ask for a solid order management feature. It basically means having an option to quickly complete your order returns within one single platform.

It is worth mentioning that omnichannel order returns refer not only to online stores but also offline stores. With the growth of eCommerce sales, the popular marketplaces have flexible order returns policies. Here is why the buyers have the confidence that they can send back the products and the reasons may vary.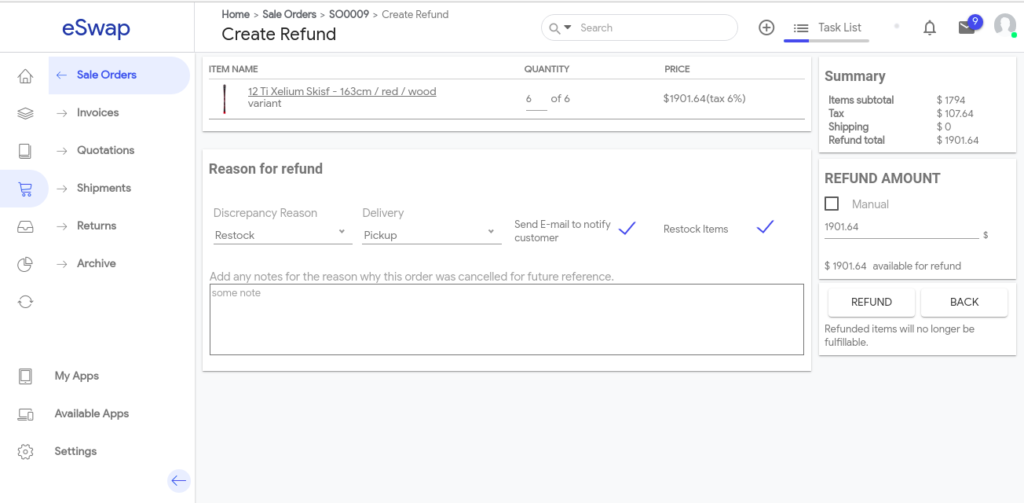 In conclusion, we can assume that the growth of your eCommerce business will hugely depend on your choice of a good omnichannel retail software. The handling of multiple tasks manually or relying on the human impact is going to cost a lot. The great news is that eSwap has all the necessary must-haves for affordable pricing.