Everyone strives for perfection. But actually, no one and nothing is. Even one of the largest e-commerce marketplaces, Amazon. It deals with 2 billion FBA listing shipments yearly. Anyway, some mistakes happen with overcharging the Amazon FBA fee. Also, because of not correct Amazon customer refund time, for instance. Be attentive to mistakes. And Amazon will be honest to you. It will realize the drawbacks and try to fix them.  This is where the mechanism of Amazon refund will kick off. There are various methods to organize Amazon returns. As a result, you'll get your money back. Let's find out together how.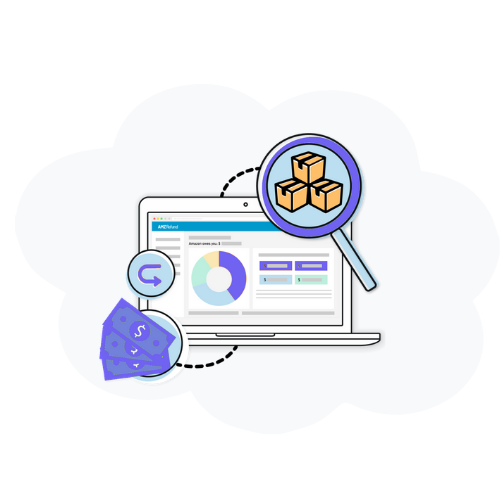 What is Amazon Refund? 
Amazon's most important components should be examined when necessary. Usually, those are tracking and monitoring. After this, you can demand your money back. Amazon FBA fee refund is a kind of Amazon reimbursement. It will help ensure you do not overpay to Amazon FBA. You will manage to save your profit margins as high as possible.
When to Get an Amazon Refund? 
Many mistakes happen on Amazon. Amazon can owe you money. It happens in case of any real and proven issue. Like when a customer gets the money back. But he doesn't give the item back. As you could have guessed, there are several types of Amazon refund. Let's see them further.
Destroyed Items 
In some cases, a seller's FBA inventory can get damaged from Amazon's or carrier's side. For instance, during Amazon return transportation. And this is a case for asking for an Amazon reimbursement. Details can be described in the Amazon report of damaged inventory.
Lost Items 
You are using Amazon FBA. Of course, you have kind of a guarantee. But after sending your inventory to Amazon warehouses, they can also get lost. There is a massive amount of stock and orders. So losses can take place. For example, employees can mistakenly place your products in other sellers' inventory. Thus, it's essential to follow up orders regularly. Do it via inventory reports.
Customer Return Issues
Issues and requests in this category are the majority. Customer returns are usual practice in e-commerce. With Amazon FBA service, sellers do not have to take responsibility for such cases. Unfortunately, Amazon does not always keep the rules. Buyers get refunds even without returning products. So be attentive. Claim for reimbursement and bring your financial resources back.
Common Customer Return Cases
Not-returned product – The customer gets the money back. But he doesn't send the item back.
Not-replaced product – The customer's item gets replaced. But the seller does not get the first item back.
Returned item not-added to seller's inventory – The thing is given back by the seller. But it is not added to the stock.
Order Quantity Issues
Some issues can arouse during order processing. For example, buyers can order a definite amount of items. But get them wrong. In consequence, they do not send the additional items back. As a seller, you should be attentive. Keep track of your inventory, and find out errors.
Amazon FBA Fee Mistakes
On Amazon, there are various charges. And they change depending on the category of sales. The number of fees depends on the storage and item size. By the way, you can always count them. Do it with the help of the Amazon FBA fee calculator.
Some items can get overcharged. You can forget to keep track of your inventory for a few weeks. And you will see the outcome. This will result in your sales and conversion rates. So keep constant track of the fees. You can find it in your Amazon seller central account.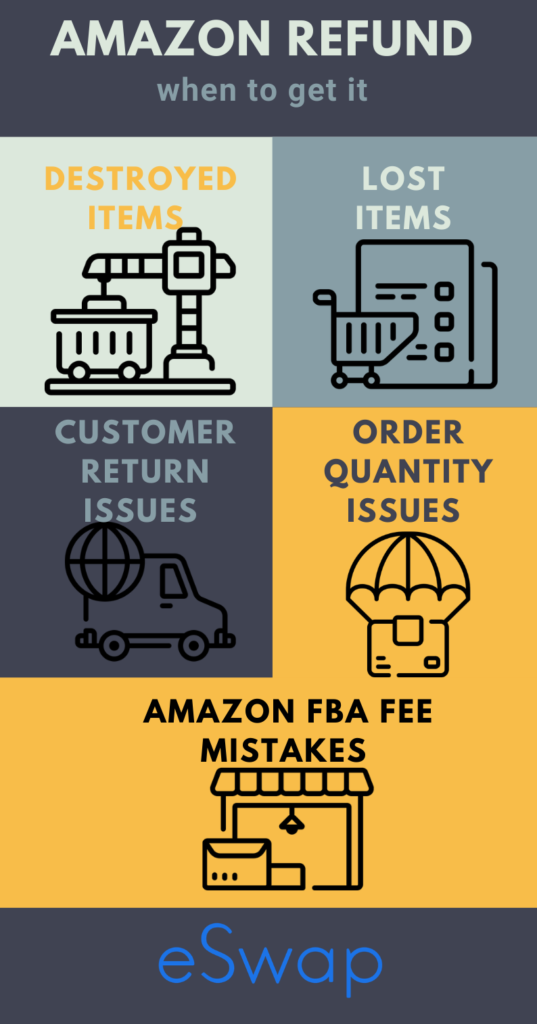 How to Get Money Back?
There are different ways to ask for and get an Amazon refund. We'll touch upon the main three of them.
Do it on your own
Use Amazon FBA tool
Use a Virtual Assistant
Get Amazon Refund by Yourself
The cheapest way to get reimbursed is to do it manually. But it is, of course, time-consuming. Besides, it can be challenging. It is an efficient method in case you are good at understanding Amazon reports.
Amazon Reimbursement Tool
Several automated compensation service tools are developed for Amazon businesses. They vary according to the functions. Some of them only analyze the data. Others run the whole reimbursement process on themselves. One drawback is that probably it will cost you more.
Virtual Assistant
And the final option here is outsourcing. In other words, it is getting the virtual assistant's help. A virtual assistant can do everything done manually before. For example, data analysis, downloading reports, making claims on seller central.
We hope you've got what needed about Amazon FBA refunds. Monitoring workflow, having accurate inventory control and avoiding mistakes on Amazon will be a solution for you.
eSwap is here to support you. Stay informed and protected with us.