Like most business owners, you're likely to be always looking for new and innovative ways to make your business run smoothly. That's why we're excited to share with you the best purchase order management tool available on the market: eSwap!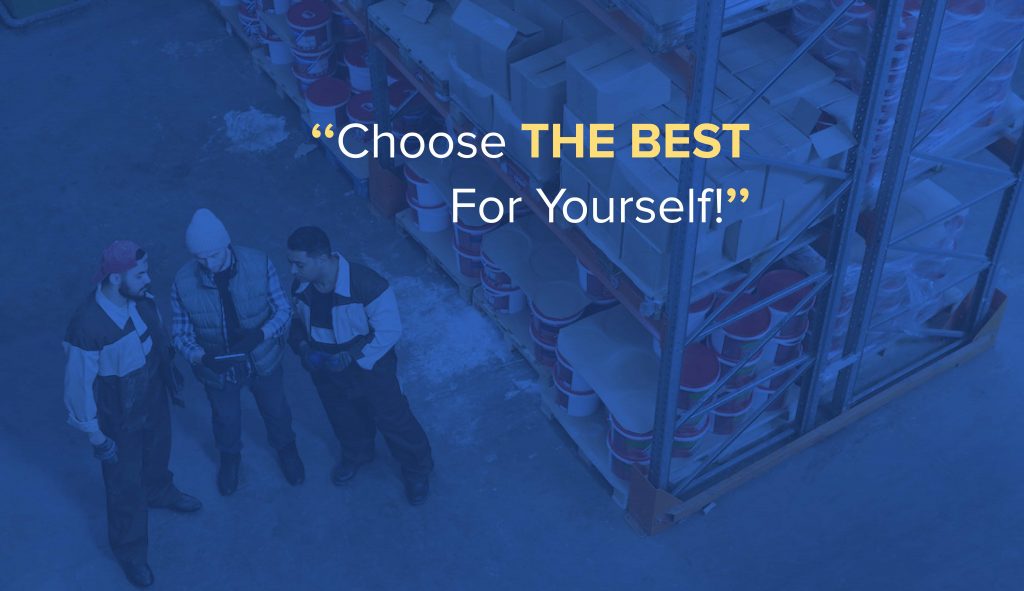 The constant urge to improve efficiency can lead to ongoing research and time spent trying different management variants. As purchase orders have become a crucial part of the procurement process, companies can no longer afford to waste time and resources on paperwork and verbal agreements.
But what exactly is purchase order software, and why should you consider using it? Let's dig deeper to find out!
What is a Purchase Order?
Purchase order management is crucial, if not vital, before receiving inventory from suppliers. In simple terms, a purchase order is a legally binding document that confirms the details of a purchase transaction between the buyer and seller. It includes business-related information such as purchase quantities, product descriptions, and payment terms.
A well-composed purchase order streamlines the procurement process for both parties, ensuring that the buyer gets the products or services they need and that the seller receives payment on time.
While smaller retailers may use purchase orders in the form of verbal agreements or paper documents, larger companies often use purchase order software to manage purchase orders. View it as legal documentation of purchase intent, used to track and monitor purchase transactions.
Depending on the situation, companies can use one of the four main types of POs:
Standard PO

Planned PO

Blanket PO

Contract PO
Each purchase order type serves different purposes, but all are legally binding documents that should be adequately managed.
Purchase Order Management Tools Examined
So why do you need to have purchase order management tool in place?
Here's some food for thought. Have you ever thought about global paper waste statistics? The numbers are alarming: the average person in the United States uses over 700 pounds of paper every year. While the greater part of global paper consumption goes to wrapping and packaging (55%), paper used for printing and writing occupies over 26% of the pie.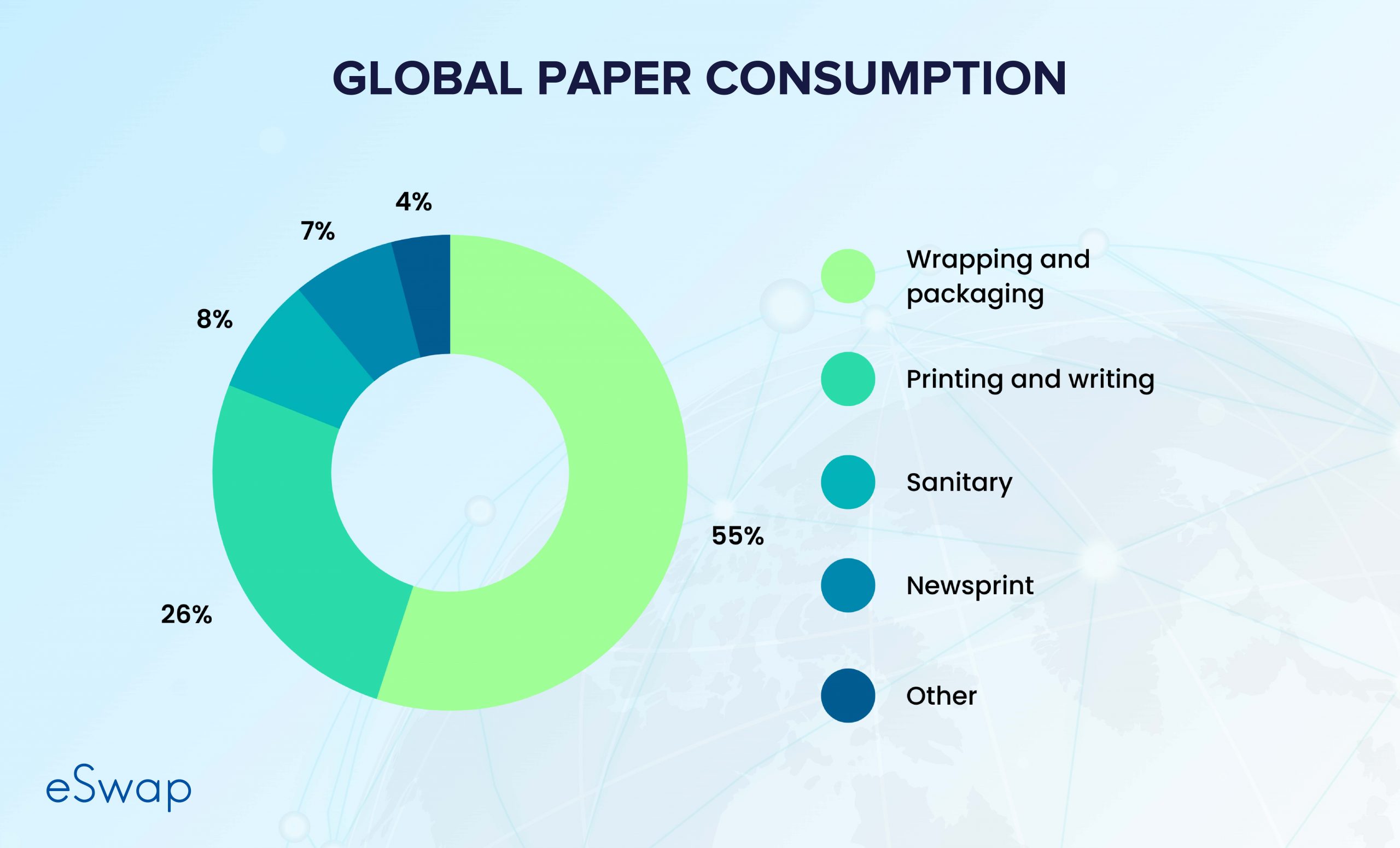 Many purchase orders are still managed with paper documents, leading to unnecessary waste and inefficiency. Switching to purchase order management tools helps reduce paper waste, streamlines the purchase order process, and reduces human error.
Before introducing you to eSwap, let's see what business owners should look for when choosing a PO management tool.
Core Features
Advanced tools can automate the entire purchase process, improving efficiency and accuracy. A smooth workflow is crucial for a purchase order management tool. Knowing how to identify purchase needs, generate purchase orders, and track purchase order statuses are important must-have features of a purchase order management.
Accurate Insights
Purchase order software delivers better visibility and insights, including purchase history and trends. This helps with budgeting and forecasting future purchase needs. Before you decide on a PO management tool, look for one that offers real-time purchase insights and analytics.
Backorder Management
Order fulfillment within the required due dates is almost impossible, and retailers often cannot avoid backorders. PO software helps manage backorders and keep track of them effectively. This ensures delays are communicated and resolved quickly.
Supplier Management
Managing multiple suppliers can be complicated, but purchase order software allows for better supplier management. Look for tools with in-built communication channels, allowing for efficient communication with suppliers. This helps maintain strong relationships and improve purchase processes.
Why We Chose eSwap

After extensive research, eSwap stood out as one of the best purchase order management tools available on the market. eSwap offers a user-friendly interface with all the toolsets for advanced purchase order management. It automates purchase processes, providing accurate purchase insights and supplier management options.
So, here's how the software forms a complete purchase management system, from purchase requests to invoice payments:
Step 1 begins with purchase requests, where employees can request items and track purchase orders.
Step 2 involves purchase order creation and approval, ensuring documents are legally binding.
Steps 3 and 4 involve purchase order tracking and receiving, with options for backorder management.
Finally, step 5 covers purchase invoicing and payment, allowing for easy reconciliation.
The software creates detailed invoices containing all the necessary data, such as:
Company and item names

Quantity

Due date

Vendor information

Landed costs Tax

Split method

Currency in USD

Total sum in USD

Status

Shipping address
Overall, eSwap offers a comprehensive system for businesses of all sizes to manage purchase orders effectively and efficiently. It's customizable and can be adapted for different processes. The support team is always available to assist with any questions or concerns.
Export PO in Bulk
Tools like eSwap streamline the purchase order process, helping reduce paper waste and human error. If you're still managing purchase orders manually, it's time to switch to a reliable solution.
Bulk export allows managers to export as many purchase orders as needed, all in one go. This saves time and helps with organization and analysis.
Synchronized Workflow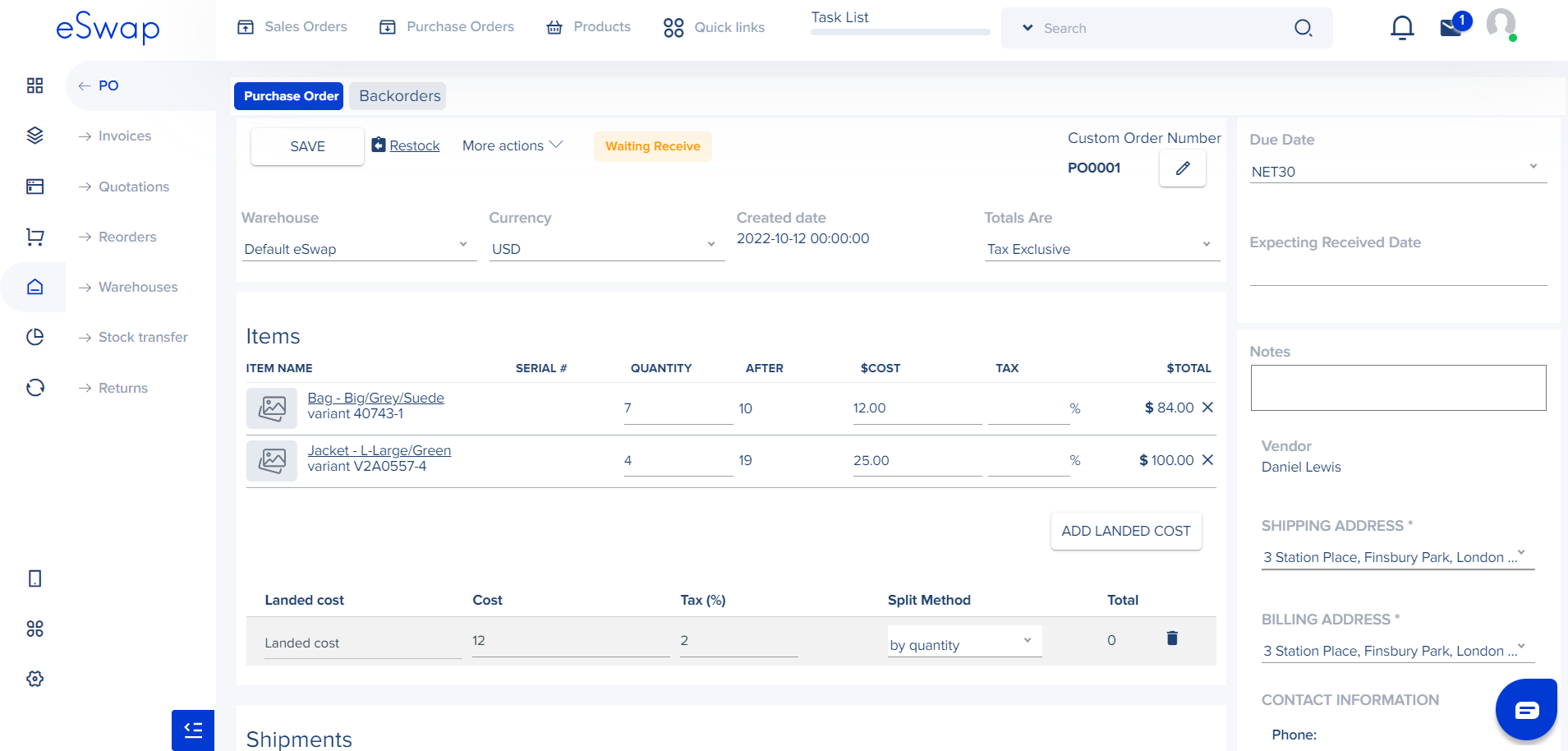 All POs and purchase histories are stored in one central location, making it easy for you to access and track the documentation flow. Automation makes it easier to establish communication with suppliers, as purchase orders can be sent and approved electronically. Moreover, it is also great for improved communication and collaboration within the team.
Automated Invoicing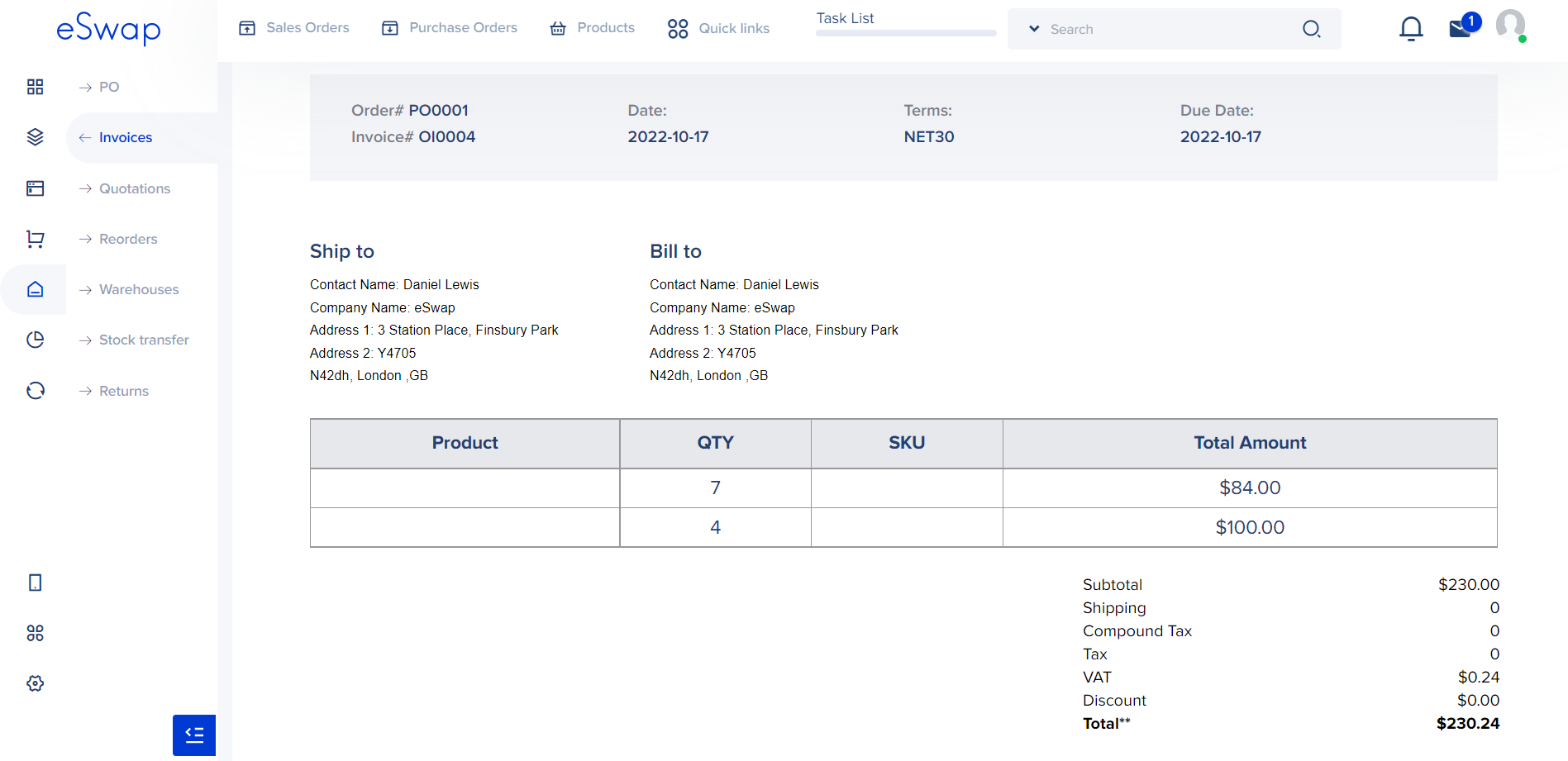 The platform has invoice templates to automatically generate and send invoice details to the supplier upon receiving a PO. The feature eliminates manual steps and helps ensure timely payments.
In case of emergency or unexpected purchase needs, the software allows for rush purchase orders or additional modifications and even cancellation. Purchase order software may seem like a nice-to-have, it's a vital part of a growing business and it ultimately saves a lot of time, money, and effort in the long run.
Reasonable Pricing
eSwap offers competitive pricing for purchase order software. It's a small investment for the benefits it brings to purchase management and overall business operations.
Premium is the most optimal plan for purchase order management, with monthly and yearly billing options. With a 14-day free trial available, it's worth trying out the software to see how it can benefit your business.
Overall, eSwap is a complete inventory and eCommerce business management tool we highly recommend for businesses looking to streamline purchase processes.
So, are you ready to try out purchase order software? Give eSwap a try and see the difference it can make for your business.