Black Friday is the most long-awaited annual sales weekend. Two significant shopping days that everyone looks forward to both online and offline are Black Friday and Cyber Monday. Black Friday 2020 is already here, so let us speak in more details about this event, as well as pay attention to some key questions, mainly:


what is Black Friday,
how Black Friday works,
how to drive more traffic and increase sales
And in the end, we'll give you some Black Friday 2020 Marketing tips, as a bonus.
What is Black Friday?
The day that usually comes after the American Thanksgiving day is called Black Friday. It is the time when retailers start to work on their promotion, marking the opening of Christmas holidays shopping, suggesting their listings with reduced prices both for online and offline shopping. This day, actually, started by the consumers, not by the retailers. The term began to spread in 1961 from Philadelphia. As the day following Thanksgiving was always massive from the shopping point of view, there was crazy traffic, so those days became prominent in the world of retail. Today it is remarkable both for the buyers and sellers around the globe.
How Black Friday Works
There are, in fact, no rules, you as a shop owner organize your sales as you wish. Usually, the prices decrease for four days, because the end of Black Friday is also another popular event called Cyber Monday. At first, only brick-and-mortar stores used to organize Black Friday. With the growth of e-Commerce, holding Black Fridays online started as well. One interesting fact is that, according to the statistics, since 2016 online deals have increased compared to offline sales. And in 2019 it beat all the previous year's records (2018 – 6.2bilion USD, 2019 – 7.4bilion USD). So this is an event, in which every merchant needs to take part.

How to increase sales on Black Friday?
Black Friday (including all four days) can be one of the most profitable periods for any e-commerce. It is kind of a marketing trick that works, so it also requires planning so that to have maximum profit.
We present ten essential tips on how to increase sales on Black Friday. Let us point them out and speak of them in more detail.
Arouse excitement and intrigue
Though the excitement is already there, everyone is waiting for these sales impatiently, and you also have to emphasize it. Black Friday has the most psychological effect on people in the world of trades. If you already affect your buyers, they are ready to go shopping exactly from your store. So use the trick to engage customers before the day.
Suggest unique and exclusive offers
As already mentioned, people love to feel unique. It attracts people when they consider some items of yours scarce. It gives your business a sense of uniqueness. 
Attract people with referral-based discounts
Referral-based systems are one of the most widely spread ones. It works with the help of your customers. So do not hesitate to use it on Black Friday as well, because the higher the number of your buyers becomes at this period, the higher the chances to keep them later as constant clients. 
Make earlier discounts for dedicated customers
Everyone loves to feel special, being a part of a private group, as well as get something earlier than the rest. This kind of offer can be only for your previous buyers, for example. You can give them an opportunity of ordering some items with the "Black Friday" prices.
Use a countdown timer for a stronger emphasis
The urgency has power. Timers are a great tool in campaigns. For example, it's good to use them on Landing Pages, in emails, headings, and proposals.
6. Use tiered-based method
The tiered-based method can be used on Black Friday as a tiered closed-cart period. It suggests another price (often lower than the usual price). When time's up, the price gets higher. It helps to create urgency.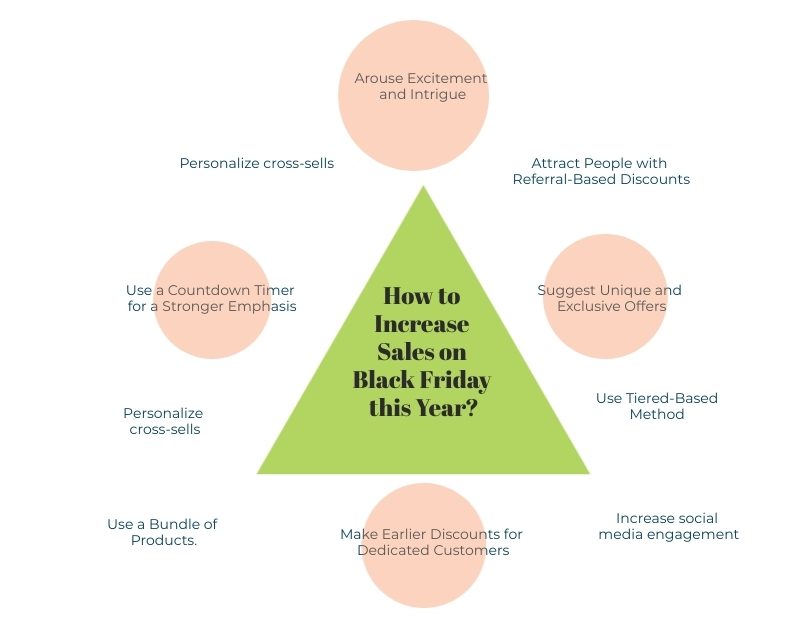 7. Use a bundle of products
You can increase your revenue with the help of this strategy. You make a discount not only for one specific item but for a bundle, package or even a gift card. Thus you'd have the lowest cost and the highest margin. 
8. Increase social media engagement
Some marketing research has shown that the majority of consumers are likely to buy something based on social media. 
So social media engagement and influencers have a significant role in this period as well. Be active on social media platforms, get cooperations with popular users and set Black Friday campaigns in advance. 
9. Personalize cross-sells
When people buy one product from you, you can always suggest additional cross-sold products. The tactic will work, especially when there is a product purchased and connected to the other suggested items. 
10. Charge more
This point is not about radically elevating prices and then when Black Friday comes imitating price reduction. It's more about tactics and marketing steps. For example, as in the points mentioned above, you can use bundle selling, thus allowing getting several items (that separately could cost more). 
During this crazy weekend, you'd better get ready that your sales can reach enormous numbers, so it's evident that you need to keep your inventory, listings and those channels you are running your business in order. Otherwise, you'll slow down your working process, simply not managing to get everything on time. eSwap, as usually, most prominently at this period, offers you the inventory management services to make your work as comfortable as it is possible. If you still have never used our options, this is the right moment! Join us!