If you're a crafter, artisan, or seller of vintage goods, you've probably considered selling on Etsy. When it comes to selling handmade or vintage items, Etsy is often the first choice for many small business owners. However, as more and more retailers enter the market, it's becoming increasingly difficult to stand out from the competition. Recently, looking for sites like Etsy has become a tendency among sellers who want to increase their sales and get ahead of their competitors.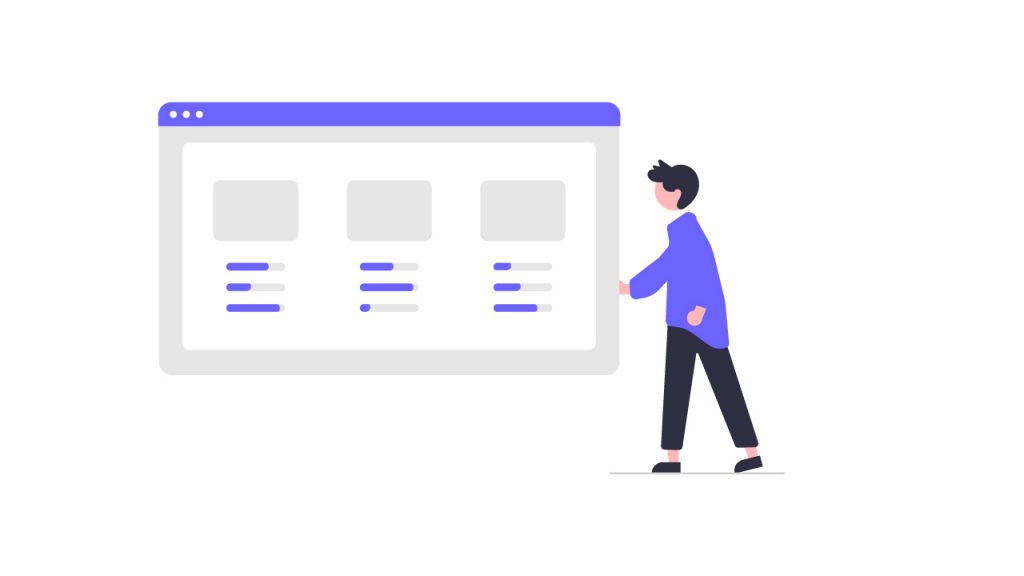 So, whether you're thinking about making the switch or are just curious about other options, read on for more information.
What Is Etsy?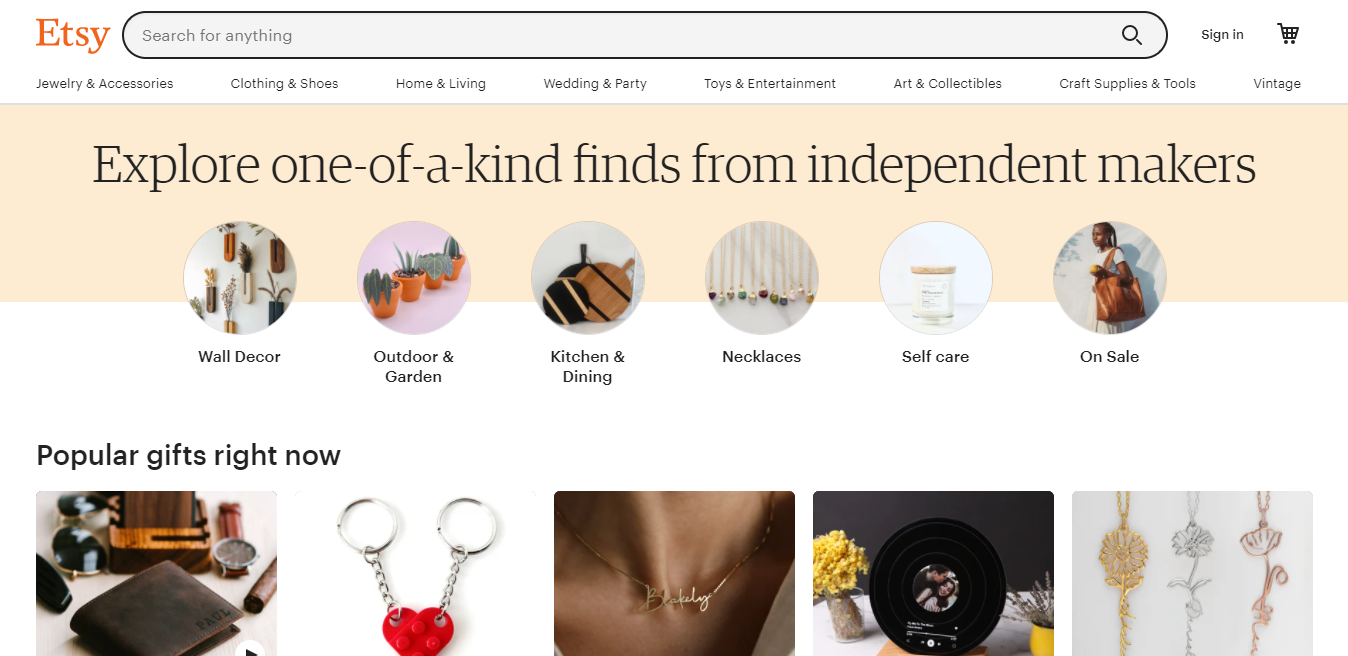 Etsy is an online marketplace specializing in selling handmade, vintage, and craft supplies. The company has become a household name for many small businesses and individual sellers since 2005. As reported by VentureBeat, the company had half a million users and made approximately $26 million in sales just two years after launching. Today, there are over 39.4 million active Etsy buyers worldwide.
The Pros of Selling on Etsy
There are several reasons why sellers opt to sell on Etsy. Unlike Amazon and Walmart, sellers themselves create, pack and ship their products.
Established and well-known marketplace:

Etsy has a large audience of buyers looking for unique, handmade, or vintage items. This gives your product exposure to a wide range of people.

Etsy takes care of the payments:

The platform handles all the transactions and payments for the sellers, so they don't have to worry about processing payments or fraud prevention.
The Cons of Selling on Etsy
As with anything, there are also some drawbacks to selling on Etsy. Here are a few:
Competition is stiff

: With over 39 million active buyers, your products are up against a lot of competition. Standing out can be a tough challenge.

Transaction fees

: Etsy charges sellers a transaction

fee of $6.5

of the price displayed for each listing, plus the amounts sellers charge for shipping and wrapping.
Why Do Sellers Look for Other Sites Like Etsy?
Sellers always opt for new alternatives to the older solutions for various reasons. Surfing the web for other sites like Etsy may be caused by some of the following issues:
Lack of visibility:

Etsy is a crowded platform with a lot of competition, making it difficult for sellers to get their products seen by buyers.

High fees:

As mentioned before, Etsy charges transaction and listing fees that can add up over time.

Lack of control:

Since Etsy handles all the transactions, sellers have very little control over the buying and selling process.
Reasons Sellers Choose Other eCommerce Platforms
To reach a different audience:

As Etsy has become more popular, the types of items being sold have expanded. As a result, handmade jewelry sellers, now have to compete with big retailers who are also selling on the platform. For instance, selling on websites like

Handmade at Amazon

or

Druzza

can help sellers reach a wider audience looking for narrower and more specific types of products.

To save money:

By opting to sell on other platforms, sellers can avoid Etsy's transaction and listing fees.

To have more control over their business:

Sellers who decide to sell on other platforms often do so to control the buying and selling process. This can include communicating directly with buyers, setting their prices, and shipping orders themselves.
The Best Sites Like Etsy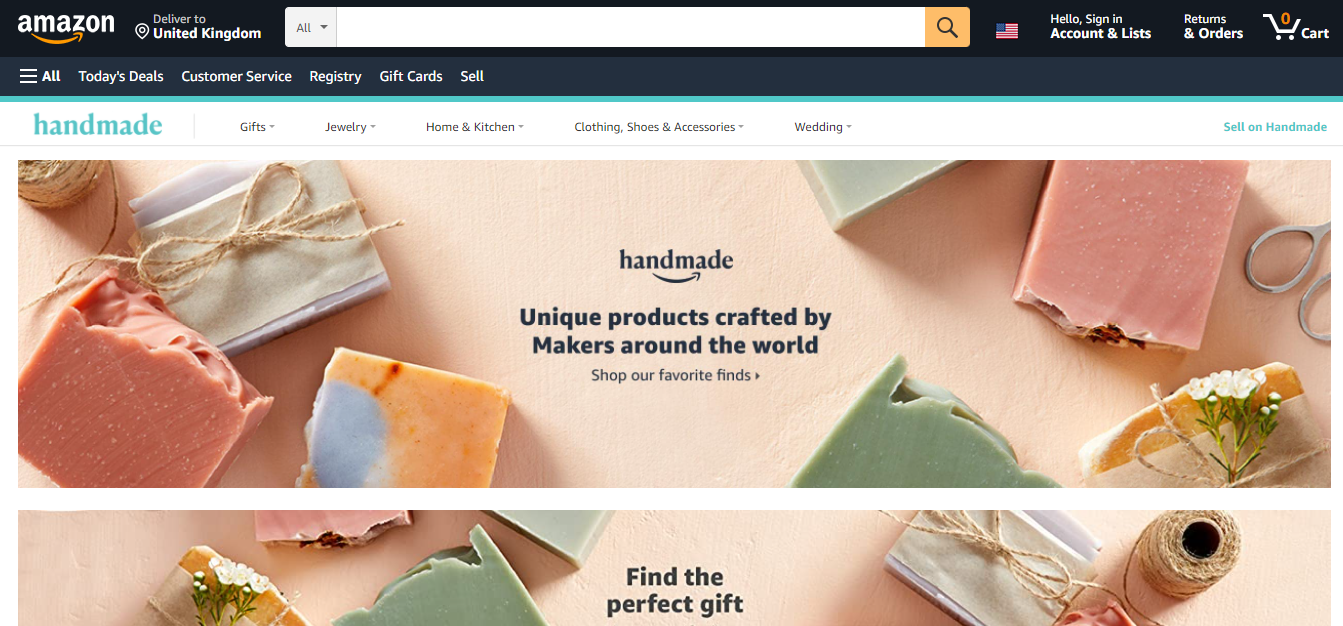 Handmade at Amazon
If you're looking for sites like Etsy with a large customer base, Handmade at Amazon is among the best options. The uniquely designed artisan marketplace has a lot of potential compared to its competitors. In 2020, nearly 63% of all online shoppers began their search from Amazon, meaning your products are more likely to be sold via Amazon than any other platform. 
Sellers need to submit a special application. Amazon has strict audit processes to ensure that its platform is used by artists who sell their handmade goods. 
Selling Categories: Accessories, Artwork, Baby, Beauty and Personal care, Clothes, Shoes, Pet Supplies, Home accessories, Sporting Goods, Stationery, etc.
Learn more about the fees here.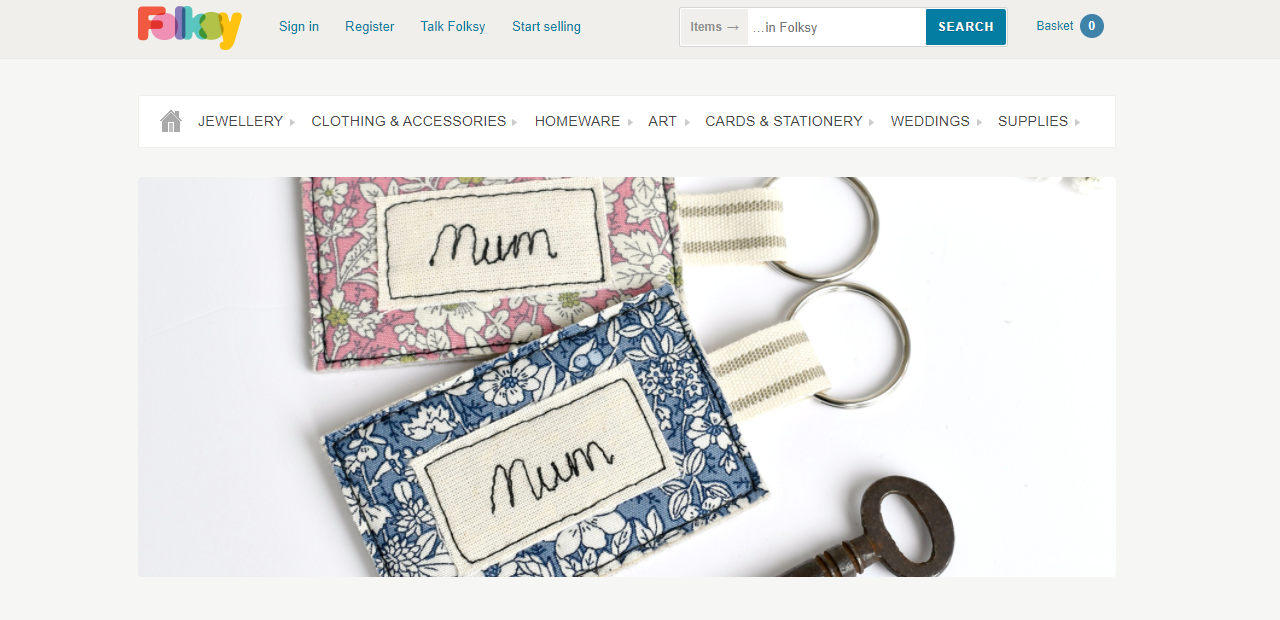 Folksy
Folksy is the UK's biggest online craft fair, created to support local artisans in selling their handmade goods. Launched in 2008 the start-up has grown in a broad and trustworthy platform for selling and purchasing 100% unique and one-of-a-kind products from the creators. One of the benefits of this eCommerce platform is its "Sell on Folksy" application launched in 2021. The user-friendly interface allows sellers to manage their existing listings and create new ones. 
Selling Categories: Jewellery, Clothing and Accessories, Homeware, Art, Cards and Stationery, Wedding, Supplies.
Check the list to learn more about allowed and forbidden items on Folksy.
Learn more about fees here.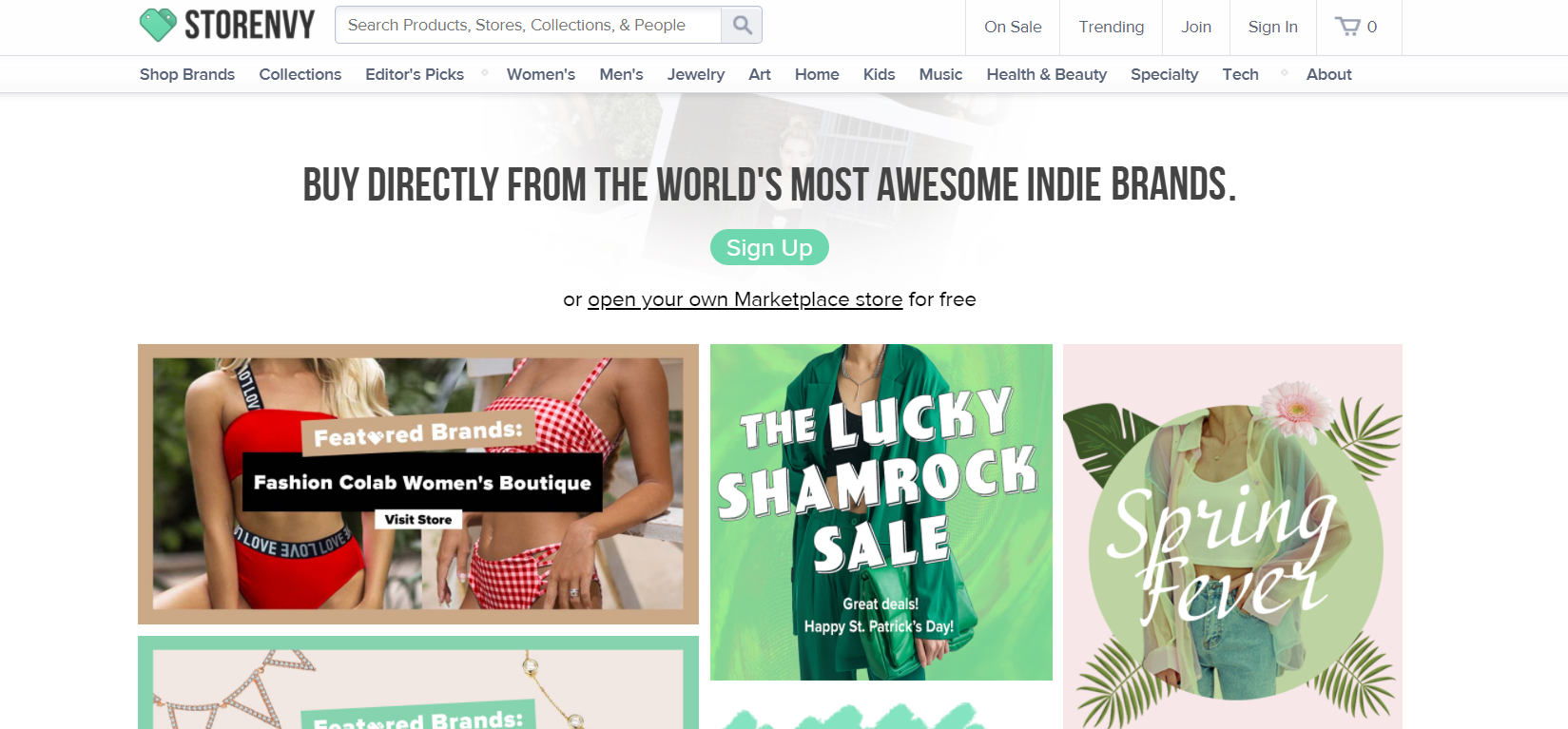 Storenvy
Typing in the search bar "what other sites are like Etsy" do not pass indifferently by Storenvy! With over 67,000 unique brands, Storenvy is an ideal platform for introducing your brand's philosophy and art to a broader audience. Although the average price of items listed on the marketplace is higher than on Etsy, Storenvy is popular among people who prefer indie brands.
Selling Categories: Clothes, Shoes, Accessories, Art, Home supplies, Music, Health and Beauty, Electronics and Gadgets, Pet Supplies, etc.
Learn more about fees here.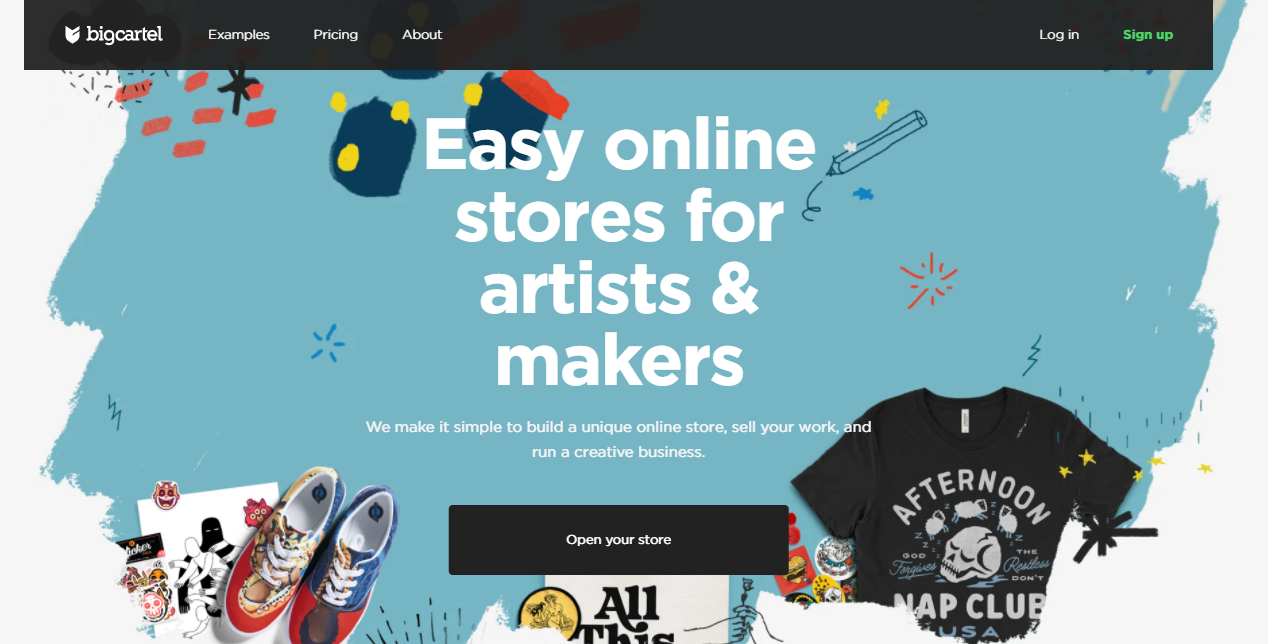 BigCartel
BigCartel is one of the sites like Etsy that's perfect for those just starting. They offer four different pricing plans, all of which have no listing fees. You'll only pay a transaction fee of either three or five percent, depending on which subscription plan you choose. Plus, if you need help getting started, BigCartel has a helpful blog and video tutorials to get you started.
Selling categories: Clothing, T-shirts, Merch, Prints, Jewellery, etc.
Learn more about fees here.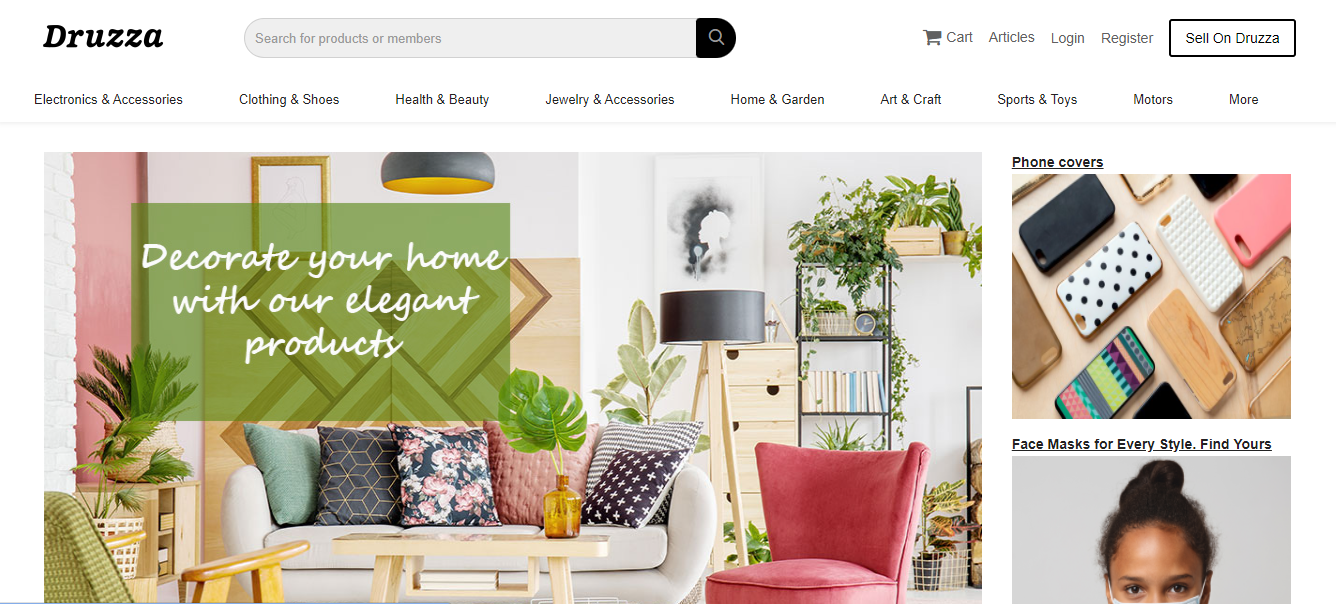 Druzza
Druzza is a site like Etsy that's perfect for those looking for an alternative to the traditional eCommerce platform. The marketplace offers a wide range of features, including sending invoices, tracking inventory, and creating product labels. Before starting to sell on the platform, the retailers are required to pass a seller verification. The procedure is entirely free and may take a few minutes. This step is obligatory for everyone who wants to have their products on Druzza.
Selling categories: Electronics and Accessories, Clothing and Shoes, Beaty and Health, Jewelry, Home and Garden, Art and Craft, Sports, Toys, Antiques, Tickets, etc. 
Check the list of prohibited items here.
Learn more about selling policies here.
Closing Points
The takeaway? If you're looking to stand out from the competition, it may be time to explore other platforms like Handmade at Amazon, Storenvy, and others. Of course, there's no one-size-fits-all answer when it comes to deciding where to sell your products. However, understanding your unique selling proposition and what sets you apart from other sellers, you can make a professional decision about where to take your business next. Moreover, if you decide to synchronize data from several eCommerce platforms, don't hesitate to invest in an inventory management system. Have you tried any of these sites like Etsy? What was your experience?