What is eCommerce? The term is a portmanteau of "electronic commerce" that refers to selling goods and services via the Internet. One of the key points of running a successful online business is having a professionally developed eCommerce management system. Regarding this, today's article aims to discuss eCommerce management in-depth and help entrepreneurs make informed decisions.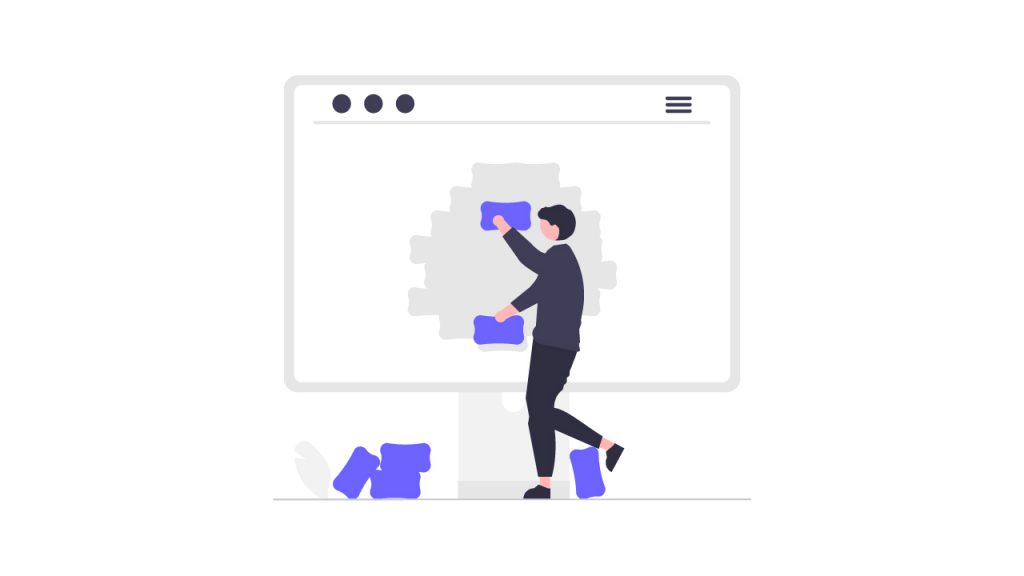 Why Does eCommerce Matter?
eCommerce has been a significant part of the global economy, with sales totaling over $4.9 trillion US dollars worldwide in 2021. 
The importance of eCommerce lies in the fact that online shoppers are willing to spend more money than those who shop in physical stores. Neglecting the uniqueness of all online retailers, one thing unites everyone: eCommerce management. First thing to remember is that all businesses need to identify the launching and complete control of their online selling platform. A few years ago, only IT specialists were responsible for managing the eCommerce platforms. However, today several solutions allow entrepreneurs to manage their stores without any programming skills. As a result, modern eCommerce platforms can be broadly divided into two categories: hosted and self-hosted.
Hosted eCommerce platforms are those that the platform provider manages. In fact, the provider is responsible for everything from hosting your store to keeping it secure. On the other hand, self-hosted eCommerce platforms are those that you host and manage yourself. As a result, this gives you more control over your store, but it also means you're responsible for things like security and updates.
Closer Look at eCommerce Management
eCommerce management is the process of overseeing all aspects of eCommerce operations. This includes everything from creating and managing products to handling customer service and processing orders.
The main functions of eCommerce management can be divided into four categories: product, inventory, orders, and customers. Let's quickly go through the main aspects of each category.
Product
Creating and managing products is one of the most important aspects of eCommerce management. You need to make sure your products are well-organized and easy to find and that you have all the information customers need (like product descriptions, images, and prices).
Inventory
Keeping track of your inventory is essential for two reasons. Firstly, it ensures you always have enough products in stock to meet customer demand. Secondly, it helps you avoid overstocking, which can tie up your capital and lead to costly storage fees.
Orders
Managing orders is all about efficiency. You need to track orders from start to finish, so you can quickly resolve any issues that come up (like cancellations or returns).
Customers
In fact, eCommerce businesses live and die by their customers. Therefore, it's important to manage them effectively. The required actions include everything from providing excellent customer service to tracking customer data (like purchase history and contact information).
When it comes to eCommerce management, there are a few key things you need to keep in mind:
Make sure you have a

system in place

for keeping track of your inventory. This will especially help you

avoid overstocking

and minimize the chances of running out of products.

Make sure you have a

system for tracking orders

. Such an approach will help you resolve any issues quickly and efficiently.

Make sure you

provide excellent customer service

.
Happy customers are the key to a successful eCommerce business. 
Best eCommerce Inventory Management Software
Inventory management is indeed a critical function for any eCommerce business.
Firstly, inventory management software helps you keep track of your products, so you always know what's in stock and what needs to be reordered.
Secondly, it also allows you to avoid overstocking, which can tie up your capital and lead to costly storage fees.
Nowadays, the market is full of various inventory management systems. However, not all of them are created equally. When choosing an inventory management system, make sure to find one that fits your business needs. 
For your convenience, we have created the following list of the most popular inventory management software. In other words, these are tools that will help you efficiently manage your sales and order deliveries.
eSwap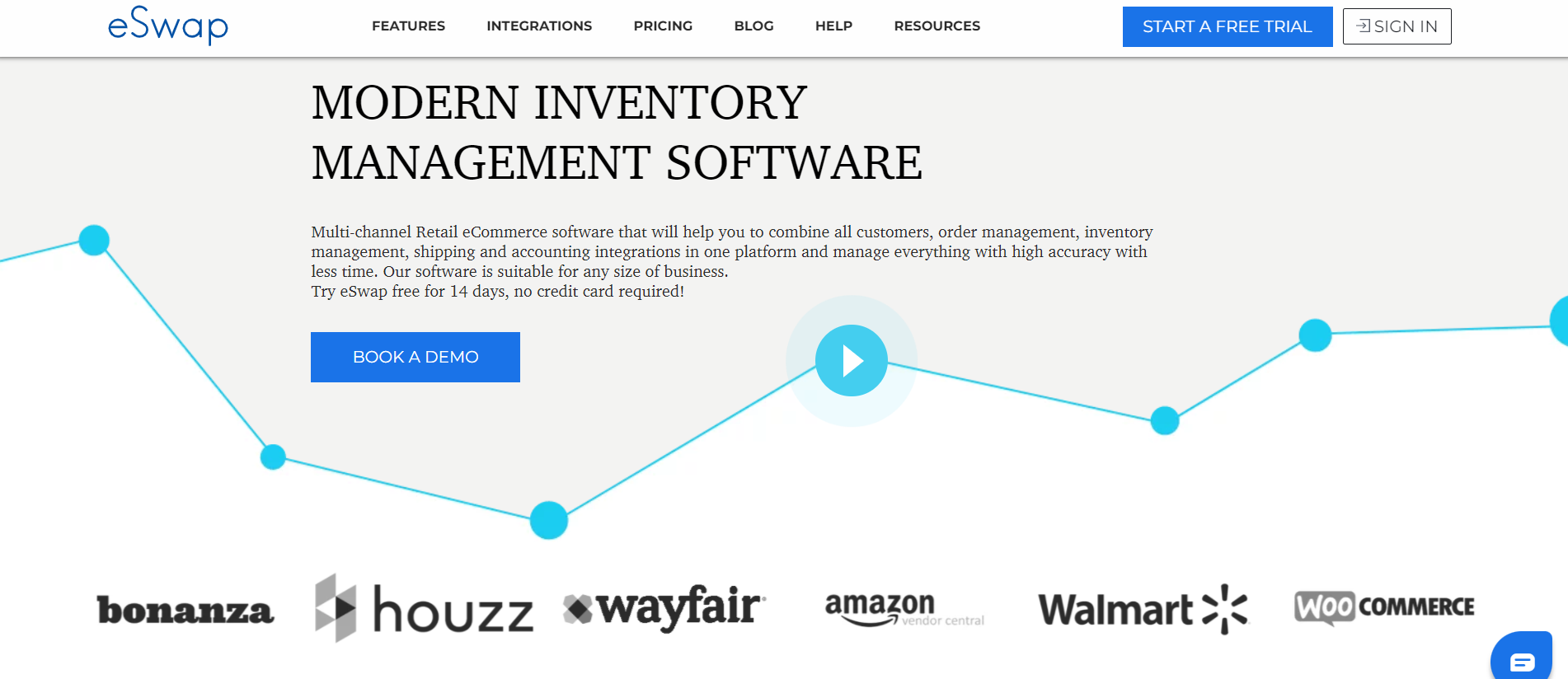 eSwap inventory management software is an excellent choice for businesses that need a robust, all-in-one solution. It offers features like product catalogues, order tracking, and built-in eCommerce integrations with the leading platforms in the industry. Connect your eSwap account with Amazon, eBay, Shopify, Walmart, and other eCommerce platforms to integrate highly innovative inventory on all operation levels.
Due to its user-friendly and up-to-date customization, eSwap is suitable for any eCommerce business. Suppose your workflow runs around several warehouses, and you cooperate with different suppliers. eSwap frees you from the need to maintain a complex system of SKUs and product data. Treat it like a virtual assistant that will manage everything for you.
Users can take advantage of the variety of features presented by the inventory management software. For instance, the platform includes:
Multi-channel listings.

Inventory and order management.

Automated warehouse management.

Detailed analytics.

Reporting on your stock levels.

Overall workflow.
To get acquainted with the broader spectrum of features, visit the official website.
Pricing*: 
Free – $0/monthly
Premium – $79/monthly
Business – $199/monthly
*A 14-day trial allows you to try all Premium features for free!
Zoho Inventory

Zoho Inventory is a cloud-based inventory management system that helps businesses keep track of their products, orders, and customers. The software is suitable for companies of all sizes. It offers a wide range of features, including product catalogues, order tracking, and built-in eCommerce integrations. 
Pricing: There are four subscription plans available.
Free – $0/monthly
Basic – $49/monthly
Standard – $99/monthly
Professional – $249/monthly
To learn more about each option, visit Zoho Inventory's official website.
NetSuite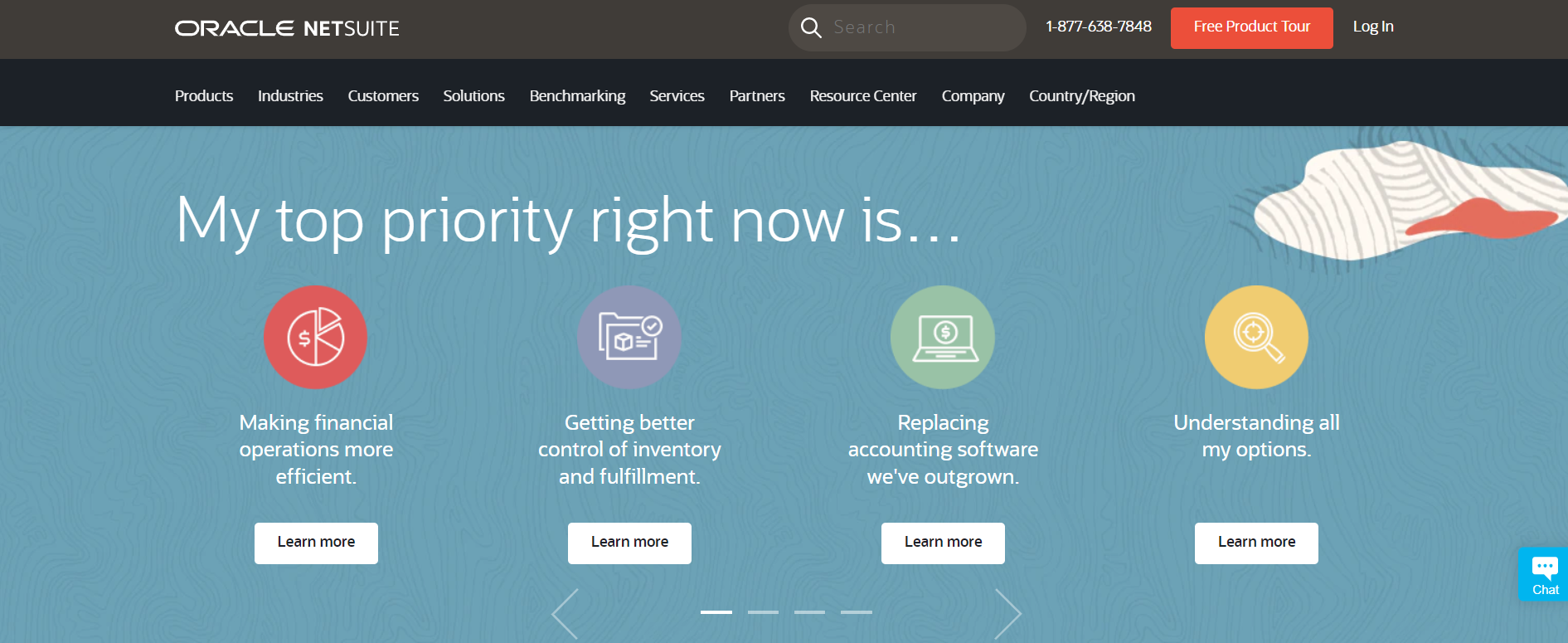 NetSuite is a comprehensive eCommerce management system that offers everything from inventory management to order tracking to customer service. In fact, the system is especially suitable for businesses that need flexibility and independence in controlling their stock levels. In addition to inventory control, the software offers accounting and HR management tools.
Pricing:
$99/monthly per user
To get additional information, check the link.
In conclusion, before you decide on the best eCommerce inventory management software for your entrepreneurship, try answering these questions:
How many products do you have?

Do you sell physical or digital products?

How often do you need to update your inventory?

Do you have a lot of SKUs (

stock-keeping units

)?

How much automation do you want/need?

Are there any specific features you need?
Once you've answered these questions, you can begin to narrow down your options. From there, it's just a matter of finding the system that best suits your needs.
Bottom Lines
Summing up, eCommerce is a powerful tool that drives sales and increases revenue for businesses of all sizes. To make the most of this channel, it is crucial to understand the principles of eCommerce management and apply them in a way that meets the unique needs of your business. On the positive side, we hope that this article has provided you with some valuable insights into managing your eCommerce operation processes more effectively and achieving tremendous success online.