When running an ecommerce business, an important aspect is to come up with a place to store your inventory, such as a fulfillment center or warehouse. Further, you need effective ecommerce warehouse management to maintain control over your inventory and shipping.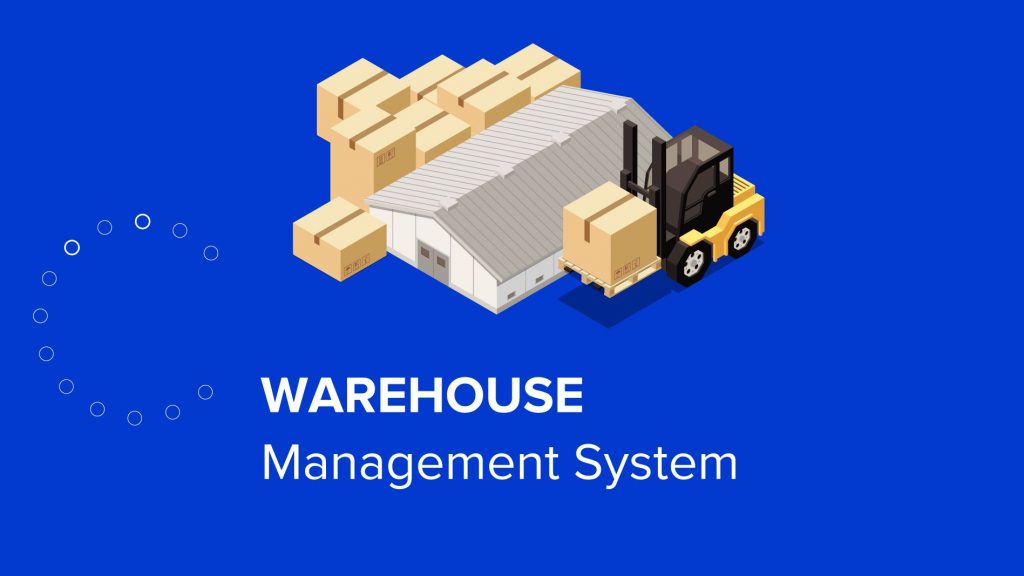 Even the most up-to-date and modern warehouse is not free of risks of failing the operations because of factors such as poor staff performance, extensive volumes of manual work, increased expenses for the inventory of specific products, etc.
A Warehouse management system (WMS) is a software application that helps you to track, receive, pick, pack and ship orders more accurately and quickly. 
And as you the myriad of WMS solutions in the market may confuse you, this article aims to give you some tips on selecting the best one for your business. But before that, let's quickly dive into some terminology.
What Is a Warehouse? 
A warehouse is actually a physical space for storing and managing goods. In other words, it is a storage facility, which is a part of a supply chain. A typical medium to large size warehouse is several hundred thousand square feet in size and has dozens of loading docks to receive shipments and dispatch outgoing shipments.
Usually, warehouses are located in central positions, which is essential for the convenience of shipping and distribution. The closer the warehouse is to the main markets, the lower the transport cost.
What is Warehousing?
Warehousing refers to the whole process that takes place inside the warehouses. That is mainly inventory storing, tracing before sending to the fulfillment centers, etc. So, when we talk about warehousing in business, we are referring to the commercial activity of storing goods for safekeeping or until they need shipping.
In the case of small businesses, all these processes can take place in one room, while for the larger enterprises renting or owning big buildings becomes a must.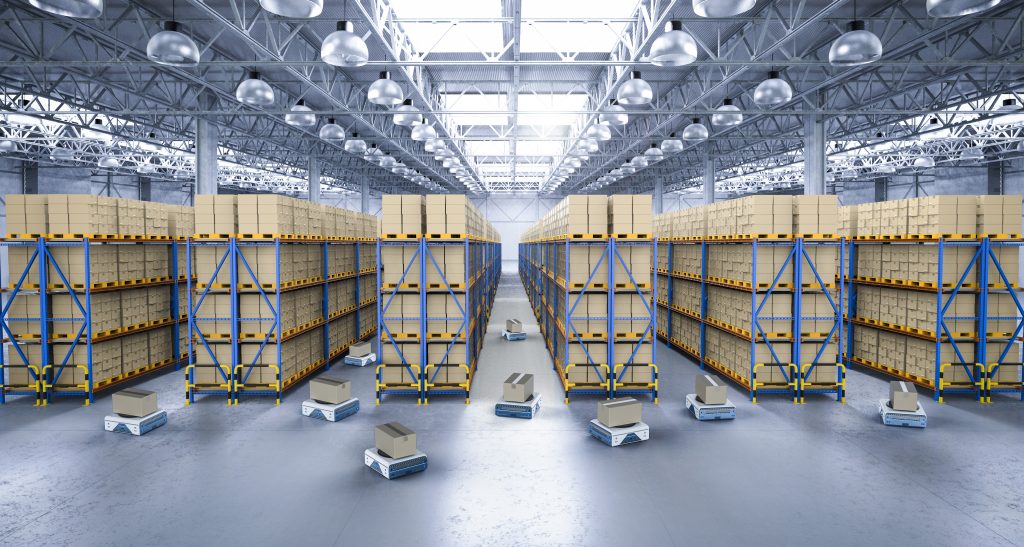 What Is a Warehouse Management System?
A warehouse management system, often abbreviated as WMS, is a software application that helps warehouses to track and manage inventory levels, orders, and shipments. A WMS can generate reports, optimize picking routes, and automate tasks such as labeling and packing.
It is also about shipping management, workflow planning and product monitoring through its way to the customer. Warehouse management optimizes and controls all product-related operations. It starts as the product enters the warehouse and goes through the stages of selling and consuming.
Most WMS systems work with a company's existing enterprise resource planning (ERP) software. This allows businesses to keep track of their inventory levels in real-time, and eliminates the need for manual data entry.
What Is eCommerce Warehousing?
eCommerce warehousing is a type of storage facility specifically for accommodating the needs of online retailers. Typically, these warehouses are large facilities that are equipped with state-of-the-art security and inventory management systems.
While the exact layout and design of eCommerce warehouses will vary depending on the retailer's specific needs, they all share one common goal: to provide a safe, efficient, and cost-effective storage solution for online businesses.
There are many benefits to using an eCommerce warehouse, including:
– Reduced shipping costs: Because eCommerce warehouses are often located near major transportation hubs, online retailers can take advantage of reduced shipping rates.
– Increased flexibility: eCommerce warehouses offer a high degree of flexibility regarding order fulfillment. This means that online retailers can easily scale up or down their operations as needed.
– Improved customer service: Online retailers can offer faster shipping times and improved customer service by storing inventory in an eCommerce warehouse.
E-commerce Warehouse Management Steps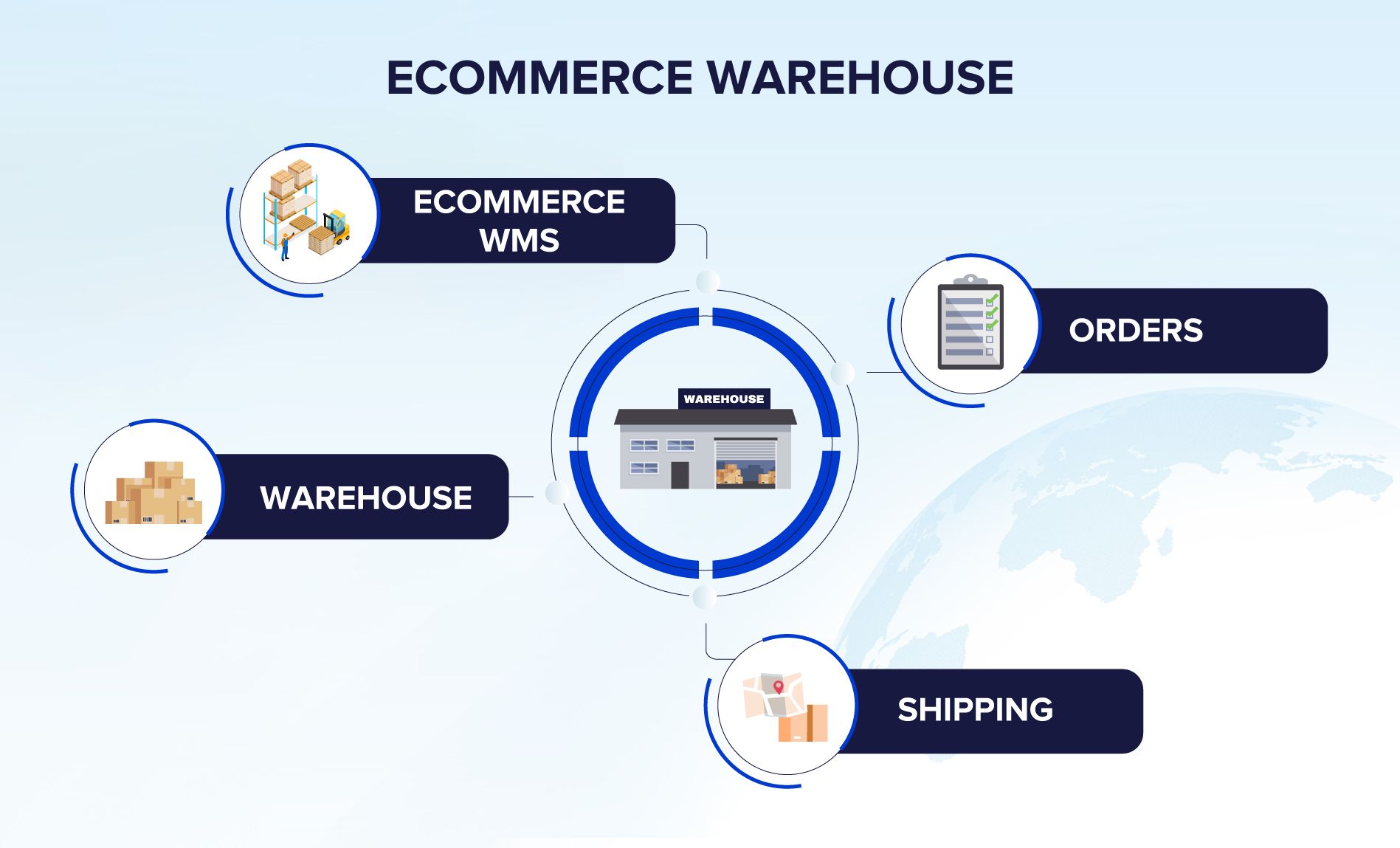 Inventory Tracking
The first step in eCommerce warehouse management is inventory tracking. This involves keeping track of all the products in the warehouse. Inventory tracking also ensures that all the inventory items are properly labeled and organized. Accurate inventory tracking should be a top priority for any online retailer, as it will help to ensure that orders are fulfilled correctly and efficiently. You can now see the status of each SKU in your inventory, as well as whether the items are on their way from supplier to warehouse.
Example: Inventory Tracking with eSwap
Connecting your sales accounts on eCommerce marketplaces like eBay, Amazon, Etsy, etc., to eSwap, you can get an overview of your sales and stock positions in real-time. Whenever an order is placed, eSwap will automatically update your inventory levels and send you an email notification. Once the stock levels of any SKU are low, you will get low stock alerts and automatic reordering.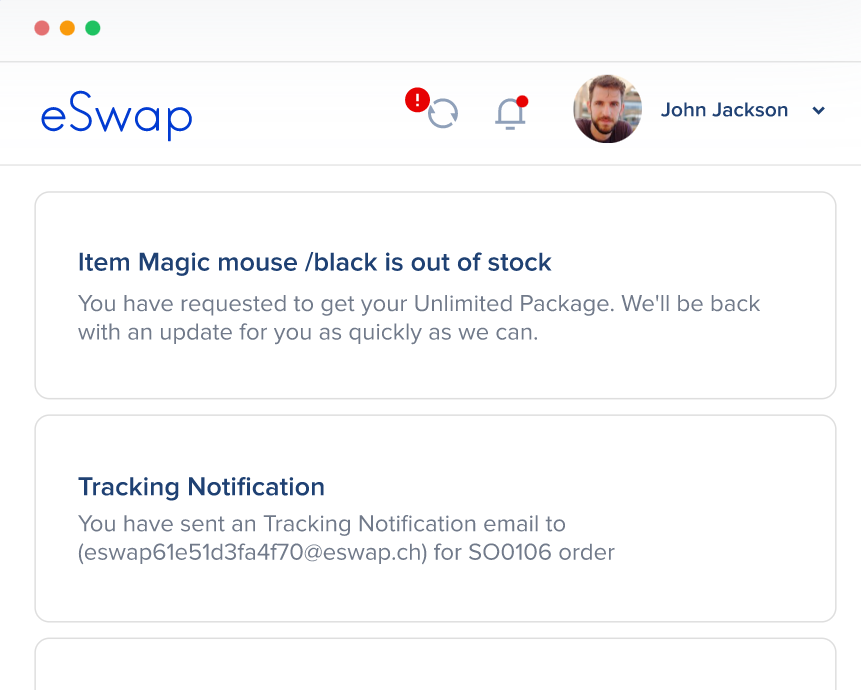 Order Fulfillment
The next step in eCommerce warehouse management is order fulfillment. This is the process of picking, packing and shipping orders to customers. An effective order fulfillment system should be able to pick orders quickly and accurately. Moreover, it provides tracking information to customers. A good order fulfillment system will also integrate with your existing eCommerce platform, making it easy to keep track of orders and customers.
When the business receives the order, the warehouse management system checks the availability of the ordered SKU(s) and updates the inventory level in real-time. Further, the order is assigned to a picker. The picker uses a mobile device to scan the barcodes of the products in the order and confirm that they've been picked. Once all items in the order have been picked, it's sent to packing.
At packing, an operator will print out a packing slip and affix it to the box. The items in the order are then checked against the packing slip to ensure everything is correct. Once everything has been verified, the box is sealed and sent on its way.
Example: Order Fulfillment with eSwap
eSwap allows you to receive and manage all your orders from different sales channels in one place. The platform also allows you to create custom packing slips, shipping labels, and print barcodes for easy product identification. Among other benefits, fulfilling all your orders with inventory management software like eSwap allows you to cut costs, as you can avoid using multiple fulfillment services and the workforce.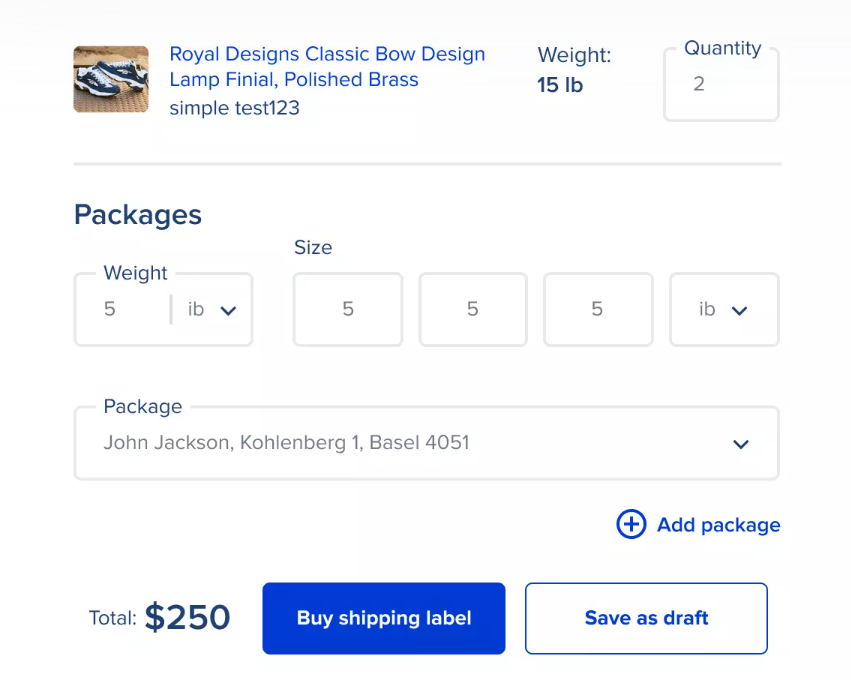 Shipping Management
Shipping management ensures timely and safe shipping and delivery of the orders at their destination. An effective shipping management system should be able to track orders and update customers on their shipment status. It should also be able to generate shipping labels and manage returns.
After the order's approval (the requested SKU is available for shipping), the WMS assigns the order to a carrier. The carrier then picks up the order and ships it to the customer.
The shipping management system then updates the order's status and sends tracking information to the customer. Once the order has been delivered, the system marks the order as "completed," and your inventory is updated accordingly.
Example: Shipping Management with eSwap
eSwap is a multi-carrier shipping software that helps you to fulfill all your orders most efficiently. You can ship the orders via Amazon MCF integration, international shipping carriers, third-party logistics, or any other shipping method. 
You can regulate the shipping process in eSwap automatically. All you have to do is to insert shipping dates and location, shipping label templates, and other shipping default attributes. The best part of eSwap's shipping management is that you can further use end-to-end tracking to check on the whereabouts of your shipments and even send automated shipping notifications to your customers.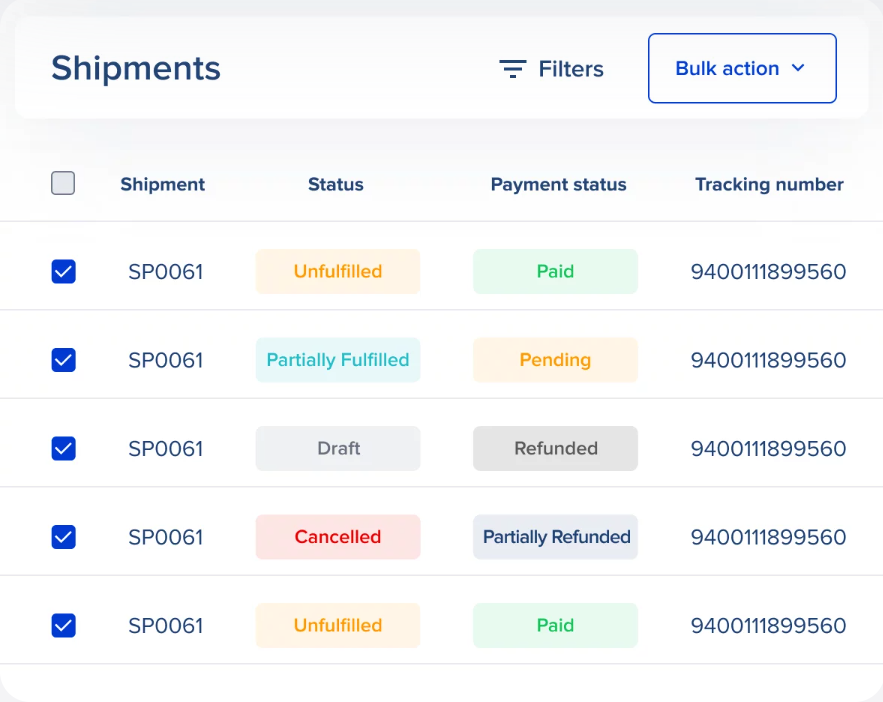 Reporting
The final ecommerce warehouse management function is to provide up-to-date and trustworthy reports across the warehouse. It should include data about order conditions and their fulfillment.
Reports can also relate to the staff operations. Also, there can be inventory forecasting reports, which will help to understand labor and staff needs. With warehouse management assistance, it is even possible to track employee performance.
Example: eSwap's Automated Reporting
eSwap will keep track of your inventory across multiple channels and update it in real-time. Whenever you are in your dashboard, you can see how much stock you have left in each channel and your total inventory levels. You can track sales performance and decide which items are selling well and which ones you should reorder. This way, you are sure that your listings are accurate and up-to-date.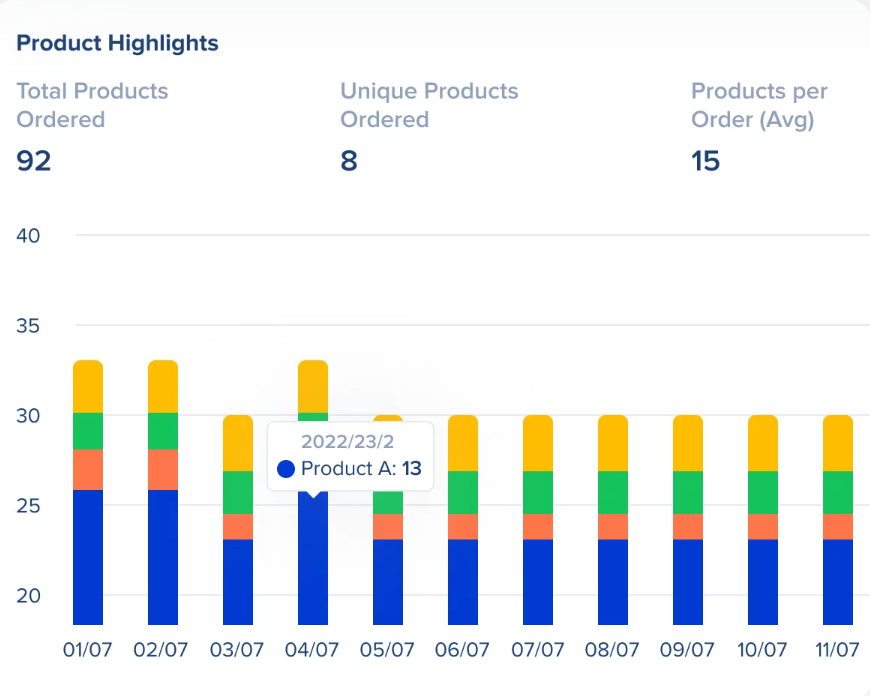 Final Words
In case you are looking for a reliable warehouse management system that will organize all the processes online and quickly, check out eSwap. Here, on our platform, you will not only run your warehouse management but also take your order and shipping management to the next level.