Anyone involved in e-commerce companies realizes the difficulty of managing inventory. Sellers need to record all the units and numbers. They also need to know inventory locations and conditions. Another crucial point is ensuring a sufficient amount of stocks and also on-time order fulfilment. And it is not easy to manage all these things manually. The chance of errors is very high. Let's view our free online stock and inventory management software for small businesses in detail. We will primarily consider the pricing. And then we'll come to the benefits of the best inventory app for small businesses.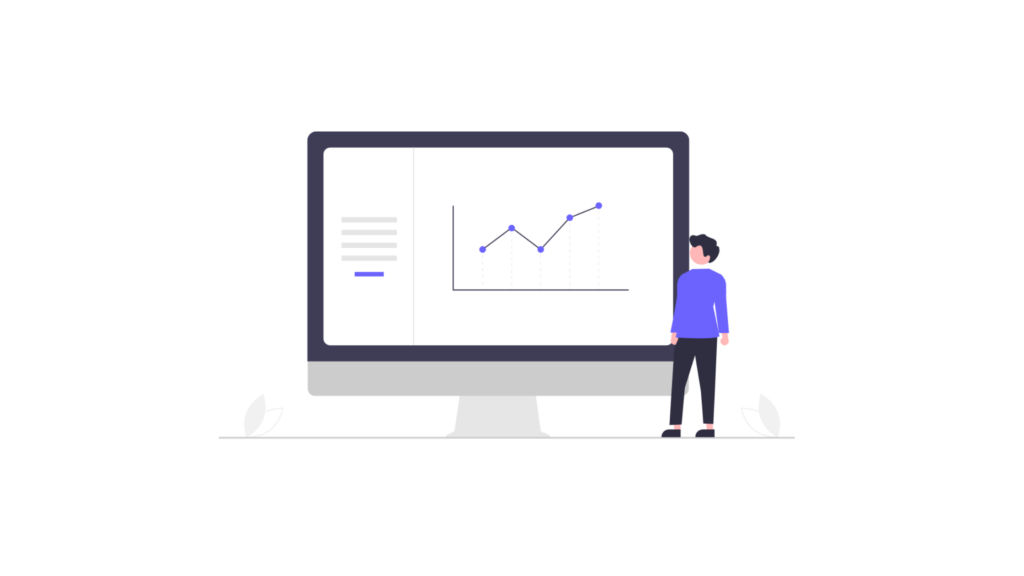 What is Online Inventory Management?
Imagine your inventory value is not correct. Your records don't contain proper stock amounts. You risk appearing in a situation called out of stock. And you may have problems with inaccurate average inventory records. This in its turn leads to penalties. That's why today, we highlight the importance of free online inventory management solutions. 
Online inventory management is one of the best small retail business solutions. It simplifies tracking the inventory and human error minimization. Moreover, if you use such systems, your audit and control are executed easier too. Most importantly they save manual count efforts.
Maybe you are concerned with the question of investments? Or probably you think whether using an inventory management solution is for you. In this case, to start with, you can use a free inventory management system. You will thus discover all the valuable features of the platform. And all these without paying additional money for the services.
eSwap comes as a solution both for the users ready to pay and those who want to start with no investment. The flexible pricing strategy gives a chance, to begin with, a 14 days free trial. And then you can switch to Free, Premium, Business and Enterprise pricing plans. 
Let's now view the main components of the internal control of inventory.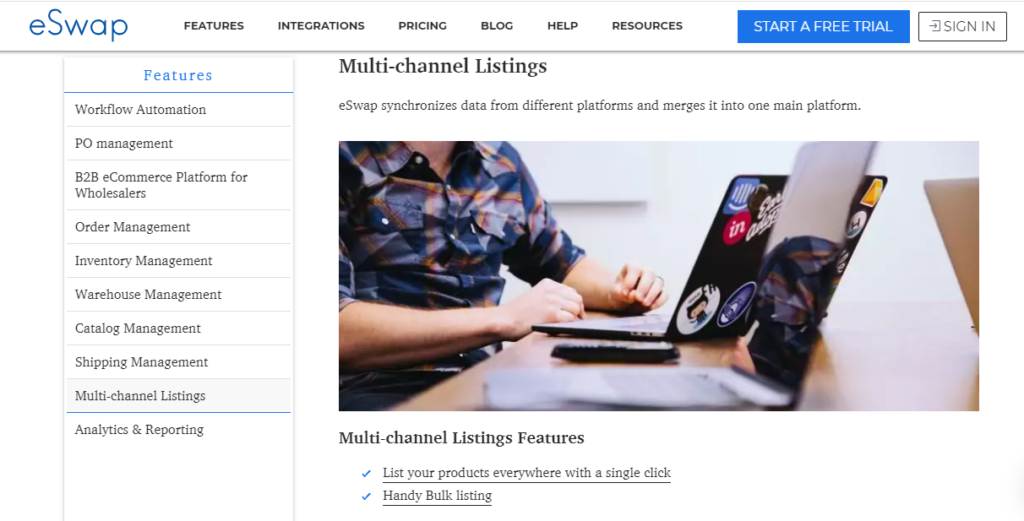 Online Inventory Management: Multi-Channel Listings
Online store owners may list their products on multiple channels. It will help them to get higher reach to new audiences. Thus simply increase the sales. Imagine a seller uses only one ecommerce channel. Probably he will reach a smaller percentage of the potential market. So the multichannel listing helps to get larger audiences and win new customers. Without this, maybe they will not hear about you and your products. Here on eSwap, you can get familiar with the feature of multichannel listings. This will let you get the best out of them. 
Inventory Management
Inventory management is a supply chain approach. It helps to get, store and sell inventory. Various things can be regarded as inventory: both ready products (products) and raw materials (components). From the business point of view, Inventory management includes all about stock levels, their places at different points of time, as well as their costs and prices. eSwap supports perfect inventory management throughout multiple sales channels.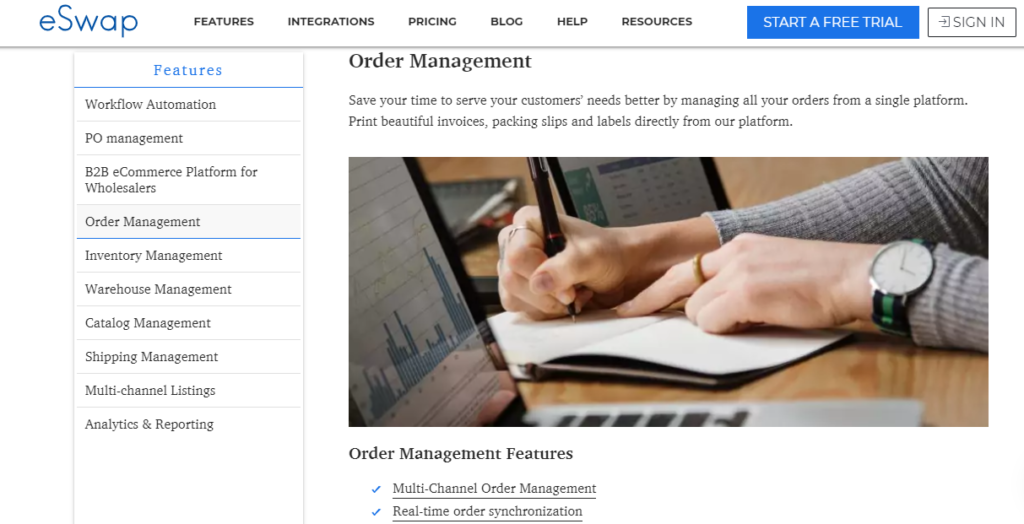 Free Online Order Management
The beginning of order management is right when customers place orders. And it finishes at the moment when the items arrive at them, and they get it. With its help, businesses can regulate the whole fulfilment process. As for the fulfilment process, it includes order gathering, inventory visibility, its condition and travelling, as well as availability and delivery. The type of workflow and the methods can differ. It is usually based on a company's needs. Typically, the processes related to order management include 3 steps. Those are placement, fulfilment and management. Order management is organized and carried out on the eSwap. Our free online inventory management platform will take you to the highest efficiency level.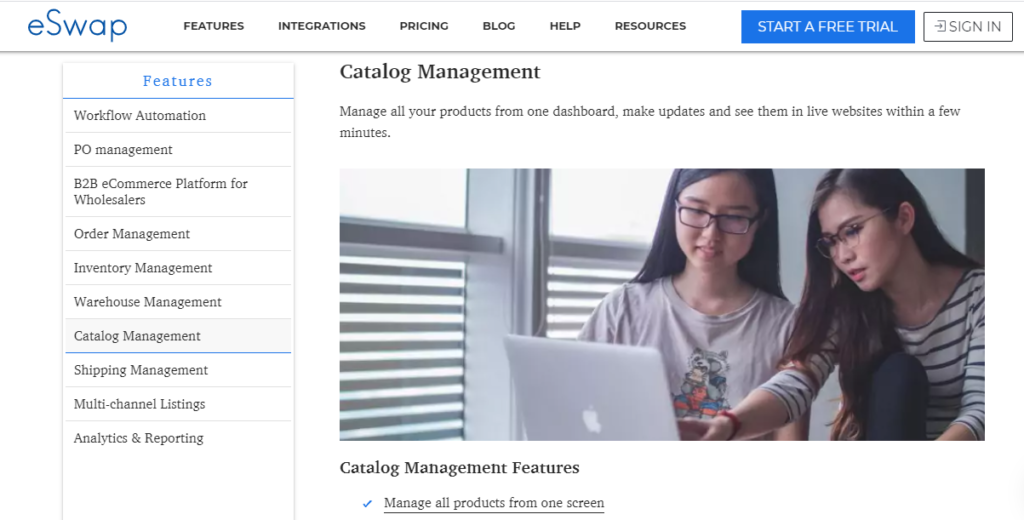 Catalog Management
Catalogue management is one more supply chain process. It enables suppliers to support high-quality product data as a complete catalogue. Most prominently, this is done in a buyer's desired format. In other words, it refers to the process with which suppliers can make their products and content more available for organizations to buy. They can thus obtain goods electronically. In this case, both the buyers and suppliers can host those products. This feature as well as a part of the most useful eSwap features.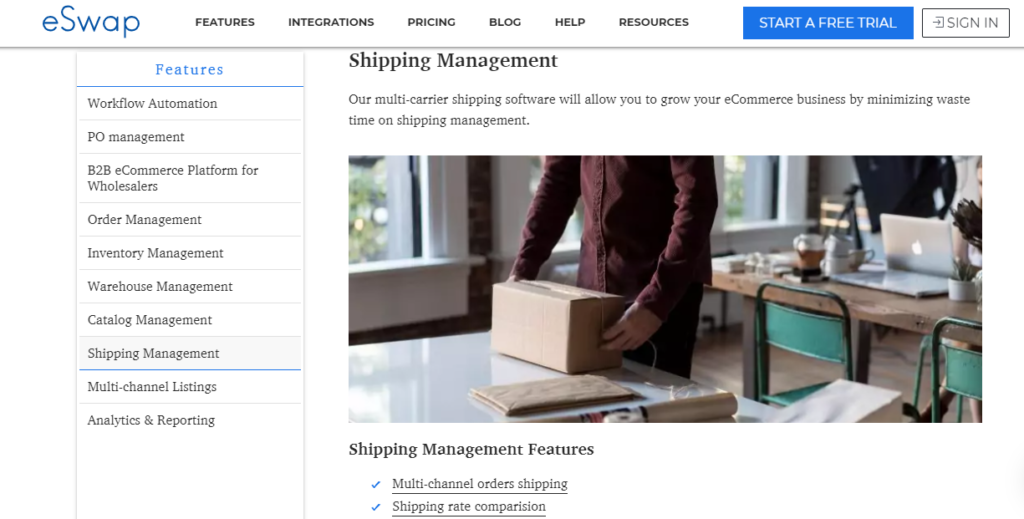 Shipping Management
There is a process of taking care of shipping from the very beginning till the end. We call it Shipping Management. That is to say, shipping management includes shipping process planning and execution. All these are done to ensure smooth flow. With the help of shipping management, the companies' order fulfilment and delivery are organized better. Business runners can focus on other steps of the process easier and more effectively along their workflow. Be aware of your transfers with the help of eSwap integrations. It supports the leading shipping carriers and dealers like DHL, USPS, UPS, FedEx, etc.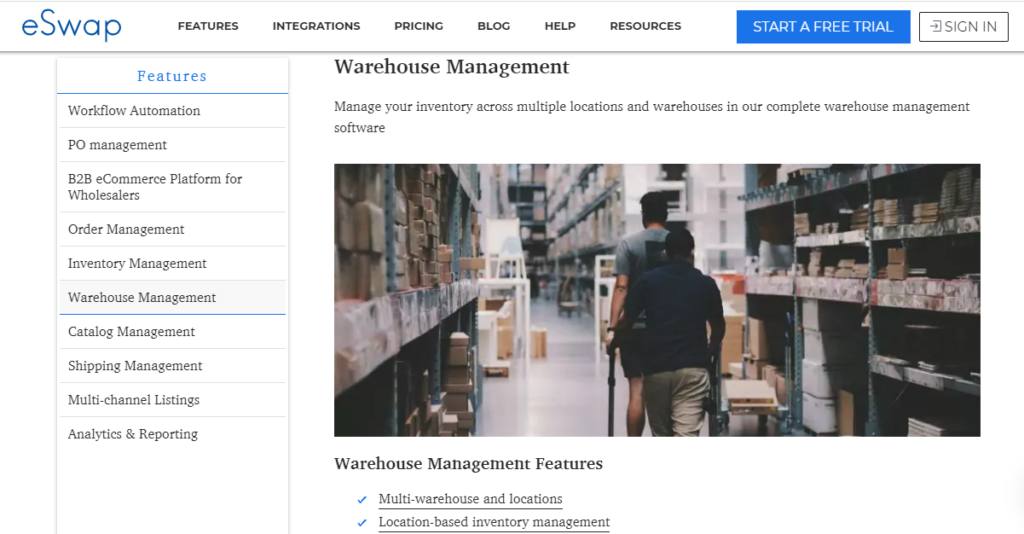 Warehouse Management
Warehouse management is the control and optimization of the workflow. Especially those that refer to the warehouses. It starts with inventory entry to the warehouse. Then it goes until its movements, sales and consuming processes. Warehouse management mainly deals with receiving and shipping items. So warehouse management, in contrast to inventory management, cares more about the item journey. Especially the flow through the warehouse to shipment. Keep your warehouses in their best condition with the help of eSwap.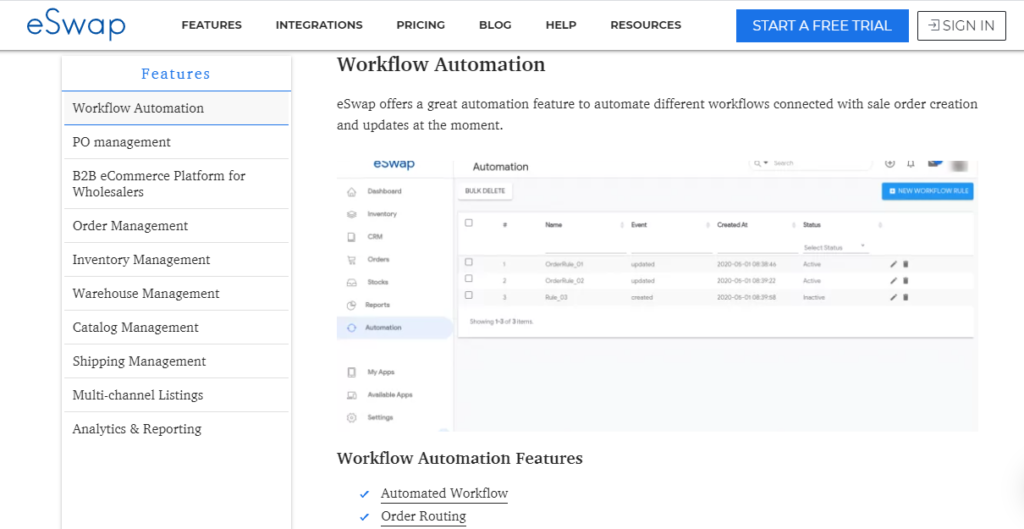 Workflow Automation
The automation of workflow is a technology that uses artificial logics. It helps to automate manual work. For example, here we can include data entry. For example, importing the lead info, data about items and listings on e-commerce, etc. Workflow automation helps with task running and effective management. Businesses using this system will surely save much time, efforts and resources. As a result, they will eliminate errors and lift efficiency. Marketing, human resources, finances – all of these branches will make a profit from automation. This is how technologies help to work smarter. And all these without trying hard. Our free online inventory management platform is here as well. It supports workflow automation. It works best in the field of e-commerce. That's because it is one of the leading automation software.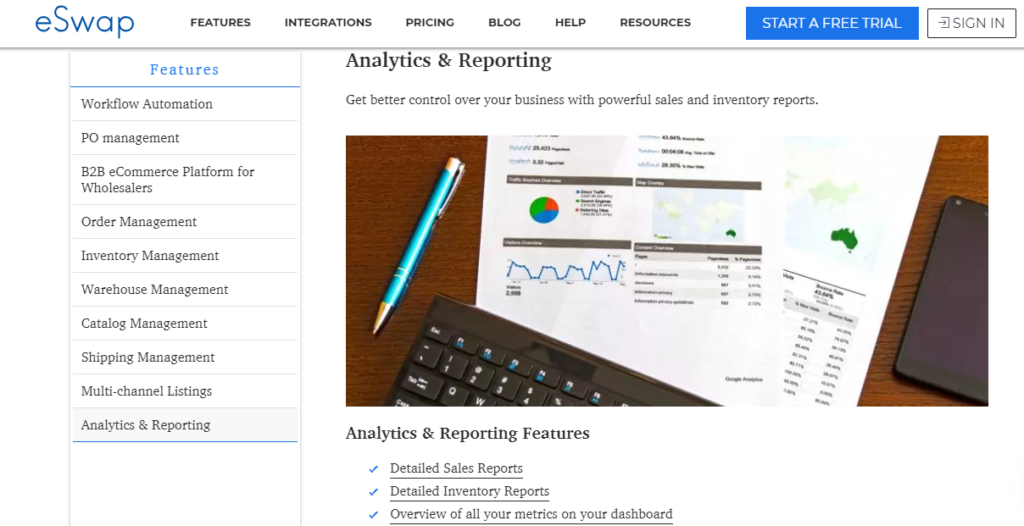 Analytics and Reporting
The processes of analytics and reporting can deal with thousands of things. They can refer to simple reports. They also deal with complex tasks. Our platform takes the data during the Reporting.  And then presents it to the user in the most suitable and understandable way. Usually, data analysts, in this case, pull the info from specific databases. But on eSwap, you do not need any professionals. We have automated analytics and reporting as well. The platform gathers the information. It also does the other components of this job. So you simply get all the insights that you need.