Metrics are too vital for wholesale and retail businesses. To prove it, let's see: 34% of companies realized that products weren't shipped on time. It happened because of not having clear data about your inventory on hand. It leads to non-satisfied customers. Thus, the process of inventory audit is one of the longest and exhausting, however the crucial elements in inventory management.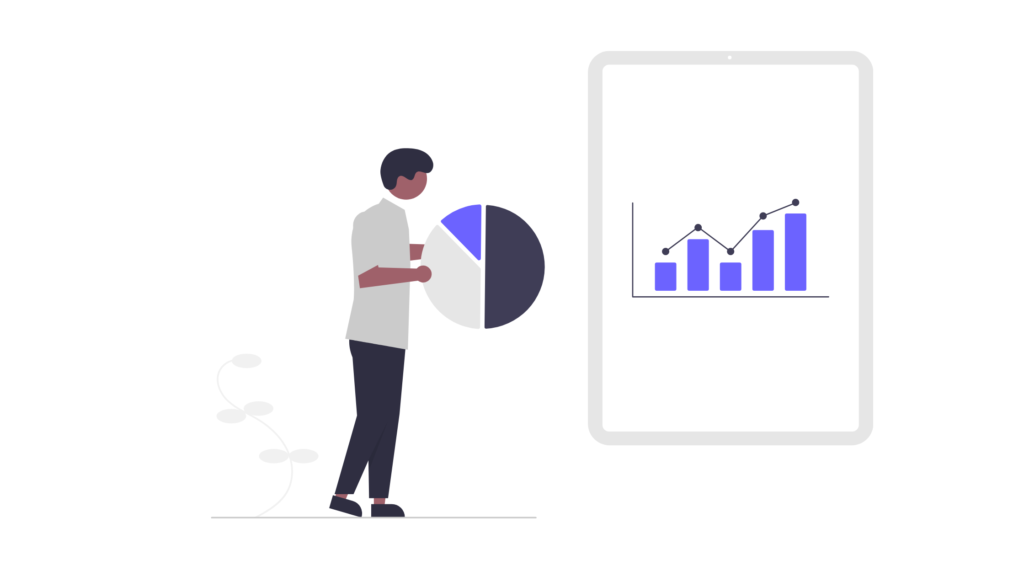 Inventory audit a must for any kind of business, no matter small or big in size. It occurs when the auditor compares and rechecks financial records of physical stock and records via modern inventory audit software.
Nowadays inventory management systems can do everything correctly saving your time and efforts and overcoming operational chaos.
Let us find out today what inventory count auditing is. And also view the main audit procedures for inventory.
What is Inventory Audit?
Before coming straight to the point of inventory audit another step one should clearly understand its meaning. We define inventory audit as the process of stock assessment. It is the confirmation of the data in the financial records. No company can accomplish inventory management without auditing. It is an integral part of the system. The audit can be conducted by people from the company and an external person.
First of all, the auditor gets access to your company's stocks. Then he compares all the data in the registers and shelves. And finally, makes sure they match exactly. However, sometimes there is a high risk of unfair and false auditing by internal parties. Especially when someone from inside produces records. They can alter the information deliberately or mistakenly.
How can it affect your business? The whole idea of auditing is to check and prevent such mistakes. There are some internationally accepted standards that should be kept. Some of them are IFRS, GAAP. Their presence is also under audit control.
W touching upon the topic of audit and auditing standards. So we should also mention its crucial points. Evidence is an audit point to take into account during the primary process. Companies need it to determine whether financial records are made according to the standards. Evidence must verify the financial records. In case of errors or fraud, forms must deny the financial information presented by the business. And of course, audit reports must be accurate, transparent, and objective.
Audit Procedures and Methods for Inventory
Some simple questions help evaluate your workflow, even before implementing an inventory audit and find out where to start. Let's see them:
Is the amount of my inventory (materials, final goods or other) too much? Can we count it by hand?
Do I store the inventory myself, or a third-party logistics building is the place I use to store goods?
Is this the right time for conducting an inventory audit?
After determining the answer to these questions, we can go on. Now we have come to inventory audit procedures. Indeed, there is no single definite audit approach for all businesses. You should find some that will be appropriate for your business type and size. Knowing them, you'll understand which one is needed by you. Let's see which they are.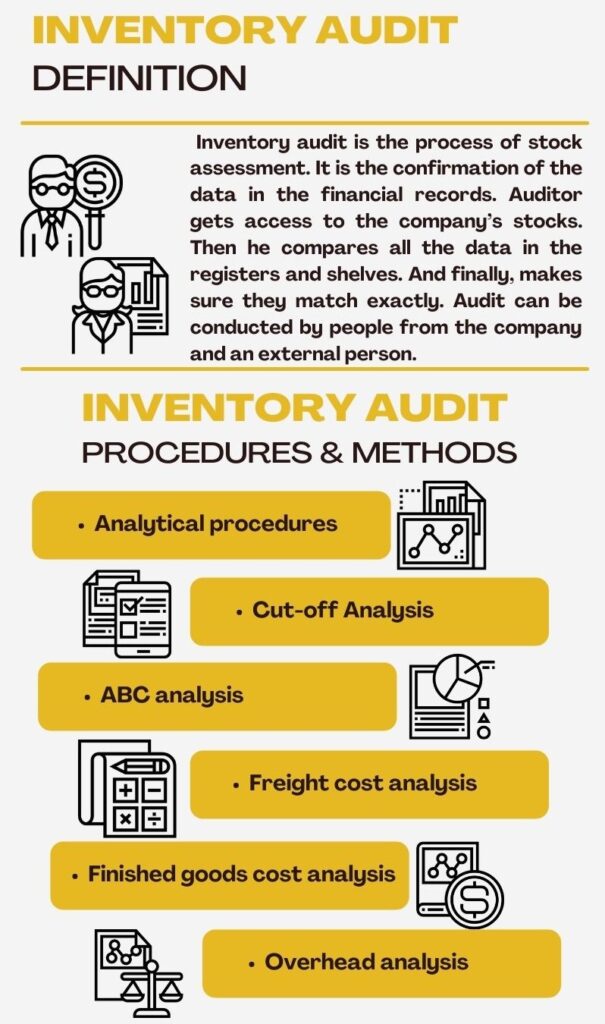 Analytical procedures
This step of internal inventory control includes inventory analysis. It is based on financial metrics. The metrics usually are:
Inventory turnover ratio.
Historical costs of stock.
Cut-off Analysis
The method's name speaks for itself. It occurs when cutting off operations connected to shipping. This method ensures the absence of mistakenly handled items. It also reduces the chances of unaccounted items. Without this step, you'd have to recount so that to find out reconciling items. This involves pausing operations, receiving and shipping inventory. It takes place during the physical counting of inventory. It aims at avoiding mistakes.
ABC analysis
The main component of the ABC analysis (also called high-value item inventory) is grouping. The employee group inventory with various values. There is high-value, mid-value, low-value inventory. Further, they conduct tracking by their definite groups. The method works like this: high-value items are in A listings. Mid-value items are grouped as B. Low-value items are in group C. As for their stocking, it also differs according to the groups. Usually, they place group C things by the entrance, or even on the floor. The items from group A should be securely put in a safe place. This method is one of the most wide-spread procedures.
Freight Cost Analysis
Freight cost analysis considers the shipping (freight costs) needed for inventory transportation. The value of inventory usually includes these costs as they are essential. In this case, the records refer to the time of sending your items. As well as the time they arrived at the desired destination. This method hugely helps to record lost or damaged items.
Finished goods cost analysis
This method refers to the finished goods assessment and analysis. It includes cost analysis, usually connected to the makers. In the cost of finished goods, we understand all the expenses on the way.
Overhead analysis
This type of inventory audit analyzes business indirect and overhead costs. They may be included in inventory prices. This is not necessarily a required procedure, but it is still popular. Those costs analysis (rent or utilities) can help to predict additional costs as part of inventory costs. It will definitely assist with budgeting and planning.
Inventory Audit Software and Inventory Management System
Several years ago, businesses had no advanced options. They had to implement a stock audit themselves on sheets of paper. Now the system has changed a lot due to innovations and technology. The majority conducts inventory audit via physical counting of items. Then comes comparing the data with the software records.
Already in 2017, there were predictions regarding these changes. It said that 72% of retailers would reconsider their supply chain and inventory auditing methods.
Automated inventory audit software allows storing all the information in one place. They are an integral part of the inventory management systems that help to facilitate inventory control, comes up as a storage system keeping the goods organized and as a great way of demand forecasting.
eSwap as one of this kind of software supports analytics and accounting features that will help you with the audit process. You can find detailed information in the "Help" block as well. Try a free trial and enjoy all the options of the audit software.