Multi-channel listing software gives companies control over all their listings on multiple e-commerce platforms from a single panel. As businesses grow, keeping track of inventory, orders, and listings gets increasingly complex. Team members, however, should treat this task responsibly, as keeping track of the company's inventory and listings is a big part of the management process.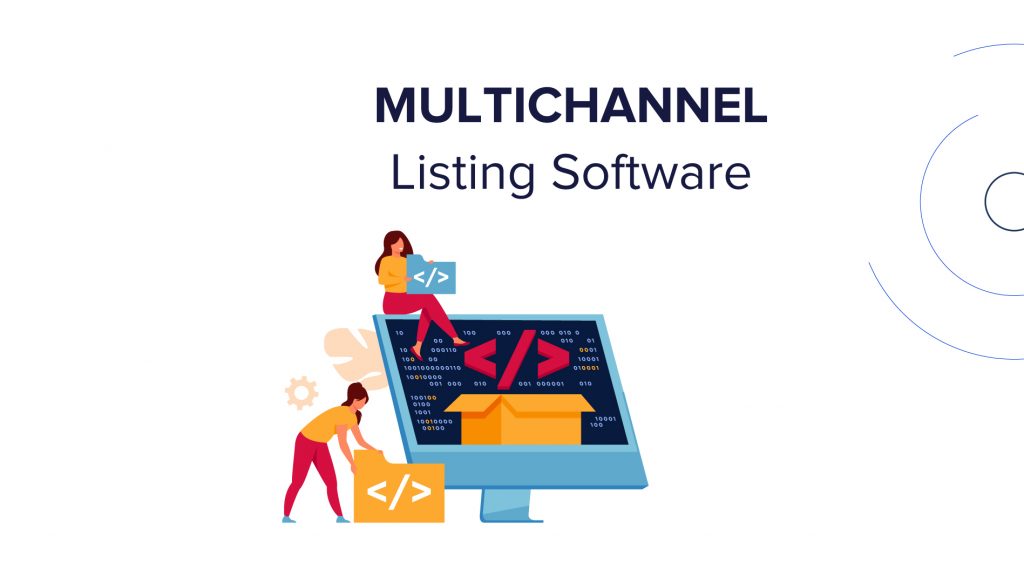 Top 5 Multi-Channel Listing Software Tools
Most multi-channel listing software products provide similar services. Their main purpose is to simplify the managers' job by enabling control over all listings from a single platform. Therefore, choosing the best and most efficient tool might be challenging. 
Research shows managers prioritize accessibility, affordability, and simplicity in the software they use. Additionally, they prefer smooth integrations with e-commerce platforms for faster performance. So, let's explore eSwap and other multi-channel listing platforms that combine all these features in one dashbaord. 
eSwap – The Versatile Multi-Channel Listing Software 
eSwap is a multifunctional inventory management product that combines numerous features, including multi-channel listing. The multi-channel listing set of tools includes stock control, bulk listing, and profile control for all your selling accounts.   
With the stock control feature, you can set the minimum stock level at which inventory must be renewed. The software will automatically monitor your stock levels without any additional effort from you. Therefore, it will organize inventory renewal consistently.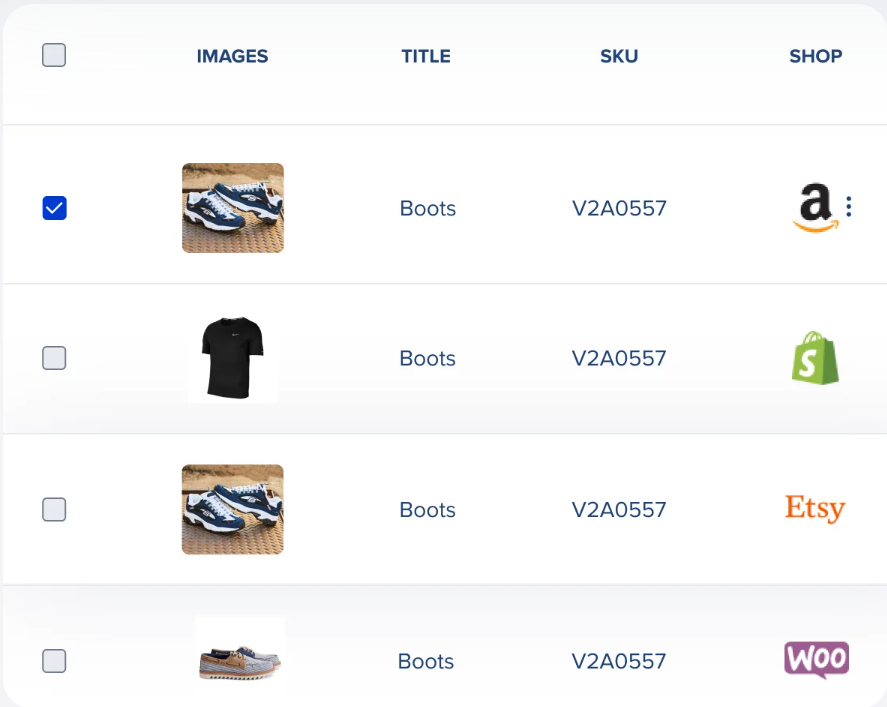 There are two ways to create a bulk listing on eSwap. You can either list the products that are not available in your selected shops, or list products directly from selected shops.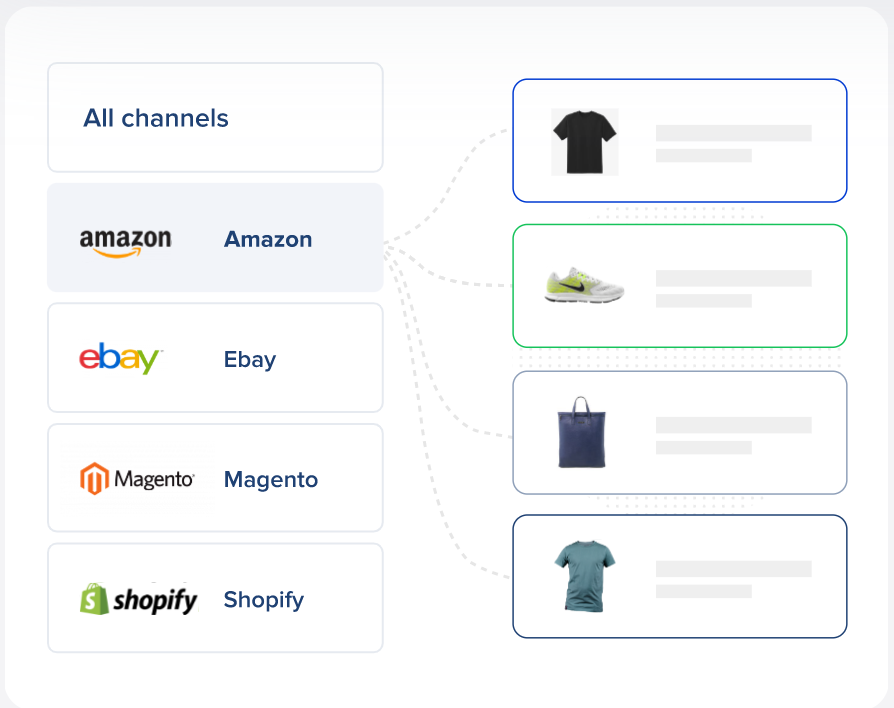 You can create separate listing profiles for every one of your selling channels, and control all of them from eSwap. 
In addition to multi-channel listing management, eSwap offers inventory management, order management, shipping management, warehouse management, reporting and analytics, and many other services you may want to combine with the multi-channel listing in your selling process.
One of the biggest advantages that makes eSwap stand out is seamless integration with numerous popular sales channels, including Amazon, eBay, and Shopify. Moreover, it offers real-time visibility on all your channels with its automatically updated reporting system. Lastly, to provide you with quick and effortless access to your data, stock levels, order, and return statuses, eSwap gathers all the information on one dashboard, and all you need to do is log into your account to see it. 
How To Start Using eSwap
Getting started with eSwap is a simple one-step process. Sign up for a free 14-day trial and start exploring the platform. If the services meet your requirements as a seller, subscribe to enjoy the benefits of the software. From the pricing perspective, eSwap is a highly affordable option worth considering. After your trial period is over, you can start using the Premium plan. With annual billing the price is $79 for five integrations and 1000 sale orders. To learn more about other plans, check out eSwap pricing in more detail. 
Sellbrite 
Proceeding with our review of multi-channel listing platforms, let's look at Sellbrite. It shares many similarities with eSwap. It concentrates on the three shared service categories mentioned above, but eSwap provides additional services, including reporting and analysis, warehouse management, a B2B wholesale platform, and more. 
Comparing Sellbrite's pricing with eSwap's, Sellbrite charges extra for Amazon FBA integration. Thus, with Amazon FBA integration, the Pro 500 plan, which enables 500 sales orders, costs $82 if billed annually. As eSwap's 1000 sales order costs only $79, we see that in terms of affordability and number of services provided, eSwap seems to be a preferable option. 
GeekSeller
GeekSeller is another multi-channel listing tool that provides numerous services like eSwap. They include inventory management, shipment tracking, order management, product bundling, analytics, and more. Additionally, GeekSeller offers advanced integrations and is a good option for businesses that manage dozens of selling channels. 
The only factor that may be an obstacle is cost. GeekSeller's service plans start from $300 per month, a significantly larger amount than eSwap and Sellbrite. You can book a demo on their website for further pricing details based on your service preferences. 
Zentail 
If you are running a bigger business, Zentail might be a convenient option for you. Apart from multichannel listing, Zentail offers inventory and order management services with advanced AI-based tools that make the platform more sophisticated and cost higher. 
To use Zentail, your business should already be established and earn stable revenue. It promises a certain level of growth for your business based on the annual plan you select. For further pricing details, you can book a call with Zentail representatives. 
SellerActive 
SellerActive can be the right tool for small or medium-sized businesses. Similar to the other products, it combines inventory and order management with multi-channel listings. SellerActive automates your processes and helps sellers expand their business by integrating with multiple marketplaces and optimizing inventory management. 
The standard plan that does not include automated repricing strategies starts from $79. With automated repricing strategies the starting price increases to $100.
Conclusion 
Multi-channel listing software tools are vital for successfully integrating your e-commerce site with the industry's big ecommerce platforms and effectively managing your inventory. 
For a small or medium-sized business looking for a multifunctional solution, eSwap seems to be the most suitable solution. If you are looking for advanced technological solutions to your inventory and listings management challenges, you may want to look at Zentail. As alternatives to eSwap, you could also consider Sellbritebrite, GeekSeller, or SellerActive.