Here is the complete 2022 guide for Amazon Listing Optimization compiled by CopyMonkey -AI Copywriter for Amazon Listing Optimization. Follow these rules to Optimize Amazon Product Listing and be efficient with your listing content.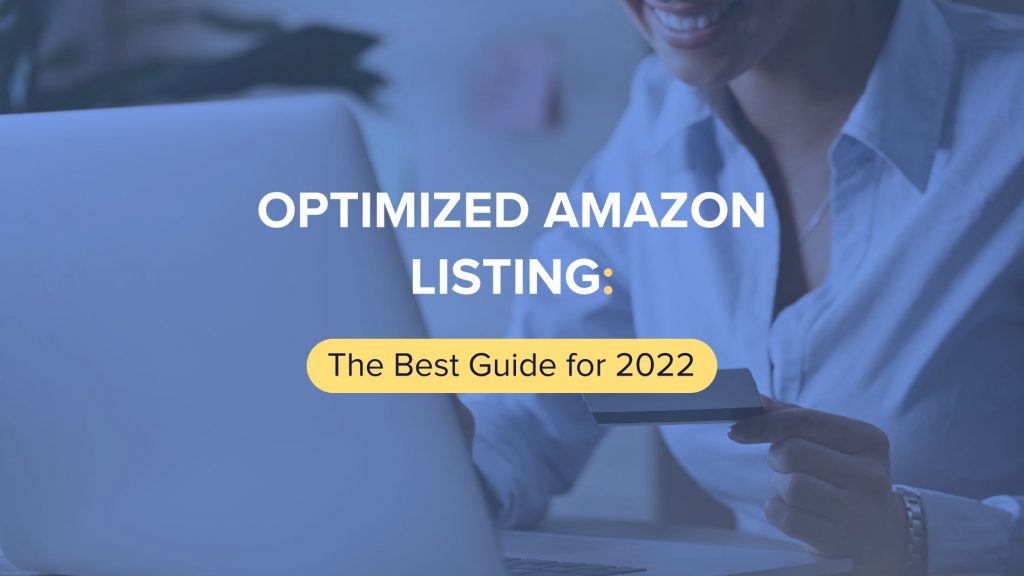 Optimized Amazon Listing: 2022 guide 
There are four parts of the listings to which you need to pay attention. They all are essential for your ranking – a perfect title can't do all the work for you. Here they are: 
Title 
Bullet points
Description 
Back end search terms
Let's see how to improve each of them. 
How to Search for Keywords
Type into the Amazon Search Bar And Get Keyword Suggestions
p
When you enter a search query, the Amazon SEO algorithm will suggest products other consumers search for. Try different variants of your product title – and collect all the keywords you see in the spreadsheet. 
Pro tip: Search for complimentary products. People frequently buy complementary products in bundle – and by targeting compliments to your product in your listing, you'll become visible to a bigger audience.
Get on with your Google console
p
Around 30% of Amazon customers started their path on Google. Use it to your advantage! 
Use Search Console, SEMrush, or other tools to see if your website appears inpage one results for any high-volume search queries. Then, target those queries as keywords across your Amazon product listings and seller account! It's a fast and effective way to get a better ranking and collect effective keywords.
Use keyword research too
p
Keyword research tools are a super effective and fast way to collect all the keywords in a minute. Here's a list of tools for listing optimization on Amazon: p
How to Prioritize Your Keywords
p
Okay, we have a list of the keywords and their data: search volume, difficulty (how hard will it be to rank in the organic results), and click-through rate.
Now you need to find your gem: a keyword with high volume, low difficulty, substantial click-through rate opportunity, and high importance. 
Pro tip: You should choose 20-25 main keywords to use in phrase forms for one product card. It is better to use them in complete phrases here and there in your listing.
How to make the right product title
p
The title is the first thing your customers will see: they will scan through it, and if it's not convincing enough, chances are they'll skip it and go to your competitor. So here are some simple tips on how to make the perfect title. p
The more your title resonates with customers, the higher the chance they'll click on your product listing. 
Recommended Product Title Structure:
p
Brand + Sub-Brand + Model Number + Size + Product Description + Defining Features
Don'ts for Your Amazon Product Title:
p
Promotional phrases

All caps

Keywords stuff
Your title must contain valuable information but shouldn't be spammed with keywords. Also, it should fit a 50-word (or 250 characters) limit. For best results, you need to include the name of your product and a few key features and benefits it has that are important to highlight. 
The title should include the most crucial search phrases in their entirety. For example, if the main phrases are Egg Tray, Wooden Egg Tray, Rustic Wooden Egg Tray, and Egg Tray Decor, the title "Rustic Wooden Egg Tray Decor" contains all four main search phrases.
How to Make Optimized Bullet Points
p
In bullet points, it is necessary to focus not only on keywords but also on the selling proposition of the product so that there is an emotional connection with the customer. 
You can use Review Insight to get data about the product's characteristics that users highlight in the review. It is most beneficial to use those product features that users mention in the review (they are important to them).
Be careful: after 1000 characters in bullets, the text will not be indexed. And do not copy already written bullets into a description.
At any cost, avoid using HTML tags: it won't work and will play a disservice to your store. 
To make your copywriting job easier, use CopyMonkey to generate fully optimized bullet points, titles and descriptions based on your keywords in seconds. AI will help you to create product listings with all important keywords that customers are searching for. 
Product listing generated by CopyMonkey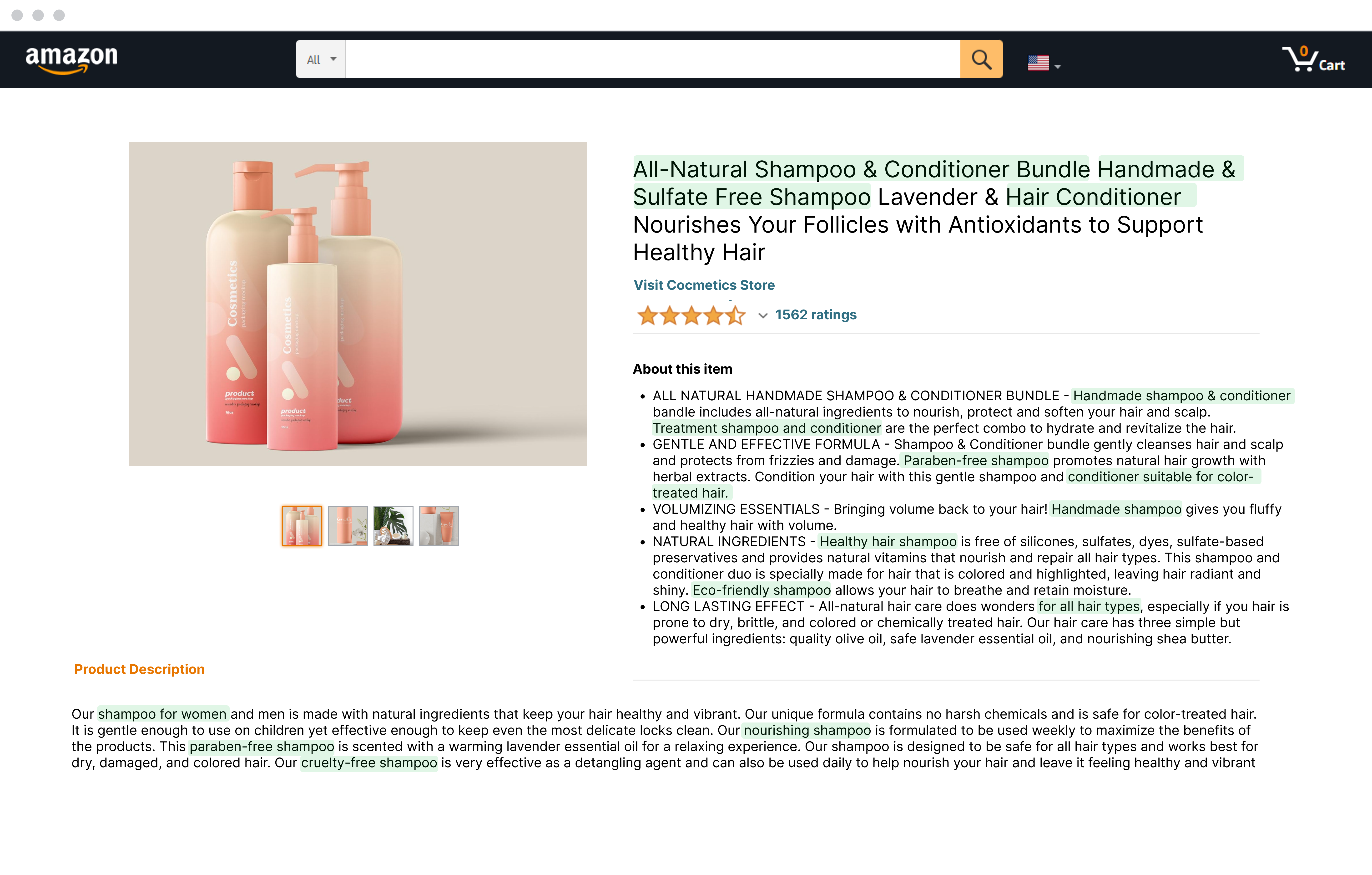 How to Make an Optimized Product Description
Clients go to the description field if they understand that the product suits them (with the help of the title and bulleted features). Here, it's your opportunity to show why your product is better than any of its alternatives.
You have 2 000 characters to show potential customers your product: use this opportunity to the fullest 
Don't over-promise

: Amazon policies are strict against products that disappoint buyers.

Expand on your bullet lists

: it's your chance to give some valuable use cases for your product. 

Introduce additional benefits

: if your product has more than five features or benefits, you should include them in the description section.

Highlight user benefits: show your customers how the product will positively affect their lives.
Pro tips: 
Use light HTML to break up paragraphs and embolden essential information.

Include keywords that you don't have in your title or backend keyword section.

Don't include your seller name, website URL, and company information.

No promotional language such as "sales" or "free shipping".

While you cannot include reviews in your product description, you can mention things such as: "reports naming your type of product as the best (without calling it "the best"). "Most teachers recommend our product because"

If celebrities or influencers mentioned this product – add it! 
What to Write in the Amazon Backend
p
First of all, what is the Amazon backend? Simply put, it's keywords that are visible only for Amazon algorithm, and not to the users. Amazon Seller Central. Can offer backend keywords to help businesses reach more relevant traffic. Backend keywords are crucial to helping your business appear in more search results. 
Note: Amazon limits your backend keywords to 250 bytes, not 250 characters.
Add keywords that didn't fit before but are essential for you. 
How to make an optimized Amazon listing in a minute?
All this stuff looks like a massive pile of work – and you need to do it for every product. Well, you can save your time and use CopyMonkey instead. You can upload your keywords and see the magic: a fully optimized listing is ready to be posted! You can try it today to make sure that it's that simple.