As the world keeps moving towards the digital, so does the trade! For this and many other reasons, selling digital products has become a popular way of generating passive income. Passive income is the type of income that you earn automatically without the need to implement significant maintenance and labor. As attractive as it sounds, many people are still looking for convenient platforms that would guarantee profitable results in this field. Today, we will discuss Etsy as one of the successful platforms for selling digital products.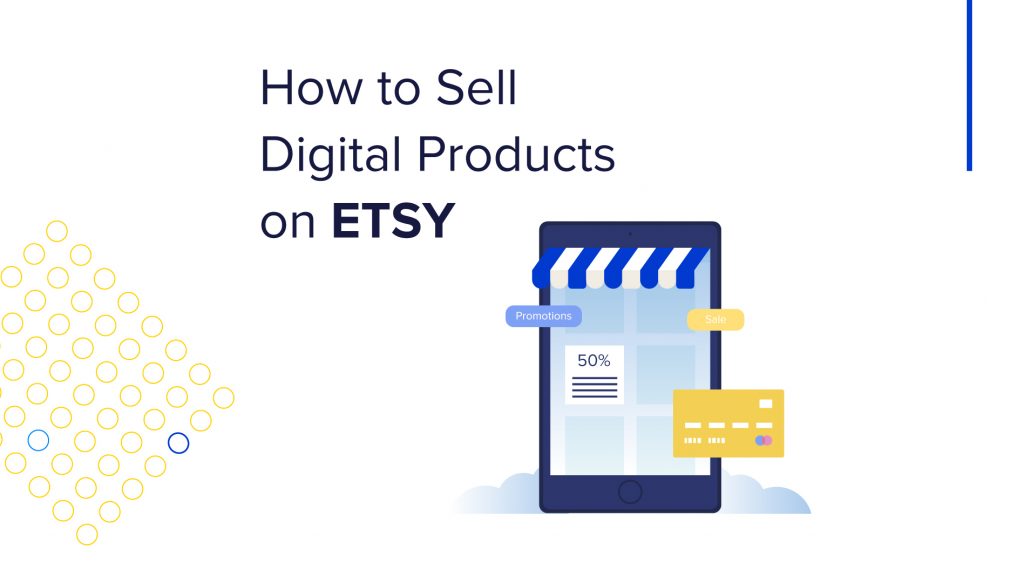 Why Sell Digital Downloads on Etsy?
Etsy is an established online marketplace designed to sell handmade and vintage products. Founded in 2012, Etsy has become a preferable option for sellers producing handmade goods and for people looking for platforms to generate passive income. 
Here are some of the primary benefits of selling digital products on Etsy!
Established e-Commerce Marketplace 
With about 7.5 million active users, Etsy is a marketplace enjoying authority and fame. Buyers refer to it as a trustworthy selling platform. Therefore, sellers choose it to promote their products without hesitation. The online marketplace has gone through a step-by-step evolution to attract and maintain the audience it has today. Therefore, selling digital products on Etsy would guarantee the attention of an extensive and loyal audience at once! 
Easy to Start 
Starting to sell on Etsy requires no greater effort than simply creating an account, organizing the seller profile, and listing the products you want to sell. If you are worried about the amount you would have to invest, there is good news about this, too! The fee for each listing is $0.20, with an additional transaction fee of 6.5% of each sold listing. 
Costless Shipping 
Etsy takes care of your relationships with your customers. A big part of building a solid relationship is demonstrating responsibility and punctuality when delivering orders. Once you create the listing for your digital product and choose the time frame in which you want it to be shipped, Etsy will send the files to your customer within your mentioned time. No shipping cost leads to higher profit margins, which is always a promising factor for the sellers! 
SEO-friendly Platform 
From 2012 onwards, Etsy has been building its big community of sellers and buyers. Thanks to its success, Etsy is now a favorite platform for search engines. In other words, products listed on Etsy rank high as the website has gained massive popularity amongst different search engines. Therefore, this promises a traffic boost you would otherwise have to develop if selling on your own platform. 
What Types of Patterns to Sell on Etsy?
Digital products are electronic digital files, including worksheets, illustrations, ebooks, and many other patterns that you can sell and distribute online. It is crucial to choose the right patterns of digital products that would best fit the needs of your audience and the content of the platform on which you sell. 
The industries that generate the highest passive income include:
Rental industry

Selling Digital Products

Affiliate Marketing

Creating Apps

Dividend stock
Here is the list of digital  products you can choose to sell on Etsy: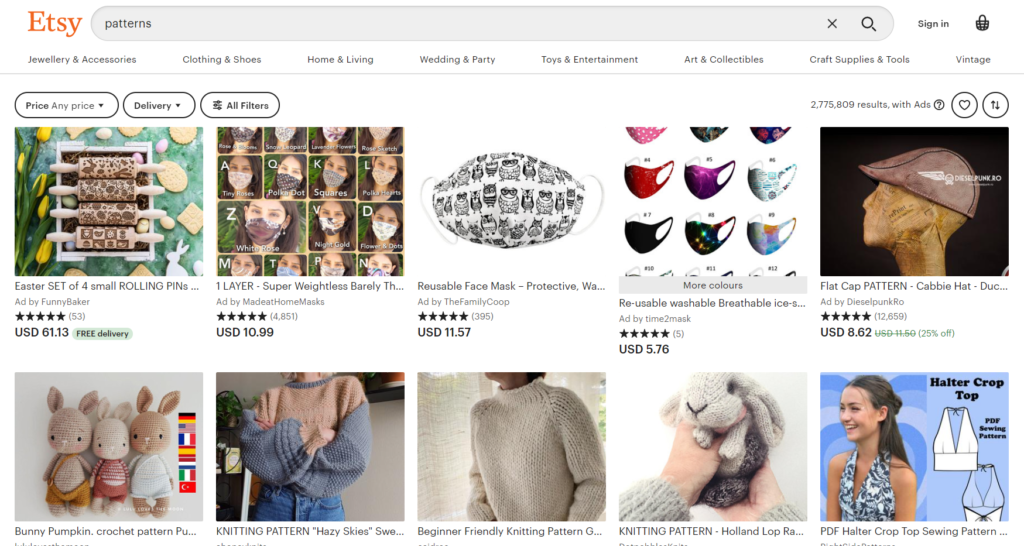 Patterns

Decorations

Planners

Gift tags

Printable artwork

Clipart

Invitations
Resumes
How to Start Listing Digital Products on Etsy?
Creating a product listing for your digital content on sale is the same as it would be for physical products. The only difference is that the buyers have immediate access to their purchased product. Before getting into the listing process, make sure to familiarize yourself with the instructions Etsy has prepared for its sellers!
To start listing your products and sell on Etsy, you should complete the following steps:
Go to the Etsy dashboard and choose the "add listing" button. You can easily add photos and product title. It is worth to mention that the Etsy SEO

for product listings matters as well. It is important to pay attention to proper keyword research while creating product listings.

 2.The next step is to add a digital product. The sellers can upload up to 5 digital files. The maximum size for each file is 20MB. Once your digital product is listed on Etsy it will appear in a list with its product name, file sizes, and upload dates. The sellers should be careful not to make any errors as Etsy doesn't allow to edit the product after they are listed.

How to Keep Track of Your Etsy Inventory?
Once you start seeing the first outcomes of your digital product sales and notice the fast growth of your business, you will need a more efficient, organized, and automated process for managing your orders and inventory. Although digital products do not require storage units or maintenance, they do need to be calculated accurately for your finances to be precise. 
eSwap will help you with that! eSwap is a multichannel inventory management tool that offers seamless integration with Etsy. This will allow you to have all the numbers related to your orders on one screen. Your stock levels, bundling transactions, and many other activities that were taking so much time before will be automated.
Sign up for a 14-day eSwap trial and see how it can assist you in managing your business in a more organized way!
Conclusion 
Selling digital products on Etsy is a popular way to generate passive income. Etsy is one of the most convenient platforms as it has a story of success, is easy and affordable to start with, provides free shipping for digital products, and is already "a favorite" for search engines. 
There are instructions and policies set by the platform that each seller should follow to ensure successful processing. 
Lastly, to automatically manage your Etsy inventory, we suggest you look at eSwap!