Decades ago, artisans used to sell their handmade products on the open market. They used to spend the entire day at their tiny trading spot, and verbally promote their products' high quality. As technology evolves momentarily, bringing innovations every day, the open market has moved to the digital space. Thus, those sellers that produce handmade goods and wish to promote and sell them can now have an active, productive, and fruitful online presence. Etsy is the platform providing this opportunity!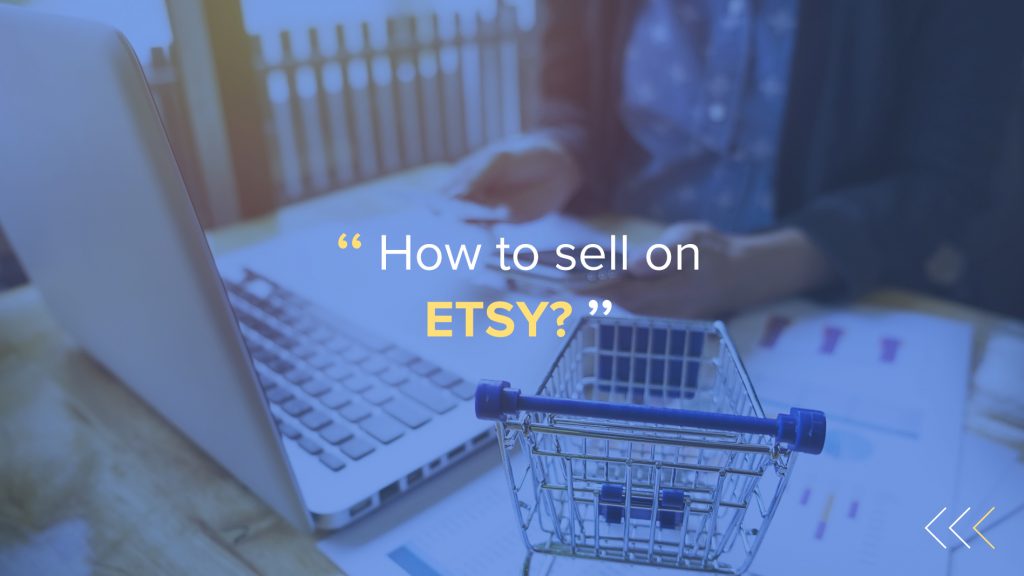 Why Should You Sell on Etsy?
Etsy is an online eCommerce selling platform dedicated to helping craftspeople to sell their products online. Let's explore it in depth to understand how well it would suit your selling needs and whether you feel confident becoming a user.
Following the viral trend of being innovative and coming up with up-to-date digital initiatives, three enterprising creators founded Etsy in 2012. Founders aimed to create an ultimate online marketplace. They wanted to enable the producers of handmade and vintage goods to promote and sell their products. 
Here are some benefits you should expect from selling on Etsy!
Large Audience
The number of Etsy users has been increasing continuously since the very beginning of the platform's creation. According to Statista, there are about 7.5 million active sellers on Etsy as of 2021, which shows an increase of about 3 million users compared to the previous year. This demonstrates the continuous success sellers achieve by using the platform.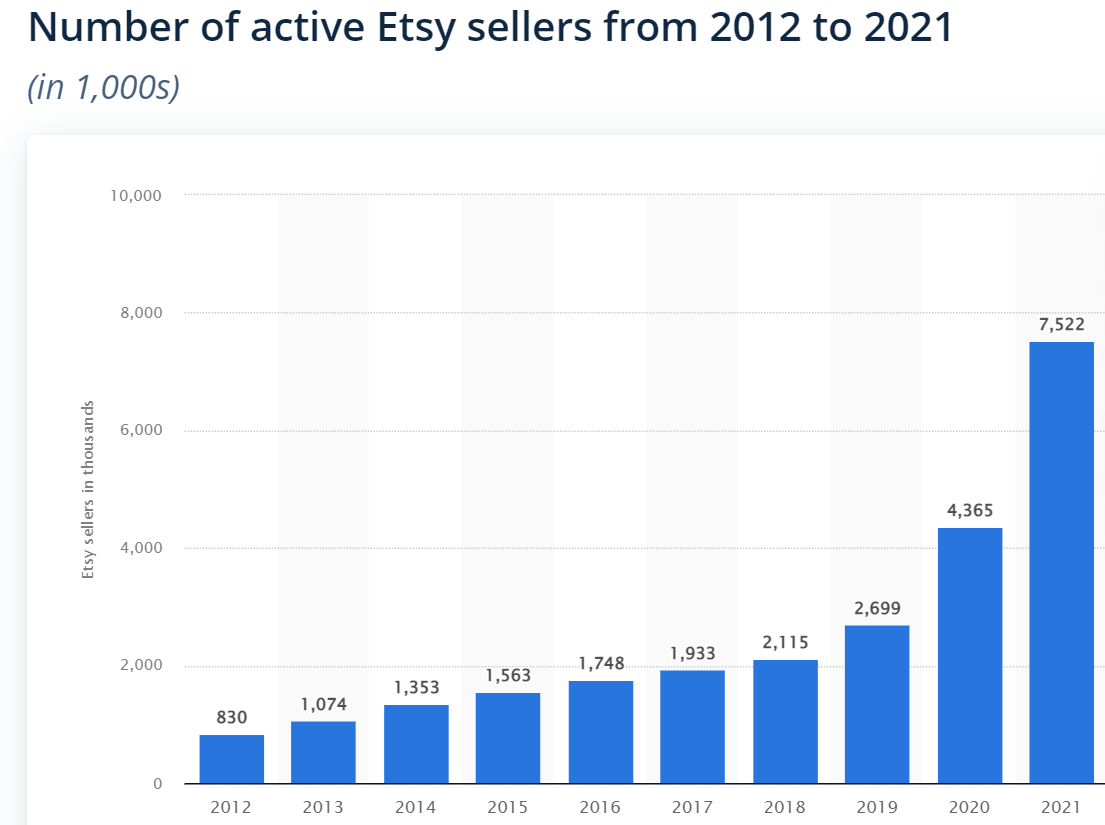 Source: Statista
High Revenues
It's not a secret that today's online sales often help producers generate higher revenues than retail stores do. Therefore, it is crucial to use online platforms wisely to maintain these high revenue levels. 
Another graph from Statista illustrates the exponential revenue growth noted by Etsy users. In 2021, the active users of Etsy earned a total of $2.3 billion in revenue. This is about 35% higher than the revenue of 2020.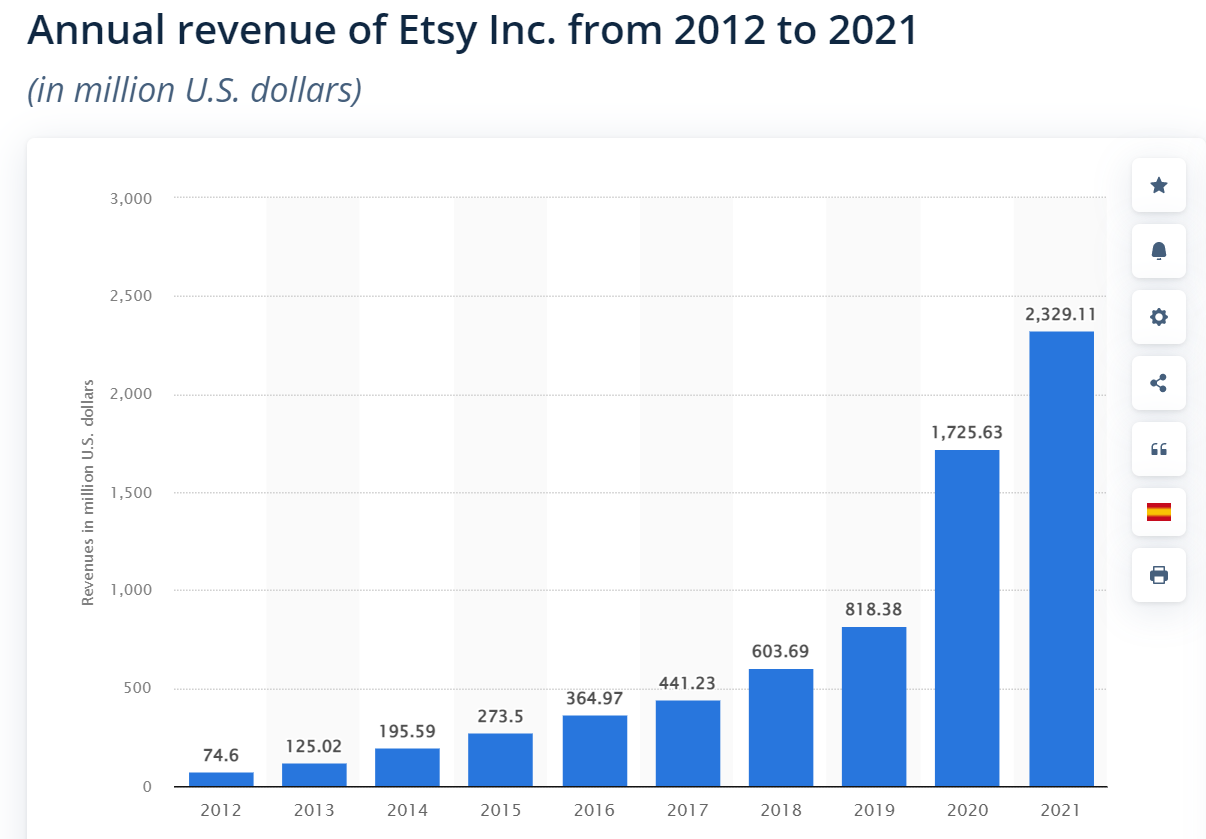 Source: Statista
We also notice a drastic increase from 2019 to 2020. this is liely to be backed up by the pandemic and the increased popularity of online shopping. 
Cost-Effectiveness
Etsy can be a financially convenient option for those sellers that do not have enough resources to invest in designing a separate website to sell their products. Although Etsy comes with fees related to membership and selling, it is still a more affordable option when compared to developing and maintaining a new website. 
Selling on Etsy: The Guidelines on How to Start
After evaluating the benefits your business could achieve selling on Etsy, let's now explore the steps of becoming an Etsy seller.
Being unique is essential for being a successful seller on Etsy. There's a fine line between what is a recreation of a product on sale and what is original. Etsy removes the products from its selling list if they do not comply with the Etsy requirements for the originality and uniqueness. Being unique is essential to be a successful seller on Etsy. 
To start selling on Etsy, here are the steps you should follow.
 Open an Etsy Account/Shop
Right before jumping to the process of creating your shop, you should start with signing in or creating an Etsy account. The next point is to add a profile picture and bio to create a trustworthy seller image and look more attractive to your future customers.
After creating your Etsy account, you can start using the Sell on Etsy App which is exceptionally convenient with the possibility to help you manage your statistics and orders, organise your listings as well as use it as a social media tool for the development of your store availability over your target community.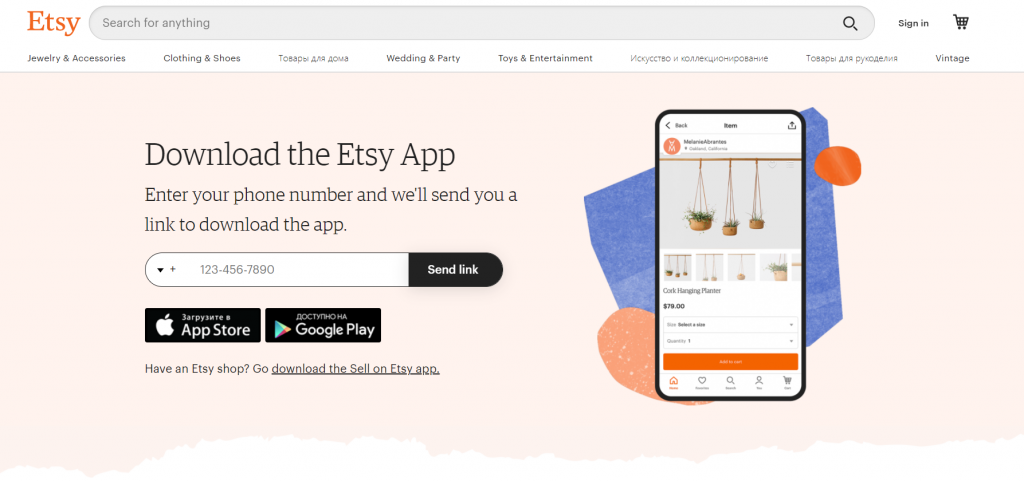 Complete the Etsy Shop Setup
After creating and signing in your Etsy account, there are several steps which you need to follow to complete your Etsy shop set up, including banner and shop's logo design creation. Once the shop is set up, you can proceed in with creating the announcements and inform your target community about your shop's existence & availability. Here are the top sections you should fill in to complete the setup:
Banner & Logo

About Section

Shop Members

Shop Policies
 Add Listing to your Etsy Shop
Once the Shop setup is arranged, you should start making your product listing for your Etsy shop, which is extremely important for the optimisation. Listing is crucial as it determines the selling progression. You should pay attention to the quality of product photo/videos, product descriptions, listing details and promotion events on the eCommerce.
Marketing and Sales Promotion to Sell on Etsy
Online shopping would go dead without marketing and promotion! Hence, you should apply appropriate marketing tools to ensure effective promotion on your account. Product optimization should be your first and foremost priority. It helps to ensure your customers can find whatever they are looking for in no time.
You could start implementing social media marketing strategies to ensure a successful product optimization. Introducing your product to your target audience on different social platforms could be a beneficial way to attract new customers and enhance customer relationships. Lastly, networking is a crucial aspect of the growth of any business. Therefore, acquiring partners and building solid relationships with them could be a great source for the popularity and success of your product. 
Managing Your Etsy Inventory 
Once your business grows, and you start getting more daily orders, you want to ensure all of your orders are fulfilled on time. Furthermore, you want to have full control over your inventory. Also, you want to ensure that you are aware of your inventory movement and everything is accurate. For all the inventory-related matters, we recommend you check out eSwap!
eSwap is a multichannel inventory management tool that has numerous integrations with giant e-commerce platforms. Etsy is one of those platforms!
eSwap's integration with Etsy enables controlling all the inventory, adding new listings and managing the products from a single dashboard. All the order-related information is stored on your eSwap account. You can access it whenever and wherever you want from your mobile device, laptop, or tablet! eSwap automatically manages your stock levels and takes care of renewing your inventory before you forget it! eSwap's integration with Etsy controls all the inventory, adds new listings, and manages the products from a single dashboard.
The free 14-day eSwap trial will be a good idea for you to understand how these services will optimize your selling process.
Final Thoughts 
Etsy is an e-commerce platform that features the handmade vintage products of individual sellers. There are multiple advantages of becoming an Etsy user. For example, the platform's large audience, the high revenues its sellers generate, and the affordability. Selling on Etsy is a simple process with self-explanatory first steps. However, handling continuously increasing sales can be challenging without implementing an appropriate inventory management tool. This is where eSwap will come for help to ensure you are all set with your stock levels and order fulfillment schedules.