For many years Amazon has kept its dominance in the eCommerce market due to its CX (customer experience).  Every time Amazon makes improvements by creating innovations to make the buying and selling process with minimal effort and hassle-free. Amazon's latest update was Climate Pledge Friendly program.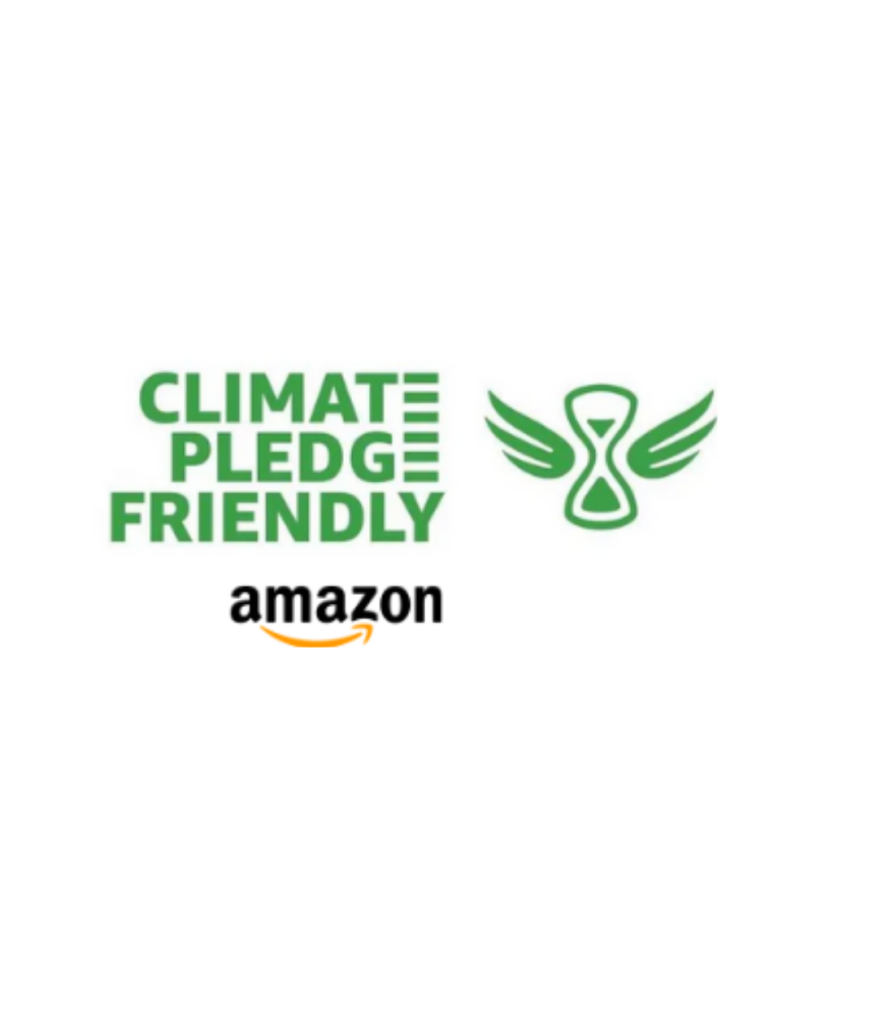 What is the Climate Pledge Friendly program by Amazon?
Amazon created this innovation in 2019, and already in September, it started to work. This new design of the marketplace comes to help customers find and buy climate-friendly products easier than ever. Customers can find this label with detailed sustainability information on the pages of any category and product. 
Note: Amazon's Climate Pledge Friendly badge can not be seen until the buyer clicks on the item itself.  
'Customers will now see the Climate Pledge Friendly label when searching for more than 25,000 products to signify that the products have one or more of 19 different sustainability certifications that help protect the natural world, such as reducing the carbon footprint of shipments to customers,' announced Amazon.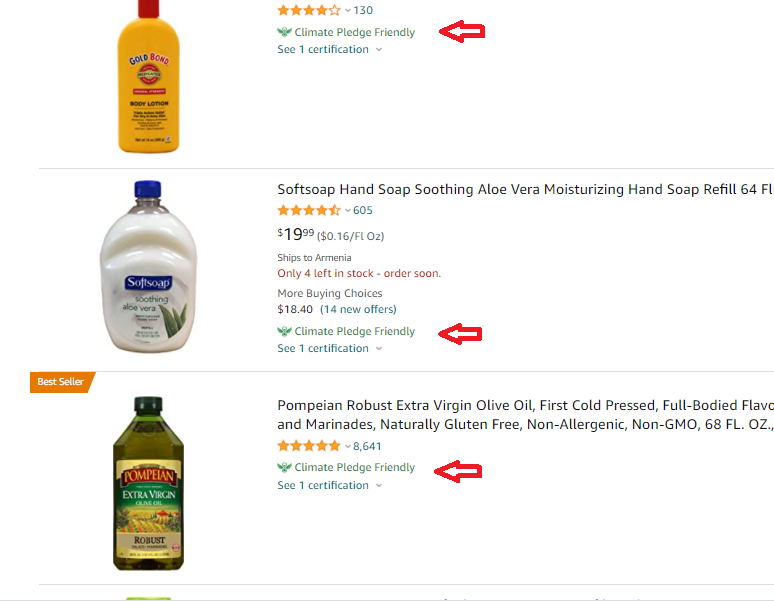 Now Amazon works with about 18 3rd party sustainability certifications offering a wide range of products (apparel, beauty, fashion, grocery, household, health, office, electronics, etc.), including Bluesign, Energy Star, the Rainforest Alliance, FairTrade, Cradle to Cradle Products. Among them are many non-profit organizations, governmental agencies, and independent laboratories with their own certifications focused on the protection of the natural world. 
What third-party certification programs are taking part?
The Climate Pledge Friendly program works with the following global trusted programs :
Recycled Claim Standard Blended

Responsible Wool Standard

Bluesign

Certified Carbon Free

Cradle to Cradle

Fairtrade

Forest Stewardship Council 

Global Organic Textile Standard

Carbon Trust

Ecologo

Energy Star

Epeat

Global Recycled Standard

Green Seal

Made in Green by Oeko-Tex

Organic Content Standard 100

Rainforest Alliance

Recycled Claim Standard 100
What is Compact by Design Certification?
Besides these certifications, Amazon has launched its own sustainability certification "Compact by Design" to identify items that are designed more effectively and need lighter packaging.
Amazon has set many standards for calculating the efficiency of every product. The calculation is done according to each product' package dimensions, weight and the number of units—ml in cleaners or grams in laundry products. 
The lower the unit efficiency of the item, the more efficient the item's design is. 
Different factors are causing lower unit efficiency, such as less air in a container, lighter packaging, more efficient shaping or more concentrated product.
Amazon has produced new types of laundry products designed with reduced carbon emissions -60% less plastic and 50% less water than the common laundry bottle. 
The calculations show that If every American household uses these newly designed laundry bottles instead of the common ones, we can avoid adding more than 220,000 to the atmosphere.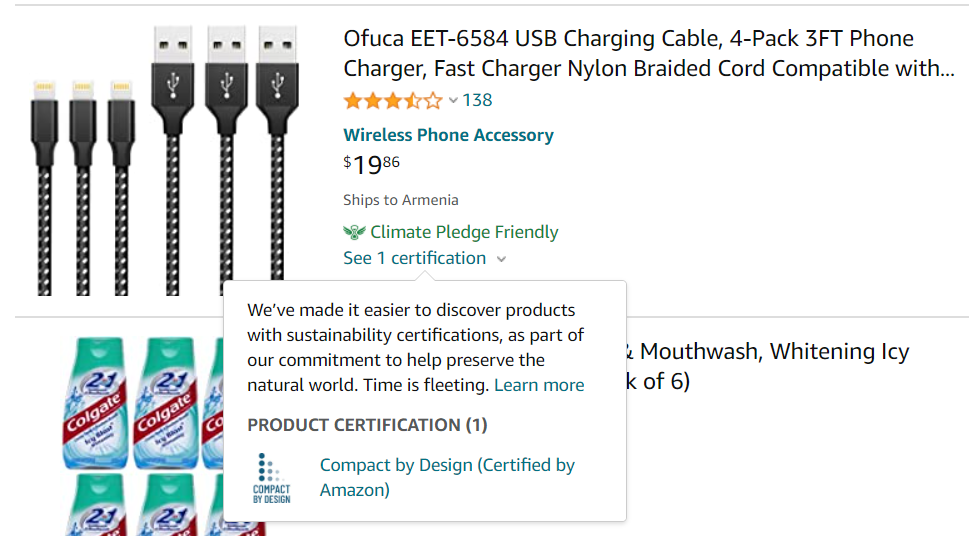 How to participate in the Amazon Climate Pledge Friendly program?
If you are currently a seller or vendor on Amazon, you are free to take part in this new marketplace. It requires no special fee. However, you should learn the main requirements of getting an Amazon Climate Pledge Friendly badge.
First of all, your product has to be certified by Compact by Design or at the minimum one third-party certifications working with Amazon. 
If your product meets all the requirements, you can make no changes to it. However, if you still haven't got the badge contact Amazon to get it. 
If you meet no requirements, you can make corresponding changes to be certified in as soon as possible. 
After being approved and being certified, your product data will be automatically updated as Amazon works with certifiers itself.
As you can see, Amazon cares about its sellers and vendors and makes any process hassle-free and efficient. 
Benefits of Amazon Climate Pledge Friendly program
Becoming Amazon Climate Pledge Friendly has the following benefits:
The Climate Pledge Friendly badge in shopping results and detail pages

Placement on the Climate Pledge Friendly landing page

Potential inclusion in other store merchandising opportunities

Shoppers find and buy sustainable products more easily

More potential customers who are searching for eco-friendly products 

Huge impact on climate protection

 
Amazon continues to be the leading platform to boost sales and generate profits. 
eSwap-Amazon integration will empower your Amazon business making inventory and order management processes easy and efficiently. Enjoy more advanced features of this integration.