In e-commerce, sellers want to utilize all the possibilities to urge customers to purchase more products. Amazon's Frequently Bought Together features have proved to work effectively for purposes like this.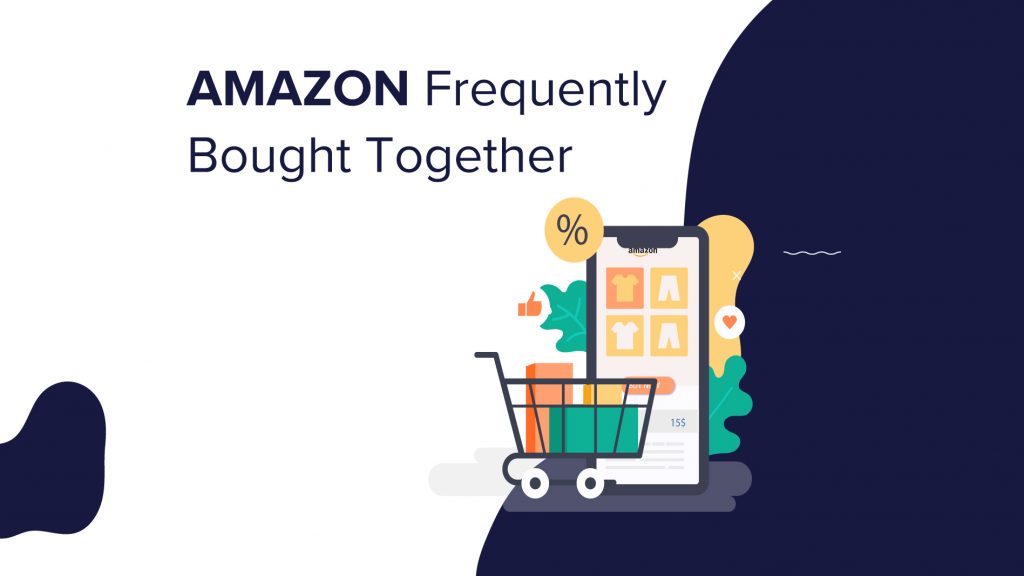 What Is Amazon's Frequently Bought Together Feature?
Amazon Frequently Bought Together is an automated feature. It invites customers to purchase products based on their previous purchase history. 
When viewing a certain product on Amazon, customers are likely to find a little section underneath the product description. There, Amazon offers complementary products that are frequently bought together.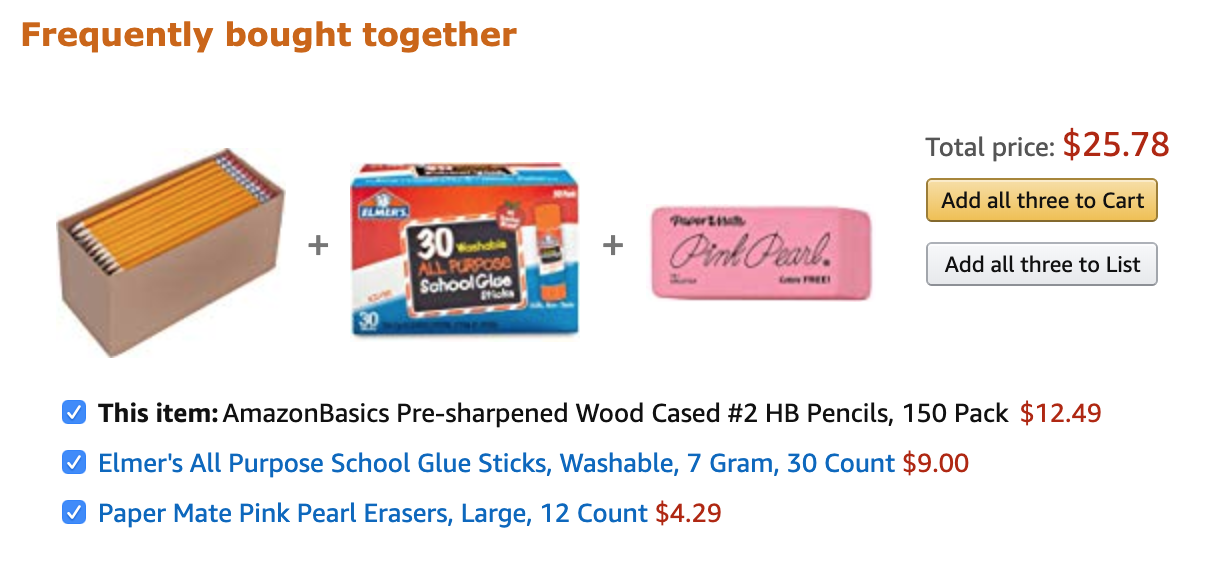 Source: Business 2 Community
In our example, a customer is considering buying a pair of earbuds. Amazon recommends purchasing another pair of earbuds and a set of noise-canceling headphones. The number and types of complementary products Amazon offers will differ depending on the product the customer is viewing. 
How Does Amazon's Frequently Bought Together Feature Work?
Amazon's Frequently Bought Together uses a carefully designed algorithm. Amazon uses a strategy called "item-to-item collaborative filtering" to pick products relevant to the customer's purchase and browsing history and come up with personalized product recommendations. 
Based on the algorithm, alongside the product that the customer is viewing at a given moment, Amazon positions products that best fit the customer's preferences. The e-commerce giant runs a data-driven strategy to ensure it recommends products the customer values and is likely to purchase. 
As a seller, you want to know how to make your products appear on the Amazon Frequently Bought Together section, right? You want to gain more popularity and generate more revenue. Here we are to help you with that. 
How To Include Your Products in The Amazon Frequently Bought Together Section
Complementary products usually appear in the Frequently Bought Together section. Therefore, your aim should be to supply products that are used in a complementary way or are strongly associated with one another. 
The mechanisms and the strategies with which Amazon chooses the products to feature in the Frequently Bought Together section are different. 
Let's go over a couple of these strategies. 
Design Product Bundles
Product bundling is a selling strategy where producers place several products together and sell them as a single offer. Sellers usually implement this strategy with complementary products such as shampoo and conditioner together. When purchasing shampoo, customers are likely to also look for a conditioner; hence, sellers offer these products as bundles and sell them together.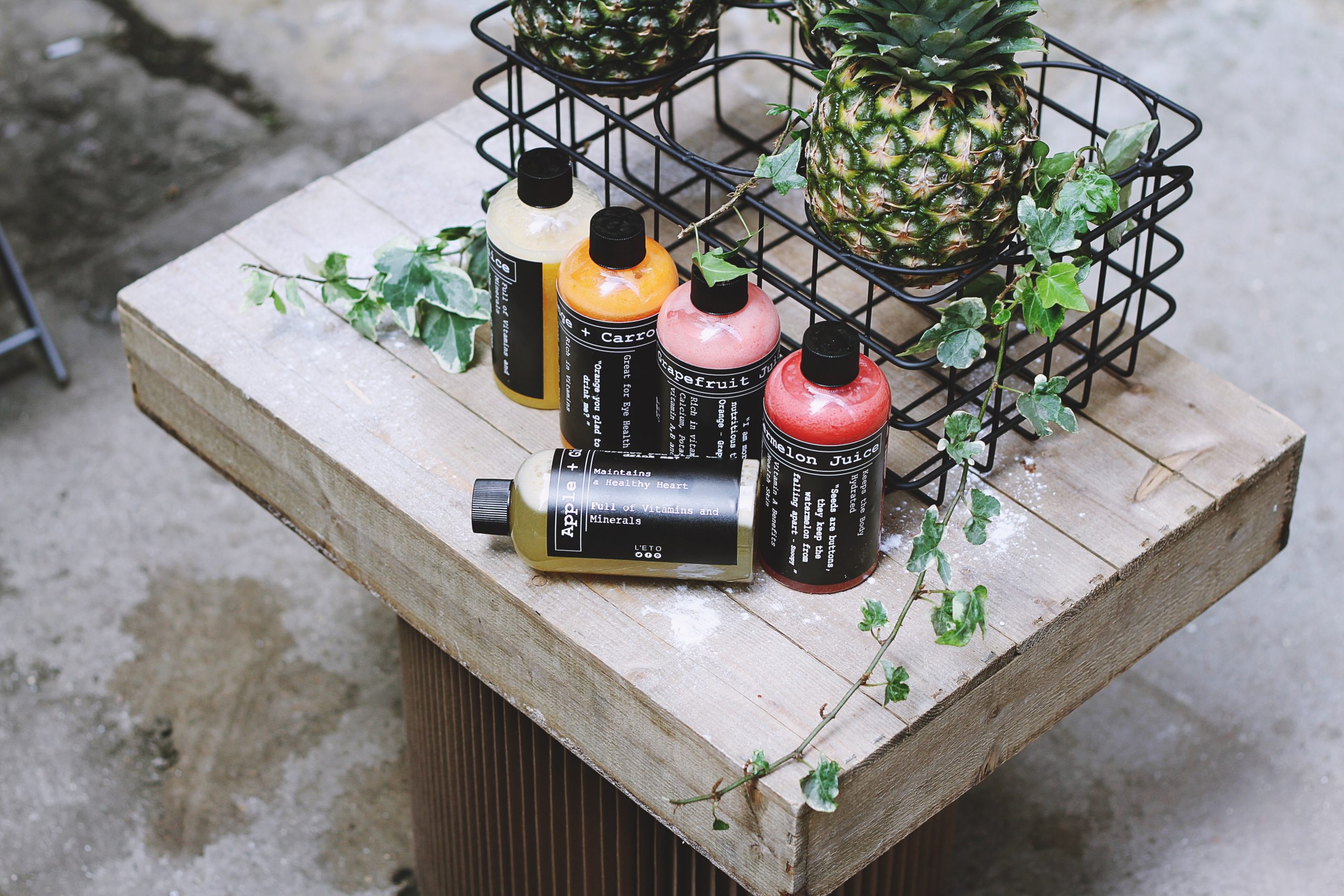 Designing product bundles will create a sense of association in your customers' minds regarding the items involved in your bundle. Due to the developed association, you can later sell these products separately and have some of them featured on the Frequently Bought Together section while a customer is viewing one.
To create product bundles, you can use Amazon's virtual bundling tool to sell from two to five items as a bundle without physically packaging them all together. 
Run Promotion Campaigns 
Anything that's available at a discount seems more attractive and affordable. Thus, you want to run promo campaigns that encourage customers to purchase products simultaneously. For example, if you run a promo campaign on earbuds, you can offer earbud cases to your customers. You can also suggest noise-canceling headsets at a discount. 
Campaigns like these will motivate customers to purchase the discounted products along with the product they initially considered purchasing. Subsequently, the Amazon algorithm will develop an association for these products, and the chances for this product to be featured on Frequently Bought Together will go up significantly. 
Engage In Partnerships 
Yes, Amazon's Frequently Bought Together feature is a big source of revenue. However, you may not always have complementary products in your catalog to offer to your customers. If this is the case, don't worry. If you still want your products to be featured in the Frequently Bought Together section, you can do it. Partner with other sellers on Amazon who are selling products complementary to the ones you sell. 
To do this you can start with basic research on Amazon. This will help you understand the most popular and successful sellers of products in your product category. Once you find them, approach them with an offer, agreeing on certain revenue distribution through two-sided promotion. This would mean they could offer your products at a certain discount when the customer purchases their product and vice versa. 
How To Manage Amazon Sales To Get Featured on Frequently Bought Together 
It is crucial to coordinate your sales process accordingly to accomplish your aim. Regardless of how attractive your promotion is, if you are not tracking your sales updates consistently, you will never be able to act on time. 
As a solution to challenges like these and as a key to effective selling, try eSwap – the multichannel inventory management tool that comes with numerous integrations, including with Amazon. 
In addition to the assistance eSwap provides with organizing timely order shipping with a single click, eSwap also offers real-time visibility for all your order details. With the help of this feature, you can monitor all the processes on your seller account and act on any product bundling issue, coupon alert, or exclusive deal right from your device. 
Conclusion
Amazon's Frequently Bought Together feature offers customers complementary products based on their purchase and browsing history. To make your products appear in this section, you can implement strategies like designing product bundles, running a promotion campaign, or partnering with other sellers. 
eSwap will guarantee real-time account visibility through seamlessAmazon integration, whichever strategy you follow. As a result, you will be able to act upon any significant event immediately. You will wave goodbye to the fear of missing revenue opportunities.