How to start a dropshipping business?
The question is still relevant from year to year. So we are going to discuss it for the upcoming 2021, too.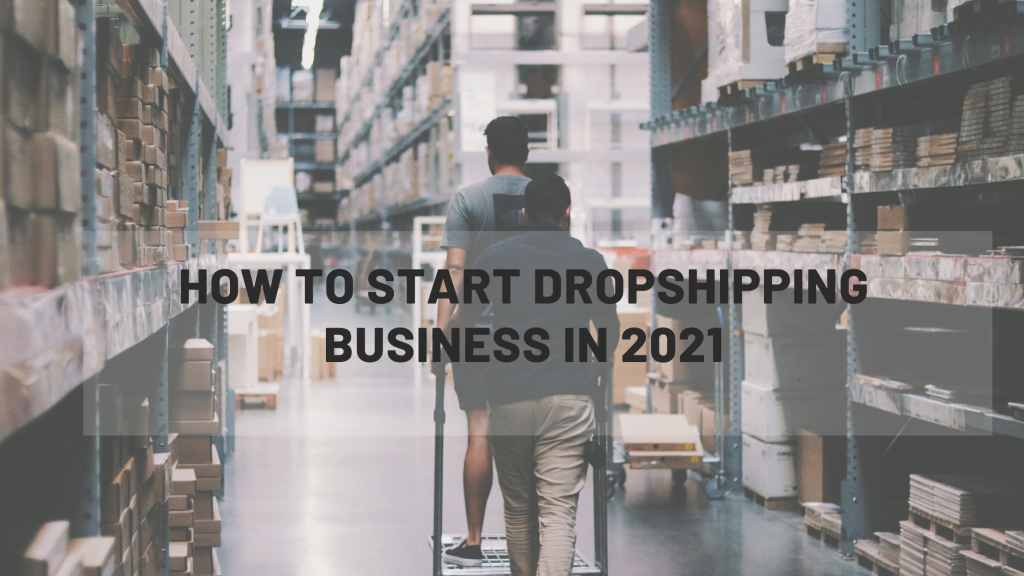 Dropshipping business is one of the most well-known components of e-commerce, and it has spread nowadays all over the world. It is a direct fulfilment method that includes a third-party member, whom you buy an item from without storing it by yourself, and ship to the consumer. This is a process of product sales with the help of your online shop, where the supplier does store, packing, and shipping. Thus, mainly the third-party supplier takes the primary responsibility for the products. You as a businessman open your store (or run it if already having the one), buy products from wholesalers, and suggest your buyers that list of products. 
How dropshipping business works
Let's see in more detail what the whole mechanism of dropshipping business works like. You have got an online store, and you put your listings on the web site. The customers of your shop enter, choose their wanted item, put it into the cart. When they shop, the payment is made simply as usual. When the platform sends the order to the supplier, you only have to pay the price of the wholesale to your supplier and take your profit. As for the buyer, he gets an invoice, where only your name, address, store information is visible. You also hold all the communication with the customer: you inform them about the package condition and processing. So the customers don't know whether you sell on yourself or you are a dropshipper. 
Sides in the dropshipping business
As you could have already guessed, in the dropshipping business, there are three essential sides: the wholesaler, the retailer, and the customer. 
The leading "player" with the majority of responsibilities is the wholesaler. In the dropshipping business, this is the side that deals with all the tasks mentioned above, especially with distributing the products on the retailer's behalf. 

In the dropshipping business model, you act as a retailer. You sell the products taken from the wholesaler on your website. You choose and promote the product on your own, and it becomes your brand. Besides, you take care of the shipping cost and determine prices so that you have a profit. 

And finally, the third, but also an important side is a customer, who buys the products, suggested to him by you as the retailer (you). In case of questions, they also communicate with you and have no connection with the wholesaler. 
The benefits of dropshipping business model
This business model is one of the most low-risk models. You don't have to invest in warehouses or stocks; there is no need to think about inventory carriage, unsold inventory. You pay for the product sold to the wholesaler. Your order processing may also not require much time as today there are many ways of automating your business management. For example, eSwap – the inventory management software suggests many opportunities and services for your dropshipping business. Significantly sales order overview can help you with your business a lot. As for earning money, you can build a successful dropshipping business plan, gathering all the possible business ideas, find appropriate items with sales potential, dedicate time for its development and marketing. Finally, you'll see your desired benefit. You have to remember: like any business, this also requires time, consistency, and dedication. One cannot wish to succeed without putting in any effort.
How to start a dropshipping business
Let us finally see what steps you need to take to start your business in 2021. Some top steps are all the same for everyone. So you can follow them, trying not to mix the order of the steps pointed below. 
Determine your dropshipping business idea
Do your competitors' analysis 
Find your supplier
Set up your store and promote it
Analyze your running business and optimize it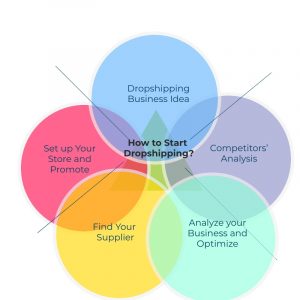 Determination of the business idea
The dropshipping business idea is successful when it is profitable. But it should also be close to your desires. You should combine your passion and a profitable niche. At least, the simple truth is that you do something with greater pleasure when you make money out of it. You should never be afraid of not succeeding from the very first time. Try different spheres and find out the real working business idea. Top dropshipping spheres include fashion, beauty, jewelry, fitness, tech, etc. However, the most successful dropshipping business ideas are not total trends, but some essential parts of them (for example, marble phone cases, branded cosmetics, jeans, etc.). It means that not your whole store should necessarily be a trend, but some of your products.  
Analysis of the competitors
The next step after deciding your products to be sold, the time comes for the competitors' analysis – find out your competitors, see what and how they sell. You can analyze Google or other relevant tools. Search by the name and location of your supposed competitor and see the results of theirs. 
 Discovery of the suppliers.
To get goods for your retail shop, you need to find and contact suppliers, for future constant and long-term cooperation. You can find a list of wholesalers directly from the manufacturers and ask them whether they are involved in the dropshipping business or not. The best part here is that your contacts will be thus 100% legal and you'll have various suppliers with different goods. Legit suppliers want to cooperate with legit retailers. So try to be as serious as possible, do everything correctly, convince and prove to your wholesaler that you can run the business successfully.
Setting up a store and promoting it
You obviously cannot sell without having a store. For e-commerce, we organize it online, so you should build your website. After obtaining your domain, the best option is to choose an e-commerce platform and set your store there. You can choose the most suitable platforms for yourself. The most popular and easiest ones are Shopify, BigCommerce, and WooCommerce. Discover the opportunities of dropshipping business with the channels mentioned on our platform. Later, when you start your business, you can use not only one, but combine several integration channels, integrate data, and manage all from one place. 
Another crucial step is the promotion and marketing of your business. You should do your research when starting the dropshipping business and find suitable marketing tools to promote it. Some of the functional variants are social media (especially Facebook Ads), retargeting apps, influencer marketing.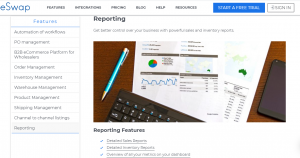 Analyzing your business and optimizing it.
After having all the steps above done, the time comes to analyze your work and try to make it better. You'd better do this frequently from time to time because the metrics and the results will differ for sure. Use monthly or quarterly reporting and compare the outcome.
eSwap supports  the reporting feature as well, so you can manage this process right from our platform.
Don't be afraid of some failures, but make them work for your future success.