Starting to sell on eBay has two options for selling products. Either you can choose an eBay business account or a personal one instead.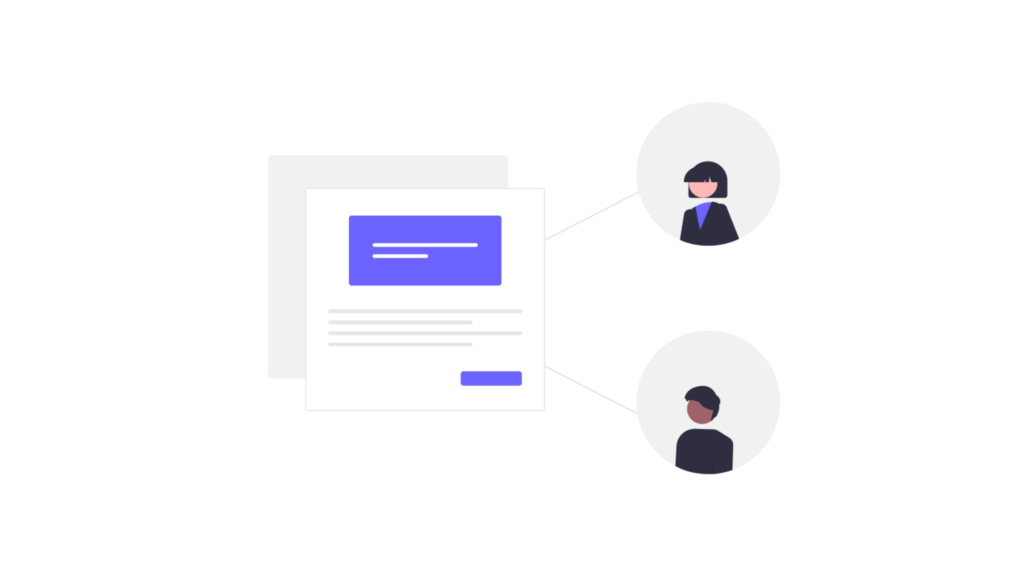 Those who have small sales volumes or plan to sell unwanted items or decide to sell casually can choose an eBay personal account.
Otherwise, one has to take care of the fees and other sales regulations.
With the help of this article, we aim to provide all the necessary information for you as an eBay seller. We will introduce how to open an eBay account and detail the eBay seller registration process.
eBay Seller Registration
No matter the reasons you choose to sell on eBay, the process is easy. eBay is one of the largest ecommerce marketplaces and offers a wide range of sales categories. Apart from it, you can choose to sell on eBay both with fixed and auction-formatted prices.
The first step to start selling on eBay is to make an eBay account and start creating items for listing. Once your eBay account setup is all according to the requirements, you can start selling.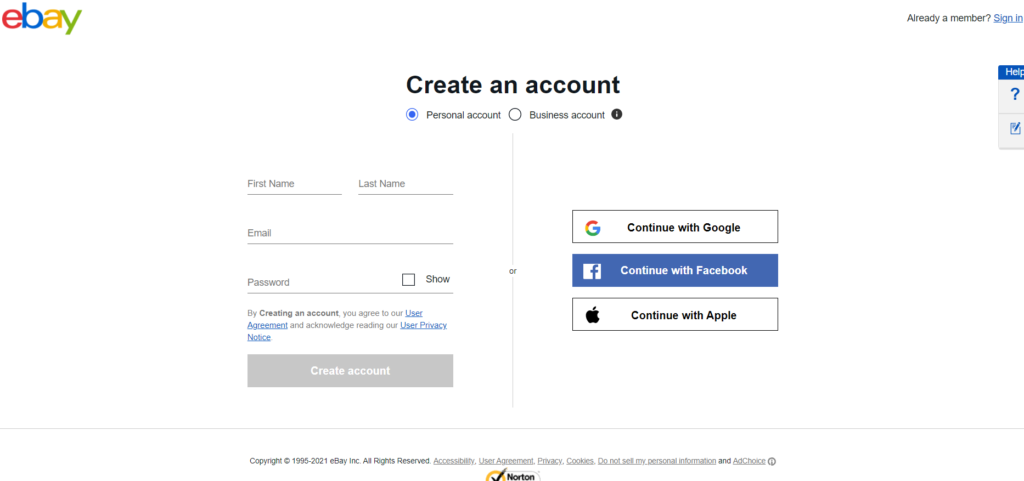 Creating a new eBay account is also possible with using your Facebook, Google or Apple accounts. But note that in that case, eBay will have access to your public profile and email address information.
The next step is about creating product listings and starting to sell. It is worth mentioning that while you make product listings, you should put them in the right product categories.  There are certain sellers who choose to manipulate the product search policy on eBay via listing their product in the wrong categories. This is carried out mostly when those sellers reach the limit for certain monthly sales. In these cases, the sellers are violating the Search Manipulation Policy.
eBay Business Account vs Personal
As already mentioned before, there are two options for eBay account signup, which is to choose between a personal or a business accounts.
Those sellers who have a relatively small number of goods or choose to sell randomly choose to make an eBay account where they can handle the fees. It is not big news that eBay has two main types of fees eBay Insertion fees and Final Value Fees. Here is why the sellers with small sales volumes mainly choose to make a personal account. 
If you plan to sell products in large quantities, you can register a business account. In this way, you can enjoy all the benefits of being an eBay business account seller. Along with all the benefits, you should also consider the eBay business account fees.
Business eBay sellers can choose a company name for the registration, which will appear in the invoices issued by eBay. In order to become an eligible business account user, you can either change your personal account to business or register a new business eBay account. 
In order to change your personal user account to business, you'll need to go to the account settings and follow the steps.
The Benefits of Using an eBay Business Account
Reduced Selling Limits
eBay puts certain sales limits on certain sellers, especially the ones who are new in the business. It can be even more strict as of even 10 items per month. In case of choosing a business account, you can have access to reduced selling limits.
Business Account Tools & Promotions
Along with higher selling limits, eBay also offers tools like Promotions Manager to handle better sales control. This tool is free for business account users and enables them to create customized discounts. Apart from it, you can create coupons with this tool which boosts the buyers to spend more in your Store. This tool allows attracting buyers at the right time via showcasing the right products.
Lower Taxation System
Even though businesses pay additional taxes on top of everything, they get more chances of having deductions simultaneously. Apart from an advanced taxation system for Business   Account sellers, there's an opportunity to get sales privileges in crisis situations too. It particularly refers to the COVID-19, in this case. This is mainly carried out in order to prevent price gouging.
eBay Selling Limits
Anyone new to start selling on eBay has particular limitations over the product category on sale. It is done deliberately by eBay in order to save time to understand the rules set by eBay. 
eBay, as one of the biggest sales ecommerce platforms, offers the sellers a wide range of benefits. It refers to multiple issues like helping the sellers solve their problems via the Seller Resolution Centre or offering discounts.
In order to help the newbies on eBay and make their stock manageable, eBay maintains certain selling limits. This is carried out in order to make sure your store can provide good customer service. This is mainly done as far as the new sellers on eBay or on any other platform are having a hard time meeting the customer demand properly. There are many cases of failures due to the lack of accurate inventory management. 
eBay starts increasing your selling limits only when you start meeting the customer demand properly. eBay reviews your seller account every month and makes adjustments according to the sales volumes and customer feedback. You as a seller can check your performance level by checking it on Seller Hub or Seller Dashboard. 
eSwap-eBay Integration
eSwap as an inventory management solution offers the sellers the eBay Integration tool. Via using our powerful tool for your eBay sales management, you can always keep an accurate track of your stock. This platform gives the chance to make all the stock arrangement via one dashboard. It refers especially to your real-time inventory syncing and multichannel sales management.
It goes without saying that you can put away the heavy burden of making manual updates or creating new sales orders per each sales platform. Using our eSwap for eBay stock management will help you with the order fulfilment process too, as far as we offer shipping courier service with USP, UPS, DHL, FedEx and many more.