Are you a physical shop holder? Do you plan to develop your business into something modern? Most probably, you've thought about eCommerce. And as you could know, there is a bunch of options regarding eCommerce sales channels. At first, it can seem challenging to find out a suitable platform. We'll help you decide by presenting two popular channels – eBay vs Etsy.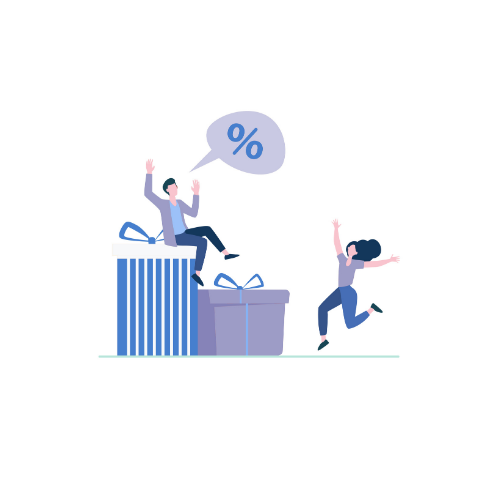 eBay and Etsy: Overview
eBay is for sure one of the most well-known and widely spread platforms. But nowadays there is another popular alternative to it. It's the marketplace of Etsy. We'll see the main differences between them from the sellers' point of view. Especially with the following article, we aim to look at selling on Etsy vs eBay and their fees. In the end, we'll cover the question bothering eCommerce sellers the most: where is it cheaper to sell: on eBay or Etsy? To see the results keep going on!
What to sell on eBay VS Etsy?
If we speak about the main points of difference between Etsy or eBay, we'd mention the most important one. These 2 sales channels sell different products. As a consequence, they deal with diverse audiences. 
On eBay, there is a wide variety of product categories. You can sell new and used, handmade, vintage, antiques, wholesale items and much more. So in the case of owning various product categories, eBay is a more useful platform. 
As for Etsy, it is a more niche-oriented space. It gives sellers the chance to advertise handmade products, fashion accessories, craft supplies, interior decorations, and most prominently, antique items 20 years old or more. This platform is more focused on individual items and not on mass production. Having products that are appropriate to the Etsy categories gives a perfect opportunity to advertise and get customers. Especially designers and creative salespeople who aim at selling unique products will definitely find selling on Etsy the most suitable variant rather than eBay.
Etsy VS eBay: Seller Fees
Before coming straight to Etsy VS eBay fees, we'd mention the main advantages from this perspective. Both of the platforms let users start online stores, but the differences are the following:
Etsy

pattern stores

are cheaper. The prices for plans are always fixed. While on eBay, they can vary depending on the category, the number of items and other factors. 

eBay praises its users with a maximum of 50 free monthly listings. In contrast, Etsy does not have such options. It always requires definite fees.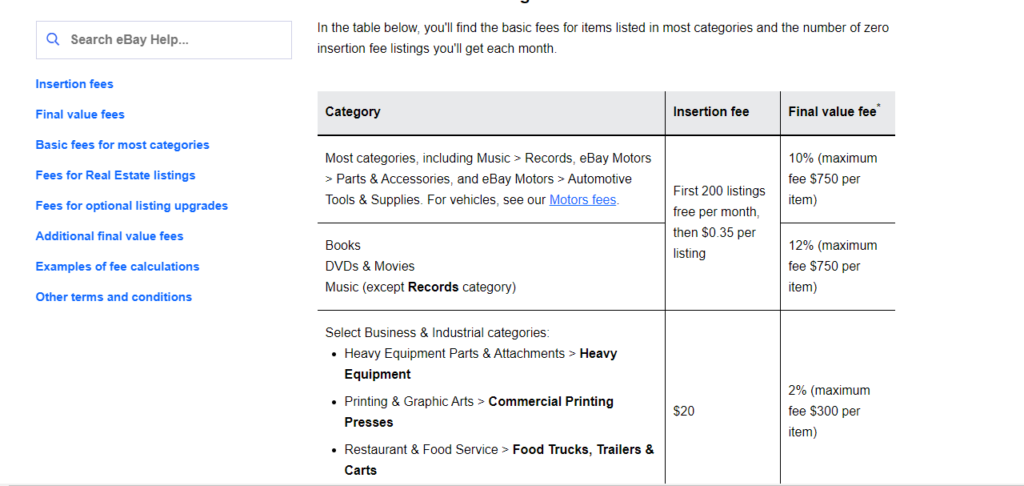 eBay Fees
On eBay, there are monthly and annual fees. And one peculiarity of this platform is that these fees vary depending on the sellers. Especially this sales channel takes into account the number of listings and sold items. eBay suggests the following subscriptions: 
Monthly Fees

Basic – 19.95USD

Premium – 59.95USD

Anchor – 299.95USD
Annual Fees

Basic – 24.95USD

Premium – 74.95USD

Anchor – 349.95USD
And there are also Insertion (Listing) Fees (listing cost) and Final Value (Final Sale Percentage) Fees varying from seller to seller in the case of non-subscribed users.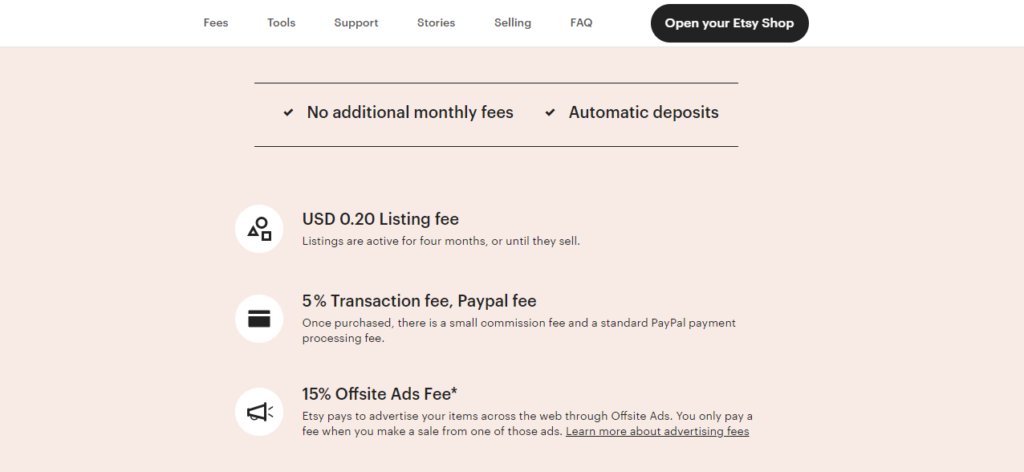 Etsy fees 
As we have already mentioned, Fees on Etsy are better to understand, simply because they are fixed. The flat rate for adding a listing is 20cents. It is charged no matter your item is sold later or not. Besides, there are some typical kinds of Etsy fees. See them below. 
Auto-renew fee

: 20 cents per listing. For standard listings, there are expiry dates (4 months) on this platform and an automatic relisting option. Sellers can also turn the option off. 

Pattern listings

: 5% of the sales + the platform can add additional wrapping or delivery charges. Pattern listings do not expire, unlike standard listings. There are no editing fees, but there are transaction fees.

Etsy Plus

: monthly 10UDS 
Which is better: Selling on Etsy or eBay?
eBay and Etsy are two leading online marketplaces. Which one you will choose depends more on your intention and your target customers. Etsy is narrower in its audience. It includes items that are unique, original and creative. eBay's scale of the audience is broader: it's for almost any type of users. eBay inventory is very diverse and rich. 
What about fees and prices? None of the platforms is free, of course. But here, we've come to the question that interests anyone considering selling on these platforms. Is it cheaper to sell on eBay or Etsy? From the fees presented above, you can logically conclude that selling on Etsy is way much less expensive for the sellers. The only point and matter here are that fees on Etsy are charged even if items are not sold. So sellers should consider their profitability and carry out thorough sales analysis. 
Whatever platform you choose, Etsy or eBay, eSwap is there to help you with the management. It is the most useful tool even if you would like to select both at a time. You can merge your listings from multiple eCommerce platforms, automate your workflow, update listing information on one dashboard. We hope our comparison helped you, and you will succeed in running your eCommerce business.