Making money also requires investment. The ebusiness wastings include various points. They are starting from hosting fees to shipping expenses, varying from inventory costs and so many others. That's why there is a technique thought out to help when business runners get out of money. After reaching the on-hand cash limit, business runners can risk missing out on their significant growth opportunities. So this is an issue worth finding a solution to. In this article, we're going over everything you need to know about ecommerce business loans.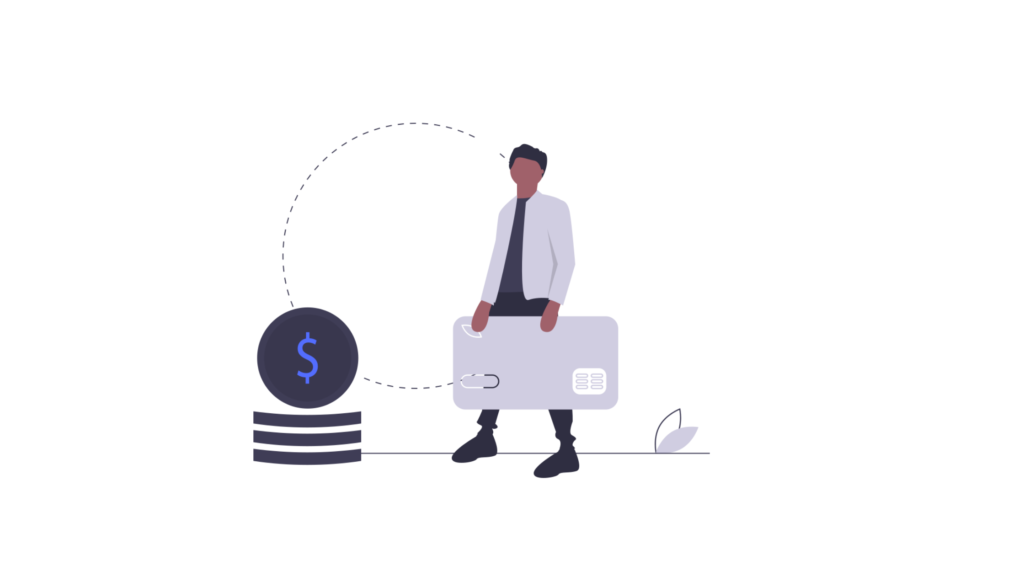 What is an Ecommerce Business Loan?
Business maintenance is not easy. And it doesn't make sense if you cannot make purchases and payments on time. That's why small business loans have become a necessary part of any modern business. If you can take business loans, it means that you can go on with your business (small or big) whenever you get out of money.
The 2 major factors affecting the business loan amount are your business size and the expected profit. The lender will want to make sure your business is capable of repaying the loan.
There are 3 significant components of how e-commerce business loans work: principal, interest rate and fees.
The principal

is the amount of borrowed money that still needs to be paid back.

The interest rate

is the amount charged by the lender in case of borrowing money expressed in percentage.

Fees

are possible additional charges.
Types of Ecommerce Business Loans 
Ecommerce business loans differ according to the types. They can be based on several criteria and thus vary. For example, the first consideration is between the level of security. Accordingly, loans can be secure and unsecured. 
The business loan is considered

secure when taking a loan and providing an asset ( home, business etc.).

Unsecured loans have a higher interest rate. They are without any assets and ownership evidence. But there should also be asset offered as security.  
Ecommerce business loans differ. There are some suitable for growing e-commerce companies, for example, eBay, Amazon, Walmart, Etsy, Wayfair and others helping to cover emergencies. Some have got larger amounts, lower interest rates, and lengthier repayment terms. There's not a loan that is the "best". Any of them will work if the user finds the most suitable. Let's look closer at each of the e-commerce business loan types in more details. 
1. Ecommerce Business Term Loan 
A term loan is the standard product. You get a definite sum of cash. And you have to pay it back in a fixed period in fixed payment amounts. A term loan is always predictable, and you know what to expect at a specific moment. 
Amount: 1000USD – 1 million USD

Terms: a few months – 20 years

APR: 5% – 35%.
2. SBA 7(a) Ecommerce Business Loans 
SBA means Small Business Administration Loan, a type of financial assistance. Those are the partners who make these business loans. And the partners, in their turn, should guaranty them. This kind of business loans includes various programs. But the most popular is the 7(a) program. 
Amount: Up to 5 million USD. 

Terms: working capital or inventory – up to 7 years; equipment – up to 10 years; real estate – and up to 25 years.

APR: fixed or variable, depends on the amount of loan and terms.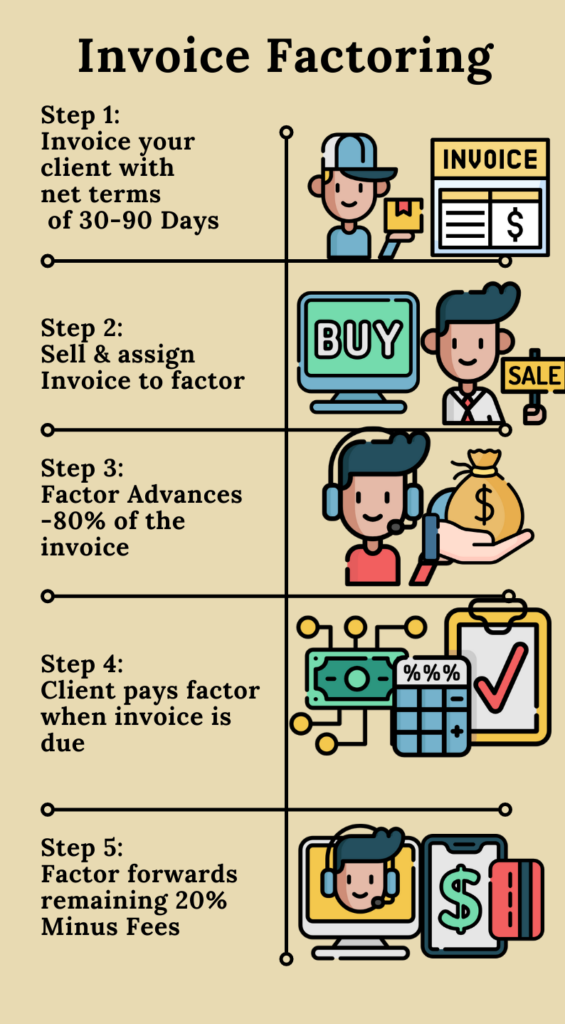 3. Invoice Factoring
With the majority of B2C orders, payment is received right immediately or very quickly. With B2B orders, the same process can take up to 90 days or even more. For this reason, there is an Invoice factoring option. You can sell IOU for cash. When the customer pays, the factoring company transfers the rest of your money. But also takes some fees. If you don't get the total value of your invoices, you get instant cash. 
Loan amount: Depending on the invoices and credit limit 

APR: from 0.5% – 6% of the invoice amount per 30 days, with relevant APRs

28% – to 60%

 
4. Business Credit Card 
A business credit card is almost the same as a personal card. Businesses can use it for all the business expenses. It rotates the credit, so you get access to the funds again as soon as you pay off the card. You can use the card to build your credit history. Thus in future, you can get bigger loans.  
Amount: according to the card's credit limit 

Terms: Minimum monthly payment. 

APR: around 15%.
5. A business Line of Credit 
The business line is a revolving credit, a specific credit limit. You get approved for that limit. And then you get the option to draw that funds when needed. After using all the line, you pay the interest of those funds you paid. This means you do not have to pay the whole loan. And when the payment is made, you have access again. So, if you used $200, and you still have access to $300. After using the money, you repay $200. And you can reuse the $500 loan again. It's a kind of permanent loan. 
Amount: several thousand dollars – 500,000USD

Terms: Depending on the draw amount and payments.

APR: from 7% – 25%.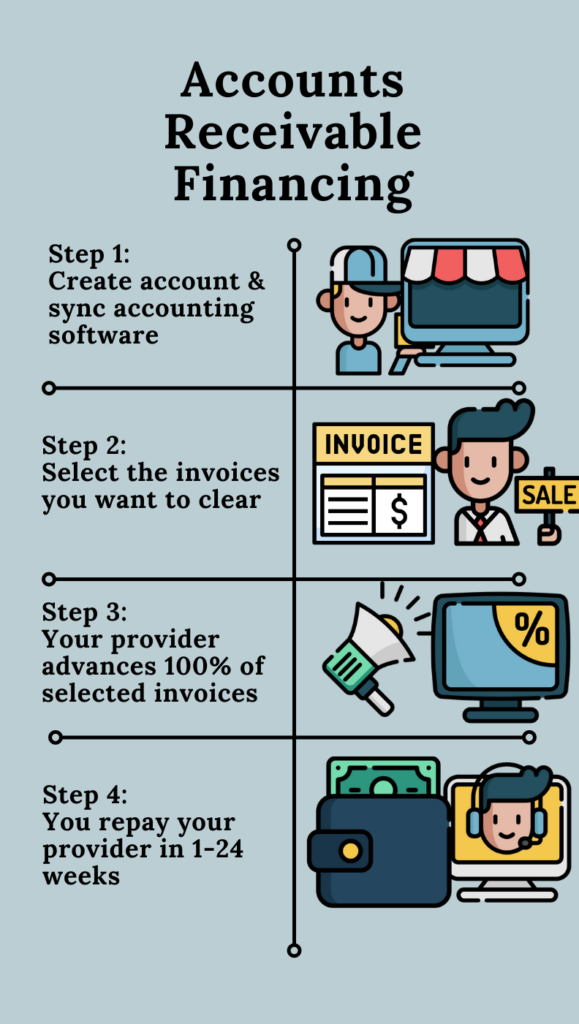 6. Accounts receivables financing (A/R financing) as a type of Ecommerce Business Loans
AKA invoice financing is a type of e-commerce business loan. In the case of this e-commerce financing, accounts are viewed as a guaranty for a loan. The customers make payments, and then you repay them to the lender.
Amount: 70% – 90% of recievable accounts.

Terms: several weeks – years.

APR:

10% – 80%
7. Merchant cash advance 
Actually, MCA is not a loan. They give an advance, and you have to return it for a percentage. It is called holdback or retrieval rate as well. It is the future retail money trade.
Amount: 250% of expected sales.

Terms: daily or weekly payments.

APR: Factor rates – 1.1 – 1.6; APRs – 40% – 100%.