There are businesses of various sizes. For all of them, the key to success differs. In the beginning, it was different. For most online businesses, it was enough to do the primary functions well. But time flows, and goals change. They realize that technology can help a lot. It can save money and time. Thus, they can increase inventory sales, especially for small businesses. Investing in the use of technologies can become a business streamline.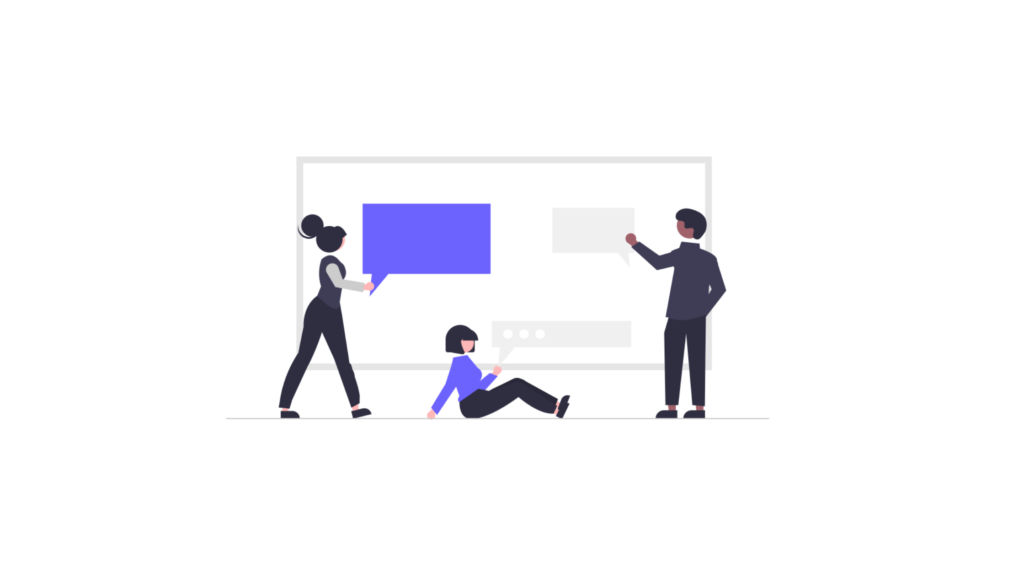 Automation is suitable for all the business components. It enhances marketing, sales, fulfilment, customer services. In e-commerce, some tasks and functions can repeat. To manage them all automatically with the help of technology. It can make processes run more smoothly. As a result, tech support improves the quality of your service.
What is the Use of Technology in Online Retail? 
The use of technologies and automation is vital. They are expressed in the form of tools and software. And they should do the daily tasks automatically. The aim is to work for a shorter period than manually. It is also used instead of running stock management in Excel sheets. With the help of such programs, the primary part of the job is done automatically. It becomes easier to focus on more major tasks. So it will enhance productivity and help organize the workflow faster. Saying faster we also mean cheaper. And as a consequence, more efficiently. With the help of technology, you'll surely simplify various work processes. For instance, it can be the use of eCommerce inventory technology systems.
For example, you can automate your: 
General workflow management

Accounting 

Marketing

Customer service

Returns and refunds
Advantages of Technology Help & Automation
Businesses that support technology automation can solve a lot of e-commerce and online retail issues. Small companies get the most benefit from automation. That's because most often, they have minimal financial and human resources.
Let's see the main advantages of eCommerce automation tools and the use of technologies.
It is time-saving 

Business processes are organized faster and easier

Information technology or automation software helps to carry inventory management smoother
Better customer experience and service
Lower business costs, fewer employees and fewer investments
Time and ability to focus on more important business aspects, like decision-making and strategy and inventory planning
Increased sales

Scheduled social media, automated emails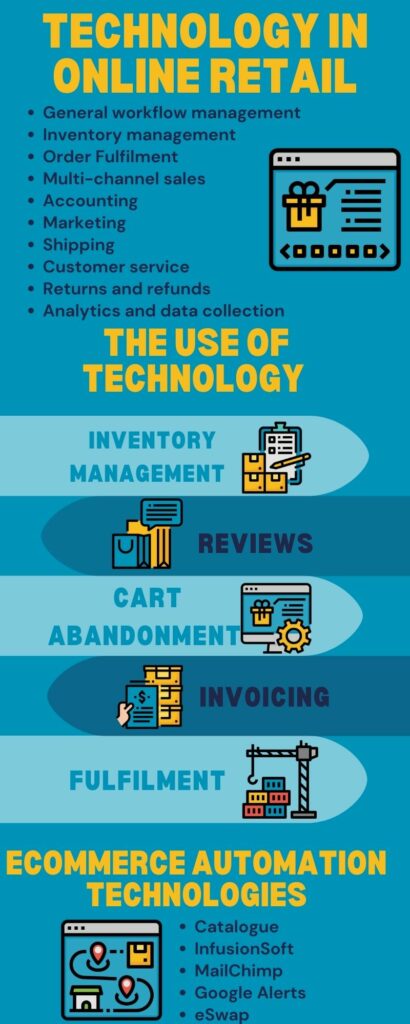 How to Use Technology to Help eCommerce? 
We have spoken about how technology helps eCommerce businesses. Now let's come to the question of how to implement it. It's necessary to understand in order to provide constant business growth.
These are the main steps to take:
1. Inventory Management 
We have mentioned the necessity of inventory management so many times. Sometimes it can get very challenging to keep everything in its proper place. Via automation tools integrate with you can automatically keep an eye on your inventory in or out of the warehouse in real-time. eSwap comes to help you here greatly. It gives you real-time inventory visibility. Connect your sales channel and everything. Our platform will professionally do the rest.
2. Reviews 
From the marketing point of view, reviews are beneficial. As they are one of the most powerful at convincing than any other step you take. Today reviews can also be automated with the help of automatic emails. After any purchase, buyers can be obliged to fill in the review form. Later it gets integrated into your page, and other customers can see and check it.  
3. Cart Abandonment 
Every online seller has probably come across this problem. It is called an abandoned cart. But eCommerce automation can fix this. We can identify the time of leaving the store. And then automatically send emails to remind them about their previous experience. Of course, not all the cases will be converted into sales. Cut some will definitely work.
4. Invoicing
As you can know, there exists a variety of payment gateways. PayPal, Stripe, Quickbooks, etc. All of them allow automated invoice features. Just integrate them with your sales channel. And keep all your records in their best condition. Using eSwap as a third-party software can become the most efficient way to keep track of your finances as well.
5. Fulfilment
One inseparable component of eCommerce is fulfilment. Order picking, packing and delivering should all be organized on time and with high quality. And fulfilment automation tools help to save your time, money, and efforts. With the help of shipping label technology, it is effortless to track and streamline orders. eSwap supports this feature. It makes everything connected to your orders be accurate and satisfying. 
Best eCommerce Automation Technology Help to Retailers
eCommerce business processes include so many steps. But you can automate most of them. That's so that you can organize it all in the most efficient and cost-effective way.
The top eCommerce automation technologies include:
Catalogue: This tool automates inventory and order management. With the help of catalogues, you can monitor stock levels and communicate to your sales channels. Thus you can always know the condition of your inventory. Check this feature here on eSwap.
InfusionSoft:

This is a pretty helpful tool. Find all the suitable apps and platforms for your e-commerce business there. And all of them are based on automation. 

MailChimp: This is a popular email automation program. Mailchimp is excellent for managing your email campaigns. By the way, eSwap has integration with Mailchimp. 
Google Alerts:

It is a beneficial technology. Alerts are used for keeping track of competitors. Do it by getting an email in case of updates on their stores.

eSwap:

the robust inventory management software eSwap gives you thousands of options. You can effectively run your e-commerce business management. Up-to-date features provide everything needed to help sellers improve their workflow. 
And now final thoughts. Let's mention one more time the need for automation in our reality. Automation and technologies make business workflow efficient and cost-effective. It enables any business holder to run a business with minimum resources. As a result, you'll become competitive in the field. You'll be able to compete with more prominent companies. eSwap allows you to automate many parts of your business. Shipping and management processes will be organized at their best. Sign up for free and learn how to make all the online sales and supply chain inventory visibility processes easier.