With global technological progress, e-commerce has led to the improvement of many businesses. Consequently, the world has become so much used to the idea of buying and selling online. The majority realize that the world of e-commerce makes trade-related processes so much easy. And not surprisingly, the number of sales channels started to grow drastically. It's impossible to speak of all online selling platforms simultaneously. So today, we dig deeper into selling on Wayfair VS Amazon and Walmart. Even though these 3 companies all run their business online and somehow in the same way, there are undoubtedly some meaningful differences between them. Let's see the comparison of Wayfair VS Amazon VS Walmart. And maybe at the end of the article, you'll find the answer: is Wayfair better than Amazon?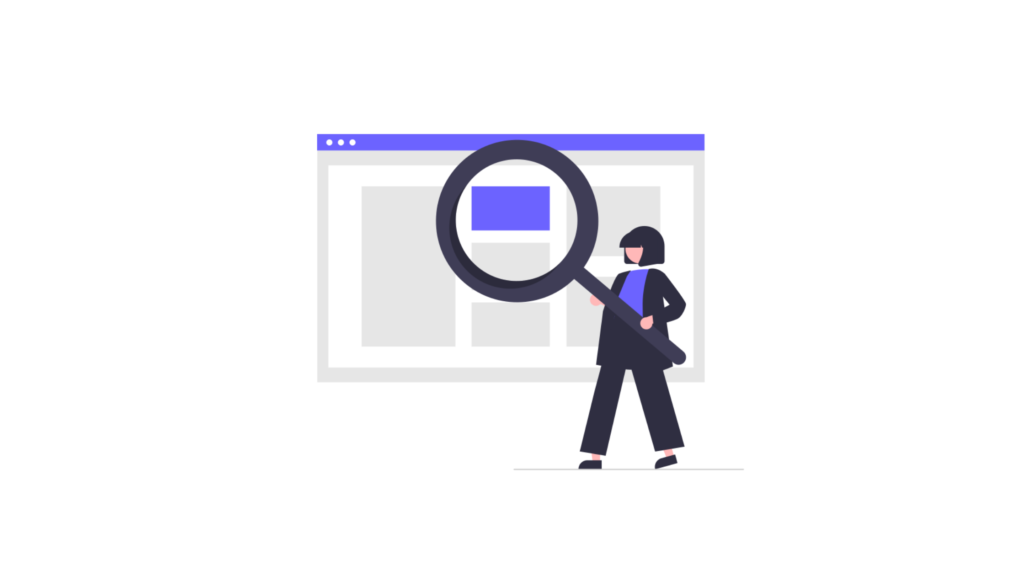 Amazon Overview
Amazon is one of the oldest platforms in the world of e-commerce. The current CEO of the corporation, Jeff Bezos, founded it in 1994. And today, it is one of the most well-known and most prominent sales channels worldwide and the number 1 internet-based retailer in the US. From the point of view of its market, Amazon is also a leading one because it has very diverse and rich categories. It starts from apparel, jewellery, toys and goes above with such categories as electronics, software, film and television studio, and so much more. Besides, there are different Amazon product lines: Amazon Echo, Amazon Appstore, Amazon Prime, Amazon Kindle, ComiXology and Amazon Video. 
There are 3 various Amazon segments: 
North America, 

International, 

Web Services. 
Nowadays, Amazon sells about 300 million products from different categories. In retail operations, several business models are included: 
Amazon Retail – the company gets inventory stores in one of the distribution centres. There are 743 centres in the US. 

Amazon Marketplace – third-party sellers list items on the website of Amazon's for particular fees. 

Amazon Web Services – this platform provides cloud-based services, for example, virtual servers or online storage.
Wayfair Overview 
Another platform we are going to compare today is Wayfair – one of the comparably new channels. Niraj Shah and Steve Conin from Boston founded it in 2002. Wayfair differs from other platforms due to its niche-oriented approach. This channel is specialized in home and office items and materials, elements of decor, lighting, and other things in this sphere. The company deals with home improvement goods. Actually, there is a mix of 6 different Wayfair websites:
AllModern, 

DwellStudio, 

Perigold, 

Joss &Main, 

Birch Lane, 

Wayfair. 
Walmart Overview
Walmart is the last famous sales channel in our today's overview. Sam Wilton founded it in 1962. First, Walmart was mainly interested in traditional brick-and-mortar type of business. Now, Walmart dominantly generates sales through the official website – Walmart.com. It has moved to an omnichannel model, mainly focusing on online sales. Anyway, besides, the company includes the following operating segments:
Sam's Club, 

Walmart US, 

International. 
Wayfair VS Amazon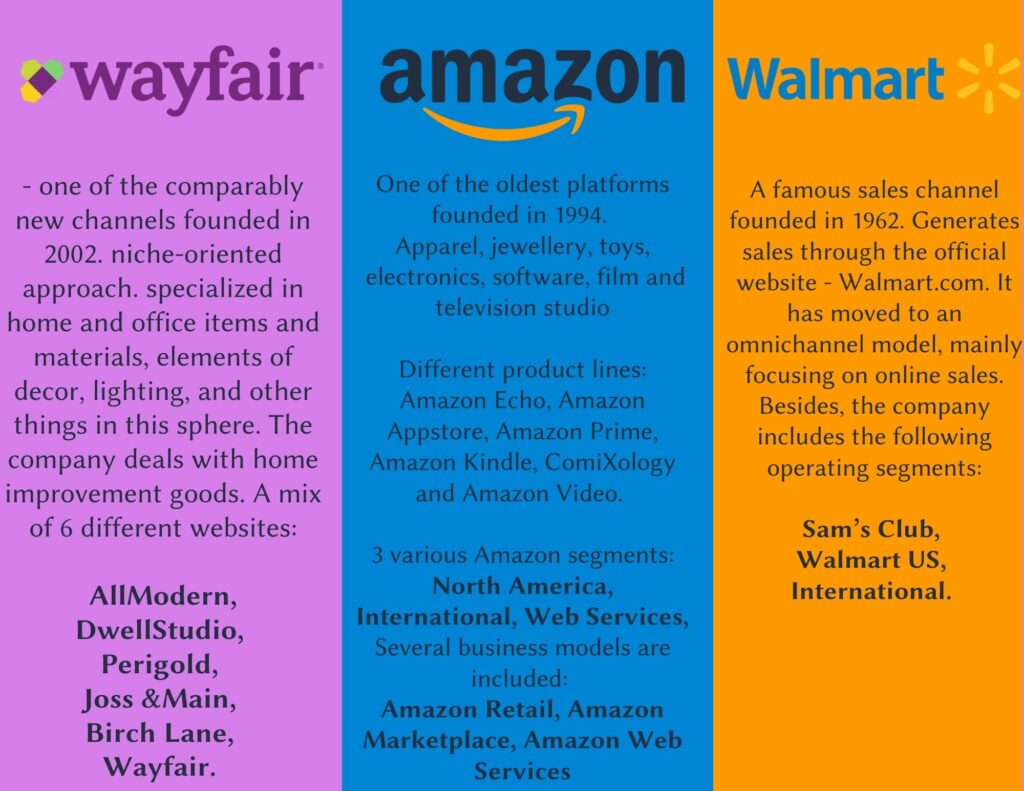 Wayfair VS Amazon: Listings 
The significant difference between Amazon and Wayfair is that Wayfair's orientation is narrowed down. It is more about decor and furniture. In comparison, products on Amazon cover all the spheres possible: books, clothing, electronics, etc.
Wayfair VS Amazon: Selling Fees
How to sell on Wayfair? Wayfair sellers do not have to pay fees for selling on the platform. They only pay for shipment. From this point of view, selling on Wayfair is better than on Amazon.
Wayfair has some strict requirements but no selling fees. If you meet them and fit the platform ideas, you'll have a pretty good chance of becoming a successful seller. This process between Amazon VS Wayfair is easier on Wayfair.
Amazon is quite honest with its sellers. There are costs and fees, and they are all described beforehand. In the beginning, sellers choose a selling plan. Then according to the item category, Amazon takes a referral fee per item sold. Besides, Amazon's FBA service takes shipping, storing and other additional fees from FBA sellers. 
Note: as you could have already guessed, on Amazon, it is pretty complex to understand the fee system at once. So that to predict your spendings and not to get surprised by the final costs, sellers can use the Amazon FBA fee calculator and know the spendings in advance. 
Walmart VS Amazon
Both Amazon and Walmart are nowadays the most notable names on e-commerce. That's because both companies have improved and made online shopping as convenient as it is possible. 
Amazon VS Walmart: Listings 
Amazon suggests a favourable experience and a vibrant product selection. Walmart has a vast network of store locations and is famous for its low prices. The majority of Amazon products should have unique IDs per categories. And one crucial point about Amazon listings is that the platform is constantly changing requirements and criteria. For instance, in 2019, Amazon reviewed the requirements for shoe sizing. Sellers should submit new attributes for each shoe listing if no Amazon could have removed their ASINs. 
Walmart requirements are higher, and it is harder to get involved in the Walmart sales process. But after being accepted, sellers get a bunch of benefits. They can create listings via manual setup or software partner, API or Excel upload. As for Walmart IP-s, sellers should use them in the right way so that to operate correctly. Besides, Walmart demands a UPC per each listed product, and sellers need to either obtain it or ask for an exemption.
Amazon VS Walmart: Selling Fees
Amazon 

Professional selling plan cost is 39.99USD per month with no listing fees, but with a referral fee per sale and category. An additional fee is also taken for Amazon FBA 

fees

according to the weight and dimension. Storage fees are also separate, plus many other related services (FBA label service, returns processing and removal orders, to name a few). 

Walmart 

does not charge monthly seller fees. Only 

8% and 15% referral fees are taken, like on Amazon. Walmart as well as got service of fulfilment.  WFS 

charges storage and fulfilment 

fees for Walmart 

items. They are pretty simple if we compare them to those on Amazon FBA. But it's not accessible or any seller. Only old Walmart sellers can have access. Most probably, the platform will not approve new sellers immediately. 
And there is still one non-revieled question: What stops Walmart from beating Amazon in online shopping?
Whatever channel of the 3 you choose, you should manage your listings and sales so that your customers get the best shopping experience. That's where eSwap comes in. Using the management platform of eSwap, you can run your daily management tasks quicker and easier. All the eSwap main features aim to support you as a seller when running your retail business on multiple sales channels. Whether you are on Amazon, Wayfair or Walmart, you can effectively merge all the data regarding sales orders. Also, you can calculate your spendings with various calculators, like the Amazon FBA calculator, for example. Enjoy all the opportunities of eSwap and multiple your success.