Every business holder knows the golden rule: time is money. If you lose time, you'll consequently lose some of your money. Not to appear in such a situation, your employees should have an efficient system for warehouse management. And the best variant to obtain it is to study different types of WMS and find out a system that will work best for your business. It will mainly influence your inventory control and shipping of your orders. Having a Warehouse Management System in use is crucial for each 3PL business, primarily when dealing with physical goods or materials to transport and deliver to customers.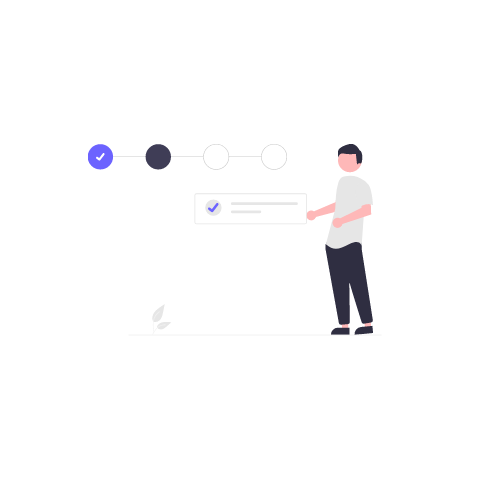 What is a Warehouse Management System
Warehouse Management System (WMS) is software aimed at helping businesses run daily operations connected to warehouses and located there. A warehouse system can be performed in several ways. It can be used separately as an independent tool or mixed with some others. For example, it can be a part of a stock ERP. We'll discuss later what ERP stands for.
There are so many benefits to WMS. This is an excellent option that allows businesses to control and monitor warehouse operations. They mainly include such processes as goods arrival to and exit from the warehouses. Other functions contained are inventory management, picking and packing, sorting and shipping orders.
With WMS businesses, you can lower your operating costs, labour and space waste all at the same time. And finally, with an appropriate warehouse management system, workers get an opportunity to see where the items are at a precise moment. It makes inventory tracking better by using serial numbers, barcodes and tags. All these tools ensure having a well-organized list apart from tracking. The feature of Advanced Inventory Tracking will optimize transportations both in and out.
Besides warehouse equipment operations, WMS helps in supply chain operation management. It tracks goods on the whole way that it goes over to come from the manufacturer to the retailer. Using this method, you'll definitely reduce the chances of errors related to shipping. When speaking about shipping, it is worth mentioning value-added services such as cargo sorting, labelling, repacking, reporting, etc.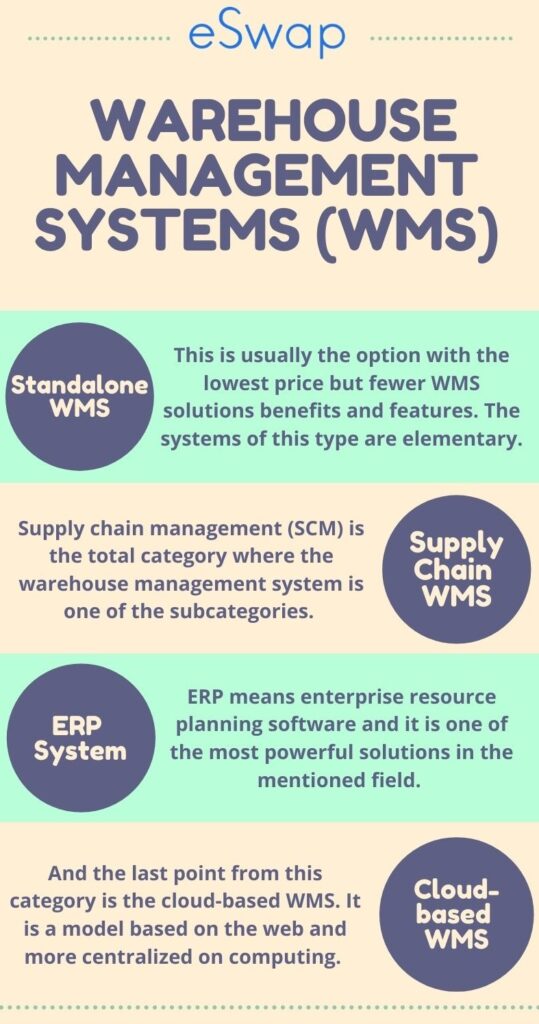 Types of Warehouse Management Systems 
The main types of Warehouse Management Systems are the following:
Standalone WMS
Supply chain WMS
ERP systems
Cloud-based WMS
Most of these solutions support various tools, each helping to handle different warehouse management components in its way. To get maximum efficient management, business holders should clearly realize differences between the types and find out the one that perfectly fits their particular business type. For this reason, we will view all the WMS types separately. 
Standalone WMS system
This is usually the option with the lowest price but fewer WMS solutions, benefits and features. The systems of this type are elementary. They are only used with the original hardware and network. This kind of WMS does not have additional supply chain features and includes only highly-ranked and frequently used features. That is inventory management and warehouse operations. Some other standalone WMS features include a track of expiration dates, barcode scanning, receiving, picking, packing and of course, shipping. 
A standalone WMS can be used as an inventory management system. This means that it can be used alongside other spheres apart from warehouse management. And it is due to this feature that standalone WMS is ideal for small businesses without additional budget. 
You can find the majority of warehouse management systems sold in standalone packages. The main option here is installing and integrating it into your software. Due to these integrations, you may get duplicate data entered. 
Supply Chain WMS
Supply chain management (SCM) is the total category where the warehouse management system is one of the subcategories. SCM is a broad notion that helps users with various aspects. Automation of everyday tasks is the main point of Supply Chain WMS. But it can also handle relations between vendors, as well as current business processes and evaluation. The main difference between standalone WMS and supply chain WMS is that standalone system covers only warehousing as a rule. Whereas the central point in Supply Chain WMS is a combination of the supply chain elements and supports entire supply chain management. 
In case you decide to switch from your old system to a supply chain system, an essential issue is to overcome overlays. In this case, you should merge the 2 methods and all the information will be available in one single SCM platform.
The second variant is choosing such an option that will be able to integrate successfully with your old software. eSwap is a perfect option to do so and to overcome the same information.
ERP means enterprise resource planning software and it is one of the most powerful solutions in our mentioned field. It includes various abilities and features. If some of these features can be present in this or that system, in the ERP system, they are all combined. If you are a business in search of the best solution, it is the right choice for you. It will vastly improve efficiency as ERP is one of the top warehouse management systems. 
ERP supports strong sustainability and scalability, enables a 3PL smooth operating processes. The main distinction of ERP to bear in mind is that it can be integrated into WMS features, but it is not the only and primary function of the system. So if you want to be more focused on warehouse management, you should look for a solution where warehousing is a priority. 
Cloud-based WMS
And the last system from this category is the cloud-based WMS. It is a model based on the web and more centralized on computing. The core of the cloud-based WMS is the software-as-a-service (SaaS) technology. It is very fast in its implementation and cheaper than the traditional variants. 
A cloud-based WMS is famous for the security level. The private server prooves this as it leads to higher data security protocols. This point has the highest importance for any businesses that take just in time inventory management as a priority. 
One of the cloud-based software benefits is that the vendor using the software can make changes inside the cloud. Customizations, however, depend on software and vendors. This type of system is a perfect choice for those who search for an online warehouse management system. You can suit it and adjust it to your business type. Meanwhile, it supports a large scale of flexibility. This system can be adapted to the needs of your business, size, complexity and volume.
eSwap's warehouse management features are a combination of all the cloud-based inventory and order control components. It is currently one of the best systems in the field of warehouse management.