Shopify shipping costs along with the delivery methods are one of the most important things for any seller on Shopify. On the other hand, it's essential to be able to find out the best options for order delivery too.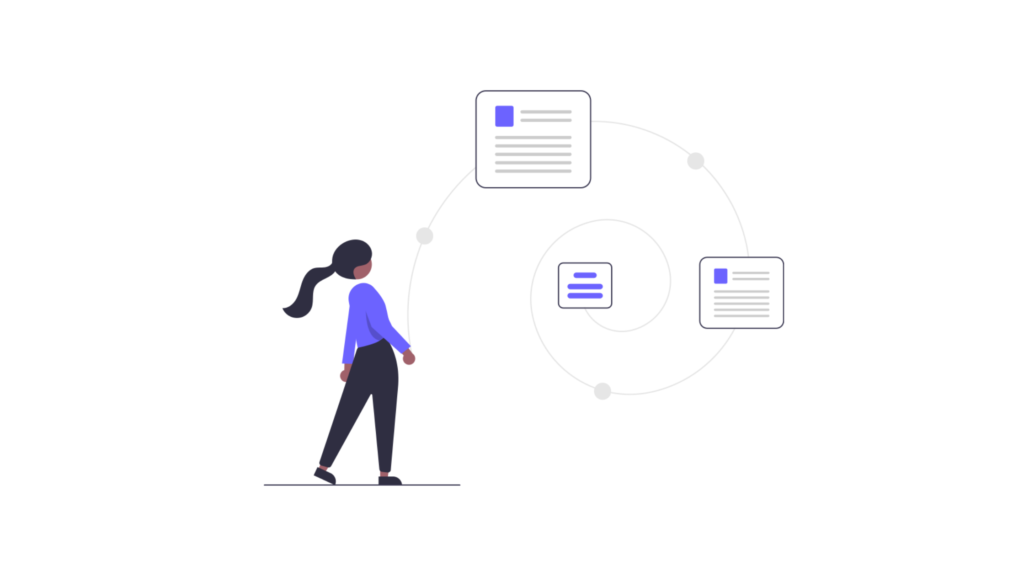 It is not big news that there are multiple third-party shipping couriers who take care of the orders. Shopify, along with the existence of third-party logistics services, offers a brand-new Shopify Shipping Service. This service allows the sellers to calculate real-time shipping rates, purchase and print shipping labels, and track shipments.
As long as Shopify remains one of the biggest eCommerce platforms, we aim to discuss all the news and updates. Therefore it can help you to organise your stock on sale more efficiently. 
What is Shopify Shipping?
Shopify shipping is a brand-new shipping service that is a built-in solution for Shopify sellers. In other words, every seller on Shopify can rely not only on third-party logistics services but also on Shopify itself to take care of the order delivery. This service is offering all the necessary tools to print labels and calculate sales numbers.
Even though Shopify' free shipping works with all Shopify pricing plans, it's only available for sellers from the US and Canada.
Let's now understand how exactly Shopify Shipping works.
Shopify shipping service partners with most of the famous order delivery logistics services like USPS, UPS, DHL Express, and Canada Post. Besides, it offers multiple discounted rates which may differ from 20%-50%. Shopify calculated shipping can sometimes even reach up to 90% for the sellers.
eSwap as an inventory management software offers the sellers a Shopify Integration aiming at making all the sales management easier and more manageable. Due to this integration, you can run your inventory accurately and have a synced data at the same time. It refers especially to handling multichannel sales from different platforms.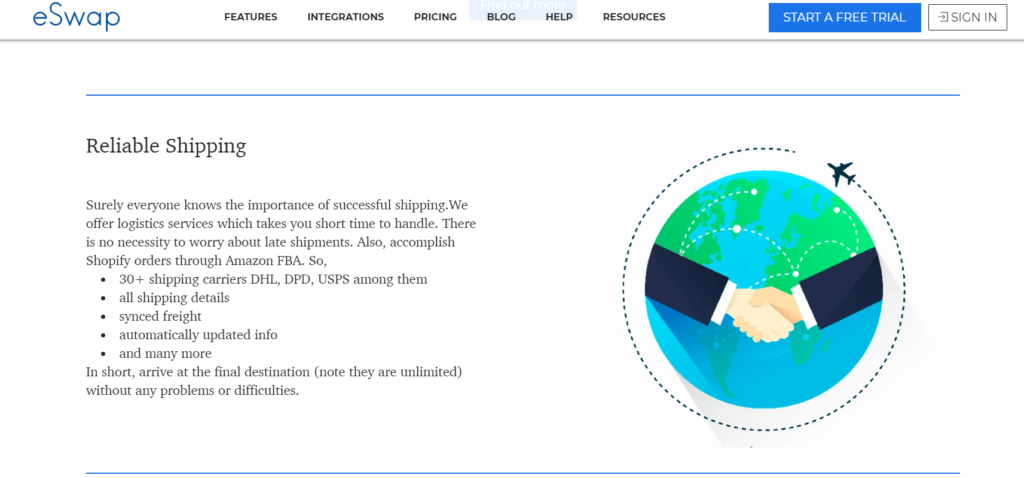 Apart from only dealing with your sales on Shopify, you can manage your sales on different channels like Amazon, eBay, Walmart and many more. It basically means that you can use one dashboard to manage all the sales.
Shopify Shipping Service
One of the major benefits of using Shopify Shipping is the option to offer free shipping on Shopify. Besides, you can set up free shipping on Shopify right from your store. There is an option to set up a free shipping rate as the default shipping rate too. Once your account registration is all set up, you can enjoy shipping discounts along with the shipping carrier service.
Check out the following steps to set up a free Shopify shipping rate as the default for your store: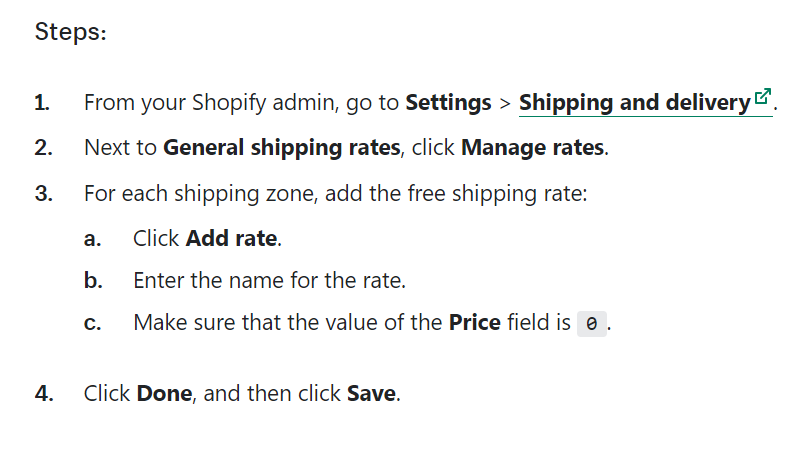 Along with the option to choose to set all the shipping rates to default you can also choose to offer free shipping over a certain value or weight. Besides you can offer free Shopify shipping rates by product. The same option is also available for specific customers.
In conclusion, we can assume that the major benefit of using Shopify Shipping is that it's free and is easy to use. Besides, it offers multiple options of discounted shipping rates. The sellers can enjoy the real-time shipping rates at checkout as well.
The biggest downside is that the free service is available only to US or Canada based sellers.
DHL Shopify Integration
DHL Shopify service is the best option for anyone considering making order fulfilment at an international level. This courier is available in nearly 220 countries. However, this courier offers only one service through Shopify Shipping. You can send parcels only at an international level, possibly within 2-5 business days. The shipment pricing varies at a certain level depending on the weight and dimensions. The latter refers to the individual packages. There are other factors as well affecting the package price including the destination.
Shopify UPS Integration
As long as you take care of your Shopify shipping costs, the consideration of discounts matters a lot. UPS is another courier service offering fast package tracking features and provides fast delivery like the next day delivery option is. While using  UPS Shopify service for order delivery, you can save up to 73% on UPS rates. But note that it mainly depends on the pricing plan you are subscribed to. It is possible to arrange the shipping for orders while not even leaving the warehouses. UPS unlike DHL Shopify offers delivery service both at domestic and international levels. 
Shipstation Shopify Integration
Shipstation Shopify integration is another easy solution for order delivery. It allows the Shopify sellers to easily sell and ship all their orders. You can simply connect your Shopify store to ShipStation and start the order fulfilment. It's easy to set up your Shipstation Shopify integration as it takes just a few minutes. Thereafter, you can start the order syncing process. You can have an automated update on your orders via each sales transaction. ShipStation transmits the Carrier, Tracking Number, and Shipping status back to Shopify and your customer.
Shopify Shipping Rates
Shopify shipping costs or shipping rates is the amount of money that the sellers charge the customers for order delivery. Customer can see the shipping costs for their orders in the checkout section of their purchase. It's possible to set up a variety of shipping rates and methods as an option for the customers. Some sellers keep it simple and choose to set one single shipping rate for everyone.
Flat Shipping Rates
This is the best option for those who choose to have a total over the amount of money which the customers are being charged based on their order.  The main advantage of the flat rates is that the sellers have total control over the precise amount of money that the buyers get charged.
For example, when you want to charge $10 for shipping each time a customer places an order, then you would set up a $10 flat shipping rate. There are three main types of flat rates, which are general rates, priced-based rates and weight-based rates. Let's now discuss each rate one by one and understand which one is the best for your business:
General Shipping Rates
This is the type of rate that provides a flat rate shipping cost no matter what is in the cart. This is to say, if you want your customers between the regular shipping costs and expediated ones, then you should set up separate flat rates for each. The customers later can see them as options per each of their orders. 
Price-based Rates
Price based rates allow the customers set minimum and maximum cart values for flat shipping rates. For example, if you want to set a  flat shipping rate of $10 for orders under $100, and a flat shipping rate of $20 for orders over $100. The same thing refers to the weight-based rates. There is an option to set a free shipping rate as a flat rate. It refers to the cases when you decide to offer free shipping on all orders, therefore you can create a general flat shipping rate with a $0 cost.
Calculated Shipping Rates
The calculated shipping rates refer to the costs, which are provided by the shipping carriers or shipping apps that the sellers add to their stores. In the case of the calculated shipping rates, the moment the buyers reach the checkout, the cart information is sent to the shipping carrier or an app. The main advantage of the calculated shipping rates is that it's possible to pass on the exact cost of shipping an order directly to the customer.